Top Shanghai Attractions
More Things to Do
Top 10 City Tours
Code: SH40
Shanghai Weekend Tour to Yangzhou
Day 1
Shanghai - Yangzhou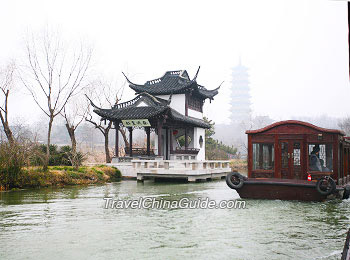 Slender West Lake, Yangzhou
Take metro line 1, 3, or 4 to Shanghai Railway Station and leave from Exit 6. Walk westwards to Shanghai Long-Distance Bus Terminal to catch a bus to Yangzhou. The bus is available from 07:00 to 17:30 every 30 minutes or so. You will arrive at Yangzhou West Bus Station after around 2 hours.
Route: Daming Temple - Slender West Lake - Dongguan Street - Night Cruise on the Grand Canal
Upon arrival, take a taxi from the West Bus Station to Daming Temple. Get downhill from the temple onto Pingshantang East Road. Go along the road to find the entrance of the Slender West Lake. You are suggested to spend 2~3 hours sauntering around this picturesque garden. Afterwards, you may hail a taxi to the Dongguan Street, a quaint pedestrian street brimmed with time-honored brands of snacks, face powders, and pickles.
Then, head northwards for a few yards from the eastern end of Dongguan Street to take bus 25, 58, or 99 via 2 stops to Wutaishan Daqiao. After alighting, walk through Bianyimen Square to board the Grand Canal cruise ship. Disembark at Southern Gate Dock and find a nearby hotel to spend the night.
Tour Highlights
Daming Temple: It was originally built during the era of Daming (457 - 464), and hence the name. The temple has become a prominent Buddhist site because of the abbot - Jianzhen (688 - 763), a renowned monk who had crossed over to Japan for six times to propagate Buddhist doctrines.
Slender West Lake: To most backpackers, this attraction is a must while visiting Yangzhou. The whole scenic area is a large lakeside garden. You can roam along the lake to enjoy the peaceful lake view as well as lush plants and brightly-colored blossoms. It is also a good idea to sit on a coach inside the pavilions while admiring ancient calligraphy works. Besides, don't miss the chance to take a brilliantly-decorated boat drifting along the lake.
Cost
Daming Temple
CNY 45 (Mar. ~ May & Sept. ~ Nov.)
CNY 30 (Jun. ~ Aug. & Dec. ~ Feb.)
Slender West Lake
CNY 150 (Mar. ~ Nov.)
CNY 120 (Dec. ~ Feb.)
Grand Canal Night Cruise
CNY 60 for a one-way trip
Shanghai – Yangzhou bus fare
CNY 93
Yangzhou West Bus Station – Daming Temple taxi fare
CNY20
Slender West Lake – Dongguan Street taxi fare
CNY 10
Bus 25, 58, or 99
CNY 2
Day 2
Yangzhou - Shanghai
Ge Garden, Yangzhou
Today, it is suggested you take a leisure stroll around exquisite private gardens of Yangzhou and you may start with the He Garden which is 2km (1mi) east of the Southern Gate Dock. Please find your way to the He Garden. After visiting there, take a taxi to the other distinctive Ge Garden and your 2-day Shanghai weekend tour to Yangzhou will draw to an end there.
Then take a direct taxi ride from Ge Garden to Yangzhou West Bus Station for your return bus to Shanghai.
Tour Highlights
He Garden: Different from other traditional gardens, you can see not only pavilions and rooms of typical Chinese architectural style, but also French shutters and fireplaces, Japanese sliding doors, as well as iron beds while wandering around the garden. The 1,500-meter-long (1,640-yard) corridor is the highlight there with two storeys connecting the western and eastern courtyards, as well as the host's living room.
Ge Garden: This garden is shaded under lush bamboo woods. The bamboo leave there looks like a Chinese character '个' which reads as 'Ge', so hence the name. Compared with other gardens, the essence of Ge Garden relies on the four grotesque rockeries representing the scenery of the four seasons together with the surrounding plants and water.
Cost
He Garden
CNY 45 during Apr., May, and Oct.
CNY 30 for the rest of the time
Ge Garden
CNY 45 during Mar. ~ May & Oct.
CNY 30 for the rest of the time
He Garden – Ge Garden taxi fare
CNY 10
Ge Garden – Yangzhou West Bus Station taxi fare
CNY 25

More Related Packages:
Spend Weekend in Wuxi: 2 days independent tour to visit the Head Turtle Isle and Mt. Lingshan.
Nanjing: 2 days, visit Purple Mountain Observatory, Confucius Temple, Presidential Palace and Xiaoling Mausoleum.
Shaoxing: from Shanghai to Shaoxing to visit Lu Xun's hometown and local attractions.