Top Shanghai Attractions
More Things to Do
Top 10 City Tours
Code: SH43
Shaoxing Two-Day Tour from Shanghai
Day 1
Shanghai - Shaoxing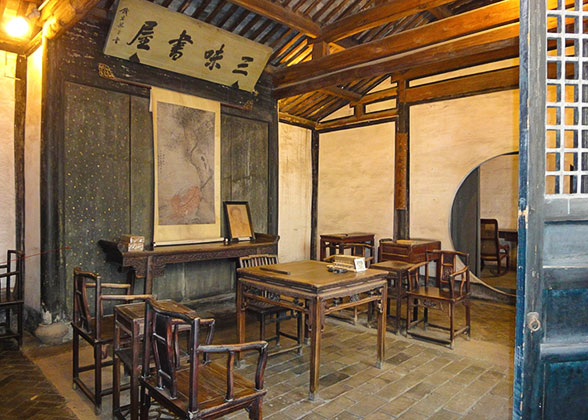 Shenyuan Garden
Please take metro line 2 or 10 to Shanghai Hongqiao Railway Station where you can take a high speed train to Shaoxing. You will arrive at Shaoxing North Railway Station by a 1.5 hours' train ride.
After getting out of the train station, take Brt line 1 or 3 for around one hour to Renmin Lukou stop. Then head southwards for 400 meters (440 yards) to the Lu Xun Native Place. You are advised to stay there for 3 hours. After that, walk eastwards from the entrance of Lu Xun Native Place for 300 meters (330 yards) to visit Shenyuan Garden.
Then, take bus no. 24 opposite the Lu Xun Native Place via 5 stops to Shaoxing Dajuyuan. After alighting, follow the signposts to go southwards for 250 meters (270 yards) to Cangqiao Historical Street to experience the charm of the city in the past times.
There are many distinctive inns along the Cangqiao Street. You may check in one of them to spend the night.
Tour Highlights:
Lu Xun Native Place
: Shaoxing is the hometown of a great writer, Lu Xun (1881-1936), whose works have made a profound influence on people's mind even today. The Lu Xun Native Place is a must-see site on most visitors' Shaoxing itinerary. Not only can you walk around the museum to learn his stories and historical background of this site, but also enjoy quaint and simple old folk houses, such as Lu Xun's Former Residence, Sanwei Study, Baicao Garden, and Lu Xun's Ancestral Home.
Shenyuan Garden
: It is the only remained classical garden built during the Song Dynasty (960 - 1279) in Shaoxing. There, a great patriotic poet of that time, Lu You, made his tragic love story into a poem and inscribed it on the wall. There is also a display hall telling stories of this great poet. Shenyuan Garden is now a garden of love in local people's eyes. Once you enter the garden, you will see a lot of wind chimes with love words on them swaying in the wind.
Cost:
Lu Xun Native Place
Free
Shenyuan Garden
CNY 40
A second-class seat of Shanghai - Shaoxing high speed train
CNY 92.5 for G train
CNY 70 for D train
Brt line 1 or 3
CNY 4
Bus no. 24
CNY 1
Day 2
Shaoxing - Shanghai
Shaoxing Old Town
Please walk northwards from Cangqiao Street to the West Shengli Road. Go eastwards along the road for 500 meters (550 yards) to take bus no. 1 at Shaoxing Juyuan stop. Alight at East Lake Scenic Area (Donghu Fengjingqu) via 8 stops.
After 3 hours' visiting there, get back to Donghu Fengjingqu stop to take bus no. 7a to Shi Renmin Yiyuan after 2 stops. Transfer to Brt line 3 there to reach Shaoxing North Railway Station in less than one hour. Upon arrival, take your leaving high speed train back to Shanghai and this 2-day independent Shaoxing tour from Shanghai will end at this point.
Highlights of
East Lake Scenic Area
:
The lake is famous for picturesque scenery of sharp and peculiar cliffs, deep gorges, and dark green ponds. You should not miss the chance to take a local black-roof boat to flow through these gorges. En route, you will pass by many distinctive caves, among which the Cave of Fairy Peach and the Cave of Mr. Tao are the most wonderful sites. Standing on the bank, the mouth of the Cave of Fairy Peach is just like an ordinary gate, but if you get closer, the gate together with its reflection on the water form a giant peach, and hence the name. The Cave of Mr. Tao is so narrow that only allows one boat to pass at a time and visitors can only see a thread of sky above.
Cost:
| | |
| --- | --- |
| East Lake entrance fee | CNY 50 |
| Cruise on East Lake | CNY 85 per boat |
| Bus no. 1 | CNY 1 |
| Bus no. 7a | CNY 5 |

More Related Tours to Nearby Destinations:

Shanghai Old Street: explore traditional buildings and old flavor of the city.
Classic One-Day Trip: visit Shanghai Museum, Yuyuan Garden, the Bund and night cruise on Huangpu River.