Top Shanghai Attractions
More Things to Do
Top 10 City Tours
Code: SH41
Spend a Weekend in Wuxi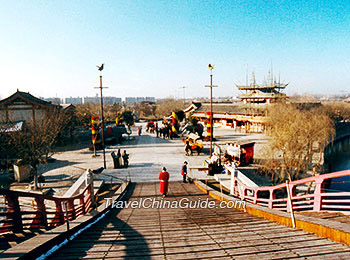 Three Kingdoms City
You may take a high speed train from Shanghai Railway Station or Hongqiao Train Station to Wuxi. Shanghai Railway Station can be reached by metro line 1, 3, or 4 while you can take metro line 2 or 10 to get to Hongqiao Train Station. You will arrive at Wuxi Railway Station after around one hour.
Upon arrival, get out onto the Northern Square of the train station to take bus no. 1. Alight at the terminal station and then head eastwards to find the entrance of the
Head Turtle Isle
.
You are suggested to follow this route to tour around the isle: Chongshan Gate - take sightseeing car line 1 to Bright Hill and Enchanting Stream stop - Taihu Lake Quay - take a ship to Taihu Fairy Islands - Ideal Place in Taihu - Hengyun Villa - Turtle Head Isle in Spring Waves - Guangfu Temple - Luding Hill - Chongshan Gate.
After that, you are advised to take a taxi to the
Three Kingdoms City
, which is a movie and television shooting base reproducing famous scenes of a novel - 'the Romance of the Three Kingdoms (220 - 280)'.
When the whole day's visiting is over, you are advised to take bus no. 82 in front of the Three Kingdoms City to Wuxi Railway Station. Find a nearby hotel for one night's stay.
Highlights of Turtle Head Isle:
It is a must for most backpackers to visit
Taihu Lake
while in Wuxi and the essence of Taihu Lake lies in the Turtle Head Isle. The islet was so named because the similar appearance to a turtle with its head bent back. Here you can take a ship to cruise on the vast Taihu Lake, admire religious buildings on the Taihu Fairy Islands, as well as climb to the top of the Luding Hill to overlook the whole scenic area. If you come during March ~ April, an eyeful of pink cherry blossoms will refresh you.
Cost:
Turtle Head Isle
CNY 105 including the fare of the ship and sightseeing car
Three Kingdoms City
CNY 90
A second-class seat of Shanghai - Wuxi high speed train
CNY 49.5 for G train
CNY 34.5 for D train
Bus 1 or 82
CNY 2
Turtle Head Isle - Three Kingdoms City taxi fare
CNY 20
Mt. Lingshan
Take bus 88 or 89 at Wuxi Railway Station and get off at Lingshan Shengjing stop; you will find yourself at the southern gate of the
Mt. Lingshan
. Get in the scenic area and start your exploration of this Buddhist mountain.
After visiting Lingshan Buddhist Scenic Area, your independent Shanghai weekend tour to Wuxi would come to an end as well. Still take bus 88 or 89 back to Wuxi Railway Station to catch your return high speed train to Shanghai.
Highlights of Mt. Lingshan:
1. Lingshan Buddha: You will see this giant Buddha the moment you alight from the bus. It is the world's largest bronze statue of standing Buddha with a height of 88 meters (289 feet). You can take a full-body shot of the Buddha at the Xiangfu Temple.
2. Nine Dragons Bathing Sakyamuni: It is a giant gilded sculpture of a lotus surrounded by nine dragon-like nozzles. The lotus will bloom at 10:00, 11:30, 14:45, and 16:45, presenting the statue of Sakyamuni in the center. Nine dragon-like nozzles will spout out water columns bathing his body.
3. Brahma Palace: It is a luxury Buddhist palace with five pagodas on the top and exquisite religious reliefs on the outside walls. Inside the palace, you can see gorgeous wooden carvings, murals, lacquers, and stone carvings, as well as dazzling domes made of glazed tiles.
4. Five Mudras Mandala: It is a typical Tibetan Buddhist building with golden roofs, red and white walls, colorful prayer flags, and thangka paintings.
Cost:
| | |
| --- | --- |
| Mt. Lingshan | CNY 210 |
| Bus 88 or 89 | CNY 2 |