Explore Wuzhen Water Town from Shanghai
Shanghai - Wuzhen Water Town - Shanghai
In the morning, your professional guide and driver will wait for you in the lobby of your hotel in downtown Shanghai at around 09:00. After a warm greeting, we will set out on this one day private Wuzhen tour from Shanghai and it takes about 2 hours on the way. Wuzhen is a typical riverside town, with well-preserved buildings and layout dating from the late Qing Dynasty (1644-1911). It is a good choice for a Shanghai layover tour or a day tour away from the hubbub of the big city. In Wuzhen, the crisscrossing waterways divide the town into four parts: Dongzha, Nanzha, Xizha and Beizha. Today, you will visit the two most popular areas, Dongzha and Xizha, accompanied by your guide.
Dongzha Scenic Area features the Hundred-Bed Museum, the Yuan Tai Dye House, the Wine Distillery Workshop and an old opera stage. If you are interested, you can also stop and watch some traditional folklore performances along the way. At Xizha, you can enter different workshops and watch the processes of making thick broad-bean sauce and casting iron. Besides, you will also have a chance to operate the silk-reeling machine, which will add more fun to your 1-day private Wuzhen tour. Lunch will be at your own expense and your guide will recommend some good restaurants to you.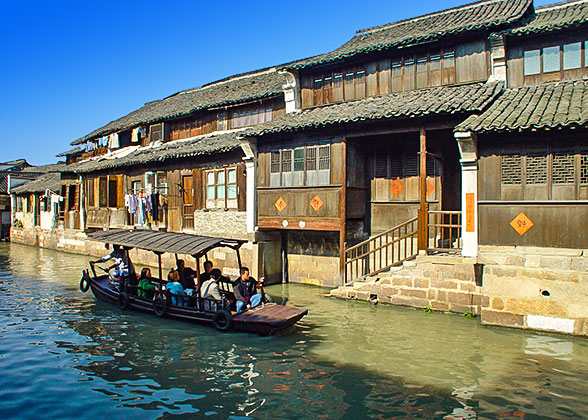 Wuzhen Water Town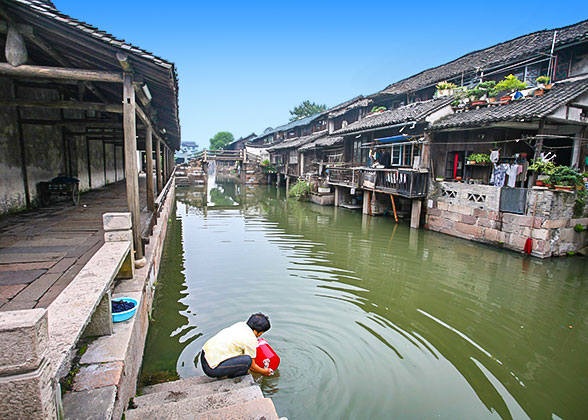 Traditional residential houses
When the Shanghai transit trip is over, your guide and driver will escort you back to your hotel in downtown Shanghai. We hope you will enjoy this day trip to Wuzhen and we look forward to traveling with you again!
Friendly Tip:
If you would like to take this Shanghai layover tour from the airport, please inform your travel consultant in advance so that we could customize the day trip for you.
Dongzha
As an ancient town with a history of over 1,300 years, Wuzhen contains many quaint folk houses along the water lanes. Most local people dwell in Dongzha, which makes this part of the town more lively and bustling. Within this area, the Hundred-Bed Museum exhibits various antique beds once owned by both the rich and commoners; the Hong Yuan Tai Dye House is an old production workshop for manufacturing indigo fabrics. While visiting, you will encounter folklore performances, including boxing boats, shadow play and Huagu Opera. Moreover, you can also taste the famous Sanbai Wine at the Wine Distillery Workshop in Dongzha.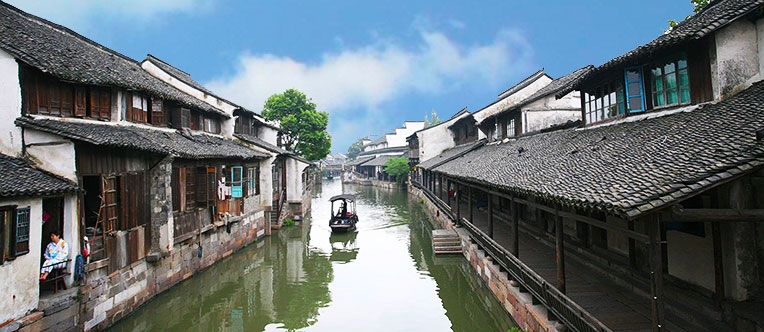 A quaint waterside town - Wuzhen
Xizha
The running water lanes separate the Xizha Area into many islets, connected by dozens of distinctive stone bridges. Strolling on the flagstone pavements, people can not only pay a visit to the traditional handicraft factories like Xuchang Sauce, Pickles Shop and Yichang Smelting Workshop to watch the manufacturing processes of their products, but also have a chance to experience the cocoon-stripping and silk-reeling under the guidance of a master worker. Xizha Scenic Area also has a strong ambience of literature and art, because of the many finely decorated cafés, bars and shops.
Prices (US$ Per Person)
1 person

$376

2 persons

$212

3 persons

$166

4 persons

$141

5 persons

$134

6 persons

$116

7 persons

$105

8 persons

$99

9 persons

$94

10+

$90

Price Includes
Private English-speaking guide(s)
Private driver(s) & air-conditioned vehicle(s)
Entrance fees to tourist sites
Price Excludes
Hotel accommodation with breakfasts
Lunches and dinners
Tips or gratuities for guide and driver
Why Travel With Us
Itineraries you may also like:
Customer Reviews

Questions & Answers
The itinerary of the Shanghai day tour to Wuzhen Water Town was very comfortable. It was worthy to recommend to anyone who wanted to have a glimpse of Wuzhen Water Town. The town was quite busy and beautiful. The guide was friendly and gave us a clear explanation. Highly recommended!

The destination of the Shanghai day tour was the Wuzhen Water Town. It was a waterside town with a river crossing through. The well-preserved traditional residences were eye-catching. I had never seen such a beautiful town before. Highly recommended!

The Shanghai day tour was great. The itinerary and attractions were perfect. I would like to express my heartfelt thanks to Jimmy, the tour guide, for his warm and thoughtful service. Look forward to going to Shanghai again.