Kunshan Travel Guide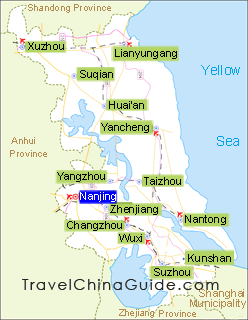 Located about halfway between Shanghai to the east and Suzhou to the west, Kunshan City is the eastern gateway of Jiangsu Province. Currently, there are about 650,000 permanent residents, distributed over an area of about 927 square kilometers (about 358 square miles). Ten towns and a national economical and technological zone are under the administration of the city government.

In recent years, more and more businessmen from Taiwan have invested in Kunshan. Some of them have even settled down and married here, which has led to the construction of many conveniences, including transportation, dining establishments, accommodations and amusement places.

As it concentrates on developing the economy, the local government has also put much effort into developing the tourist industry. As a result, this small city between Shanghai and Suzhou attracts more visitors each year.
In China, it is said that the most beautiful natural scenery is in southern China. Kunshan, one of the cities in southern China, will never disappoint her guests. The breath-taking views of Yangcheng Lake and Dianshan Lake nearby the city attract a great number of visitors all year round. Yangcheng Lake also supplies locals with plenty of seafood, especially the delicious Yangcheng Crab that you should be sure to try. In the urban area, Tinglin Park is really worth a visit. But the highlights of this city are the water towns, all of which are worthy tourist destinations. Zhouzhuang, the No.1 water town in China is highly praised by visitors from home and abroad, and Jinxi, Luzhi and Qiandeng are also interesting to visit. Peonica Garden Theme Park near Zhouzhuang is also a must-see attraction.

Although Kunshan is not a well known metropolis in China, it has important cultural and historical foundations. It is the cradle of Kun Opera which has been called the 'father of all operas' in China. You can visit the Kun Opera Museum in the city for a look at the history of this splendid piece of oriental heritage. In addition, a variety of historical sites awaits your exploration.
Although Kunshan does not have its own airport at present, it is convenient to come here from Shanghai Hongqiao and Pudong airports. From Shanghai, Suzhou, Nanjing and other large cities, it is easy for visitors to get here by train or long-distance bus.
Weather
-

When to Go: Kunshan is subject to subtropical monsoon climate, enjoying abundant sunlight and plentiful rainfall all year round. Thanks to the moist and humid weather, the annual average temperature is just 15.5°C. Therefore, all of the four clear seasons here are pleasant for visitors. Worth a special mention is the season when the Eight Immortals Flower (April-May) and Twin Lotus Flowers (July-August) bloom. Both are specialties of the city. Additionally, for those visitors who would like to whet their appetite, the best time is from September to November when one can savor the plump Yangcheng Lake crab.
Kunshan Travel Tips
Don't leave Kunshan without trying some of the delicious local food, including Ao Zao Noodle, which is unique to the city. Cuisines of other provinces of China are also available, and the high-quality western food served in the city's star-rated hotels is also a good choice for diners.
Fast Facts
Area: 927 square kilometers
Population: 650,000
Area Code: 0520
Zip Code: 215300
Emergency Numbers
Fire: 119
Police: 110
Ambulance: 120
Traffic: 122
Useful Numbers
Consumption Complaint of Kunshan Consumers' Association: 57512315
Transportation Complaint: 57310209
Time Inquiry: 117
Telephone Number Inquiry: 114
City-bus Inquiry: 57312534
Weather Forecast: 96121
Banks
Bank of China can service you with foreign exchange.
Kunshan location: No.306, Qianjin Middle Road
Tinglin location: No.7, Tinglin Road
Post Office
Renmin North Road location: No.102, Renmin North Road
Tinglin Road location: No.28, Tinglin Road
Hospital
No.1 People's Hospital
Address: No.91, Qianjin West Road

TCM Hospital
Address: No.189, Chaoyang Road
Bus: 103, 105, 106, 11, 117