Shanghai Metro Transfer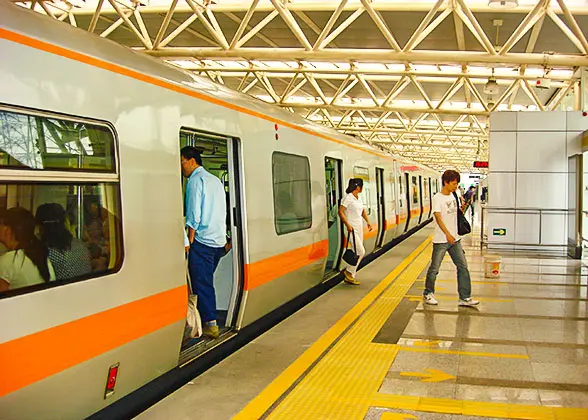 Passengers can take a single metro line or make transfer freely among certain lines. The major transfer stations include People's Square, South Railway Station, Indoor Stadium, Xinzhuang, Zhongshan Park, Century Avenue and South Xizang Rd.. You can refer to the maps of Shanghai metro and properly arrange your transfer.

We suggest you buy a through ticket at your starting station, because it is more convenient and the ticket fare is much lower than that you buy two tickets at your starting and transfer station.

There are two types of transfers: physical transfer and virtual transfer. For a physical transfer, passengers can transfer between Shanghai subway lines without exiting the station. When you get off the train, please remember not to exit the turnstile. Follow the guide signs to find the special passage leading to the platform for trains on the next line you plan to take and then wait for the train patiently. Here offers the timetables of physical transfer among different lines:

For a virtual transfer, however, passengers have to exit the stations and re-enter fare zones as they change from one subway line to another. To enjoy a discounted fare, passengers must use a Public Transportation Card instead of single-journey tickets. Here offers the timetable of virtual transfer among different metro lines.

Transfer of Line 1
Station
First Train
Last Train
Xinzhuang
(Transfer Between Line 1 & 5)
Line 1
To Fujin Rd.
5:30
Line 1
To Fujin Rd.
22:32
To Shanghai Railway Station (Main Railway Station)
5:30
To Main Railway Station
22:32
To Xinzhuang
----
To Xinzhuang
----
Line 5
To Xinzhuang
----
Line 5
To Xinzhuang
----
To Minhang Development Zone
6:00
To Minhang Development Zone
22:30
South Railway Station
(Transfer Between Line 1 & 3)
Line 1
To Fujin Rd.
5:18
Line 1
To Fujin Rd.
22:42
To Main Railway Station
4:55
To Main Railway Station
22:42
To Xinzhuang
5:54
To Xinzhuang
23:24
Line 3
To South Changjiang Rd.
5:25
Line 3
To South Changjiang Rd.
22:30
To North Jiangyang Rd.
5:25
To North Jiangyang Rd.
23:30
To South Railway Station
--
To South Railway Station
--
Indoor Stadium
(Transfer Between Line 1 & 4)
Line 1
To Fujin Rd.
5:23
Line 1
To Fujin Rd.
22:48
To Main Railway Station
5:00
To Main Railway Station
22:48
To Xinzhuang
5:49
To Xinzhuang
23:19
Line 4
Inner Ring
6:27
Line 4
Inner Ring (Full)
22:27
Inner Ring (Yishan Rd.)
23:27
Outer Ring
5:32
Outer Ring (Full)
21:32
Outer Ring (Yishan Rd.)
22:32
Xujiahui
(Transfer Between Line 1, 9 & 11)
Line 1
To Fujin Rd.
5:25
Line 1
To Fujin Rd.
22:50
To Main Railway Station
5:02
To Main Railway Station
22:50
To Xinzhuang
5:46
To Xinzhuang
23:16
Line 9
To Songjiang South Railway Station
5:54
Line 9
To Songjiang South Railway Station
22:54
To Middle Yanggao Rd.
6:01
To Middle Yanggao Rd.
22:47
Line 11

To Luoshan Rd.

6:27
Line 11

To Luoshan Rd.

22:39
To Jiading North
6:01
To Jiading North
23:01
To Huaqiao
6:06
To Anting
22:56
---
---
To Huaqiao
22:31
Changshu Rd.
(Transfer Between Line 1 & 7)
Line 1
To Fujin Rd.
5:29
Line 1
To Fujin Rd.
22:54
To Main Railway Station
5:06
To Main Railway Station
22:54
To Xinzhuang
5:42
To Xinzhuang
23:12
Line 7
To Meilan Lake
6:01
Line 7
To Meilan Lake
23:01
To Huamu Rd.
6:01
To Huamu Rd.
23:01
South Shanxi Rd.
(Transfer Between Line 1 & 10)
Line 1
To Fujin Rd.
5:31
Line 1
To Fujin Rd.
22:56
To Main Railway Station
5:08
To Main Railway Station
22:56
To Xinzhuang
5:40
To Xinzhuang
23:10
Line 10
To Xinjiangwancheng
5:56
Line 10
To Xinjiangwancheng
22:27
To Hangzhong Rd.
6:06
To Hangzhong Rd.
22:31
To Hongqiao Railway Station
6:11
To Hongqiao Railway Station
22:36
People's Square
(Transfer Among Line 1, 2 & 8)
Line 1
To Fujin Rd.
5:37
Line 1
To Fujin Rd.
23:01
To Main Railway Station
5:14
To Main Railway Station
23:01
To Xinzhuang
5:35
To Xinzhuang
23:05
Line 2
To Guanglan Rd.
6:02
Line 2
To Guanglan Rd.
23:17
To Xujing East
5:38
To Xujing East
23:11
Line 8
To Shendu Highway
6:00
Line 8
To Shendu Highway
23:00
To Shiguang Rd.
6:06
To Shiguang Rd.
23:06

Transfer of Line 2
Station
First Train
Last Train

Hongqiao Railway Station
(Transfer Between Line 2 & 10)

Line 2
To Guanglan Rd.
5:33
Line 2
To Guanglan Rd.
22:48
To Xujing East
6:07
To Xujing East
23:40
Line 10
To Xinjiangwancheng
5:55
Line 10
To Xinjiangwancheng
22:00
To Hangzhong Rd.
----
To Hangzhong Rd.
----
To Hongqiao Railway Station
----
To Hongqiao Railway Station
----
Hongqiao Airport T2
(Transfer Between Line 2 & 10)
Line 2
To Guanglan Rd.
5:35
Line 2
To Guanglan Rd.
22:50
To Xujing East
6:05
To Xujing East
23:38
Line 10
To Xinjiangwancheng
5:56
Line 10
To Xinjiangwancheng
22:01
To Hangzhong Rd.
---
To Hangzhong Rd.
----
To Hongqiao Railway Station
6:36
To Hongqiao Railway Station
23:01
East Nanjing Rd.
(Transfer Between Line 2 & 10)
Line 2
To Guanglan Rd.
6:04
Line 2
To Guanglan Rd.
23:19
To Xujing East
5:35
To Xujing East
23:08
Line 10
To Xinjiangwancheng
6:06
Line 10
To Xinjiangwancheng
22:37
To Hangzhong Rd.
5:55
To Hangzhong Rd.
22:20
To Hongqiao Railway Station
6:00
To Hongqiao Railway Station
22:25
Zhongshan Park
(Transfer Among Line 2, 3 & 4)
Line 2
To Guanglan Rd.
5:52
Line 2
To Guanglan Rd.
23:07
To Xujing East
5:48
To Xujing East
23:21
Line 3
To South Railway Station
6:17
Line 3
To South Railway Station
23:27
To South Changjiang Rd.
5:41
To South Changjiang Rd.
22:46
To North Jiangyang Rd.
5:41
To North Jiangyang Rd.
22:46
Line 4
Inner Ring
5:37
Line 4
Inner Ring (Full)
21:37
Inner Ring (Yishan Rd.)
22:37
Outer Ring
6:22
Outer Ring (Full)
22:22
Outer Ring (Yishan Rd.)
23:22
Jing'an Temple
(Transfer Between Line 2 & 7)
Line 2
To Xujing East
5:42
Line 2
To Xujing East
23:16
To Guanglan Rd.
5:57
To Guanglan Rd.
23:12
Line 7
To Meilan Lake
6:03
Line 7
To Meilan Lake
23:03
To Huamu Rd.
5:59
To Huamu Rd.
22:59
People's Square
(Transfer Among Line 2, 1 & 8)
Line 2
To Guanglan Rd.
6:02
Line 2
To Guanglan Rd.
23:17
To Xujing East
5:38
To Xujing East
23:11
Line 1
To Fujin Rd.
5:37
Line 1
To Fujin Rd.
23:01
To Main Railway Station
5:14
To Main Railway Station
23:01
To Xinzhuang
5:35
To Xinzhuang
23:05
Line 8
To Shendu Highway
6:00
Line 8
To Shendu Highway
23:00
To Shiguang Rd.
6:06
To Shiguang Rd.
23:06
Century Avenue
(Transfer Among Line 2, 4, 6 & 9)
Line 2
To Guanglan Rd.
6:11
Line 2
To Guanglan Rd.
23:26
To Xujing East
5:28
To Xujing East
23:01
Line 4
Inner Ring
6:05
Line 4
Inner Ring (Full)
22:05
Inner Ring (Yishan Rd.)
23:05
Outer Ring
5:53
Outer Ring (Full)
21:53
Outer Ring (Yishan Rd.)
22:53
Line 6
To Oriental Sports Center
6:08
Line 6
To Oriental Sports Center
23:08
To Gangcheng Rd.
5:57
To Gangcheng Rd.
22:57
Line 9
To Songjiang South Railway Station
5:34
Line 9
To Songjiang South Railway Station
22:34
To Middle Yanggao Rd.
6:21
To Middle Yanggao Rd.
23:07
Longyang Rd.
(Transfer Between Line 2 & 7, 16)
Line 2
To Guanglan Rd.
6:18
Line 2
To Guanglan Rd.
23:33
To Xujing East
5:21
To Xujing East
22:54
Line 7
To Meilan Lake
5:33
Line 7
To Meilan Lake
22:33
To Huamu Rd.
6:31
To Huamu Rd.
23:31
Line 16
To Dishui Lake
5:50
Line 16
To Dishui Lake
22:00
To Longyang Rd.
--
To Longyang Rd.
--
Jiangsu Rd.
(Transfer Between Line 2 & 11)
Line 2
To Guanglan Rd.
5:54
Line 2
To Guanglan Rd.
23:09
To Xujing East
5:45
To Xujing East
23:18
Line 11
To Huaqiao
6:05
Line 11
To Anting
To Huaqiao
23:02
22:37
To North Jiading
6:00
To North Jiading
23:07
Guanglan Rd.
(Transfer Between 4-Carriage & 8-Carriage Subway Trains)
Line 2
To Guanglan Rd.
----
Line 2
To Guanglan Rd.
----
To Xujing East
5:30
To Xujing East
22:45
Line 2
(East Extension)
To Guanglan Rd.
----
Line 2
(East Extension)
To Guanglan Rd.
----
To Pudong International Airport
6:00
To Pudong International Airport
22:00
To Far East Avenue
22:24

Transfer of Line 3
Station
First Train
Last Train
South Railway Station
(Transfer Between Line 3 & 1)
Line 3
To South Railway Station
----
Line 3
To South Railway Station
----
To South Changjiang Rd.
5:25
To South Changjiang Rd.
22:30
To North Jiangyang Rd.
5:25
To North Jiangyang Rd.
23:30
Line 1
To Fujin Rd.
5:18
Line 1
To Fujin Rd.
22:42
To Main Railway Station
4:55
To Main Railway Station
22:42
To Xinzhuang
5:54
To Xinzhuang
23:24
Yishan Rd.
(Transfer Among Line 3, 4 & 9)
Line 3
To South Railway Station
6:23
Line 3
To South Railway Station
23:33
To South Changjiang Rd.
5:34
To South Changjiang Rd.
22:39
To North Jiangyang Rd.
5:34
To North Jiangyang Rd.
22:39
Line 4
Inner Ring
5:30
Line 4
Inner Ring (Full)
22:30
Inner Ring (Yishan Rd.)
----
Outer Ring
5:30
Outer Ring (Full)
22:30
Outer Ring (Yishan Rd.)
----
Line 9
To Songjiang South Railway Sation
5:57
Line 9
To Songjiang South Railway Sation
22:57
To Middle Yanggao Rd.
5:57
To Middle Yanggao Rd.
22:44
Hongqiao Rd.
(Transfer Among Line 3, 4 & 10 )
Line 3
To South Railway Station
6:21
Line 3
To South Railway Station
23:31
To South Changjiang Rd.
5:36
To South Changjiang Rd.
22:41
To North Jiangyang Rd.
5:36
To North Jiangyang Rd.
22:41
Line 4
Inner Ring
5:32
Line 4
Inner Ring (Full)
21:32
Inner Ring (Yishan Rd.)
22:32
Outer Ring
6:26
Outer Ring (Full)
22:26
Outer Ring (Yishan Rd.)
23:26
Line 10
To Xinjiangwancheng
5:49
Line 10
To Xinjiangwancheng
22:19
To Hangzhong Rd.
6:13
To Hangzhong Rd.
22:38
To Hongqiao Railway Station
6:18
To Hongqiao Railway Station
22:43
West Yan'an Rd.
(Transfer Between Line 3 & 4)
Line 3
To South Railway Station
6:19
Line 3
To South Railway Station
23:29
To South Changjiang Rd.
5:39
To South Changjiang Rd.
22:44
To North Jiangyang Rd.
5:39
To North Jiangyang Rd.
22:44
Line 4
Inner Ring
5:35
Line 4
Inner Ring (Full)
21:35
Inner Ring (Yishan Rd.)
22:35
Outer Ring
6:24
Outer Ring (Full)
22:24
Outer Ring (Yishan Rd.)
23:24
Zhongshan Park
(Transfer Among Line 3, 2 & 4)
Line 3
To South Railway Station
6:17
Line 3
To South Railway Station
23:27
To South Changjiang Rd.
5:41
To South Changjiang Rd.
22:46
To North Jiangyang Rd.
5:41
To North Jiangyang Rd.
22:46
Line 2
To Guanglan Rd.
5:52
Line 2
To Guanglan Rd.
23:07
To Songhong Rd.
5:48
To Songhong Rd.
23:21
Line 4
Inner Ring
5:37
Line 4
Inner Ring (Full)
21:37
Inner Ring (Yishan Rd.)
22:37
Outer Ring
6:22
Outer Ring (Full)
22:22
Outer Ring (Yishan Rd.)
23:22
Jinshajiang Rd.
(Transfer Among Line 3, 4 & 13)
Line 3
To South Railway Station
6:14
Line 3
To South Railway Station
23:24
To South Changjiang Rd.
5:43
To South Changjiang Rd.
22:48
To North Jiangyang Rd.
5:43
To North Jiangyang Rd.
22:48
Line 4
Inner Ring
5:39
Line 4
Inner Ring (Full)
21:39
Inner Ring (Yishan Rd.)
22:39
Outer Ring
6:19
Outer Ring (Full)
22:19
Outer Ring (Yishan Rd.)
23:19
Line 13
To Changshou Rd.
6:18
Line 13
To Changshou Rd.
22:29
To Jinyun Rd.
6:20
To Jinyun Rd.
22:37
Caoyang Rd.
(Transfer Among Line 3, 4 & 11)
Line 3
To South Railway Station
6:12
Line 3
To South Railway Station
23:22
To South Changjiang Rd.
5:45
To South Changjiang Rd.
22:50
To North Jiangyang Rd.
5:45
To North Jiangyang Rd.
22:50
Line 4
Inner Ring
5:41
Line 4
Inner Ring (Full)
21:41
Inner Ring (Yishan Rd.)
22:41
Outer Ring
6:18
Outer Ring (Full)
22:18
Outer Ring (Yishan Rd.)
23:18
Line 11
To Huaqiao
6:09
Line 11
To Anting
To Huaqiao
23:07
22:42
To North Jiading
6:04
To North Jiading
23:12
To Jiangsu Rd.
6:16
To Luoshan Rd.
22:28
Zhenping Rd.
(Transfer Among Line 3, 4 & 7)
Line 3
To South Railway Station
6:10
Line 3
To South Railway Station
23:20
To South Changjiang Rd.
5:48
To South Changjiang Rd.
22:53
To North Jiangyang Rd.
5:48
To North Jiangyang Rd.
22:53
Line 4
Inner Ring
5:44
Line 4
Inner Ring (Full)
21:44
Inner Ring (Yishan Rd.)
22:44
Outer Ring
6:15
Outer Ring (Full)
22:15
Outer Ring (Yishan Rd.)
23:15
Line 7
To Meilan Lake
6:10
Line 7
To Meilan Lake
23:10
To Huamu Rd.
5:52
To Huamu Rd.
22:52
Zhongtan Rd.
(Transfer Between Line 3 & 4)
Line 3
To South Railway Station
6:07
Line 3
To South Railway Station
23:17
To South Changjiang Rd.
5:50
To South Changjiang Rd.
22:55
To North Jiangyang Rd.
5:50
To North Jiangyang Rd.
23:55
Line 4
Inner Ring
5:46
Line 4
Inner Ring (Full)
21:46
Inner Ring (Yishan Rd.)
22:46
Outer Ring
6:13
Outer Ring (Full)
22:13
Outer Ring (Yishan Rd.)
23:13
Shanghai Railway Station
(Transfer Between Line 3 & 4)
Line 3
To South Railway Station
6:05
Line 3
To South Railway Station
23:15
To South Changjiang Rd.
5:53
To South Changjiang Rd.
22:58
To North Jiangyang Rd.
5:53
To North Jiangyang Rd.
22:58
Line 4
Inner Ring
5:49
Line 4
Inner Ring (Full)
21:49
Inner Ring (Yishan Rd.)
22:49
Outer Ring
6:10
Outer Ring (Full)
22:10
Outer Ring (Yishan Rd.)
23:10
Baoshan Rd.
(Transfer Between Line 3 & 4)
Line 3
To South Railway Station
6:01
Line 3
To South Railway Station
23:11
To South Changjiang Rd.
5:56
To South Changjiang Rd.
23:01
To North Jiangyang Rd.
5:56
To North Jiangyang Rd.
23:01
Line 4
Inner Ring
5:52
Line 4
Inner Ring (Full)
21:52
Inner Ring (Yishan Rd.)
22:52
Outer Ring
6:07
Outer Ring (Full)
22:07
Outer Ring (Yishan Rd.)
23:07
Hongkou Football Stadium
(Transfer Between Line 3 & 8)
Line 3
To South Railway Station
5:57
Line 3
To South Railway Station
23:07
To North Jiangyang Rd.
6:01
To North Jiangyang Rd.
23:06
Line 8
To Shendu Highway
5:50
Line 8
To Shendu Highway
22:50
To Shiguang Rd.
6:15
To Shiguang Rd.
23:15

Transfer of Line 4
Station
First Train
Last Train
Indoor Stadium
(Transfer Between Line 4 & 1)
Line 4
Inner Ring
6:27
Line 4
Inner Ring (Full)
22:27
Inner Ring (Yishan Rd.)
23:27
Outer Ring
5:32
Outer Ring (Full)
21:32
Outer Ring (Yishan Rd.)
22:32
Line 1
To Fujin Rd.
5:23
Line 1
To Fujin Rd.
22:48
To Main Railway Station
5:00
To Main Railway Station
22:48
To Xinzhuang
5:49
To Xinzhuang
23:19
Yishan Rd.
(Transfer Among Line 4, 3 & 9)
Line 4
Inner Ring
5:30
Line 4
Inner Ring (Full)
22:30
Inner Ring (Yishan Rd.)
----
Outer Ring
5:30
Outer Ring (Full)
22:30
Outer Ring (Yishan Rd.)
----
Line 3
To South Railway Station
6:23
Line 3
To South Railway Station
23:33
To South Changjiang Rd.
5:34
To South Changjiang Rd.
22:39
To North Jiangyang Rd.
5:34
To North Jiangyang Rd.
22:39
Line 9
To Songjiang South Railway Station
5:57
Line 9
To Songjiang South Railway Station
22:57
To Middle Yanggao Rd.
5:57
To Middle Yanggao Rd.
22:44
Hongqiao Rd.
(Transfer Among Line 4, 3 & 10)
Line 4
Inner Ring
5:32
Line 4
Inner Ring (Full)
21:32
Inner Ring (Yishan Rd.)
22:32
Outer Ring
6:26
Outer Ring (Full)
22:26
Outer Ring (Yishan Rd.)
23:26
Line 3
To South Railway Station
6:21
Line 3
To South Railway Station
23:31
To South Changjiang Rd.
5:36
To South Changjiang Rd.
22:41
To North Jiangyang Rd.
5:36
To North Jiangyang Rd.
22:41
Line 10
To Xinjiangwancheng
5:49
Line 10
To Xinjiangwancheng
22:19
To Hangzhong Rd.
6:13
To Hangzhong Rd.
22:38
To Hongqiao Railway Station
6:18
To Hongqiao Railway Station
22:43
West Yan'an Rd.
(Transfer Between Line 4 & 3)
Line 4
Inner Ring
5:35
Line 4
Inner Ring (Full)
21:35
Inner Ring (Yishan Rd.)
22:35
Outer Ring
6:24
Outer Ring (Full)
22:24
Outer Ring (Yishan Rd.)
23:24
Line 3
To South Railway Station
6:19
Line 3
To South Railway Station
23:29
To South Changjiang Rd.
5:39
To South Changjiang Rd.
22:44
To North Jiangyang Rd.
5:39
To North Jiangyang Rd.
22:44
Zhongshan Park
(Transfer Among Line 4, 2 & 3)
Line 4
Inner Ring
5:37
Line 4
Inner Ring (Full)
21:37
Inner Ring (Yishan Rd.)
22:37
Outer Ring
6:22
Outer Ring (Full)
22:22
Outer Ring (Yishan Rd.)
23:22
Line 2
To Guanglan Rd.
5:52
Line 2
To Guanglan Rd.
23:07
To Songhong Rd.
5:48
To Songhong Rd.
23:21
Line 3
To South Railway Station
6:17
Line 3
To South Railway Station
23:27
To South Changjiang Rd.
5:41
To South Changjiang Rd.
22:46
To North Jiangyang Rd.
5:41
To North Jiangyang Rd.
22:46
Jinshajiang Rd.
(Transfer Among Line 4, 3 & 13)
Line 4
Inner Ring
5:39
Line 4
Inner Ring (Full)
21:39
Inner Ring (Yishan Rd.)
22:39
Outer Ring
6:19
Outer Ring (Full)
22:19
Outer Ring (Yishan Rd.)
23:19
Line 3
To South Railway Station
6:14
Line 3
To South Railway Station
23:24
To South Changjiang Rd.
5:43
To South Changjiang Rd.
22:48
To North Jiangyang Rd.
5:43
To North Jiangyang Rd.
22:48
Line 13
To Changshou Rd.
6:18
Line 13
To Changshou Rd.
22:29
To Jinyun Rd.
6:20
To Jinyun Rd.
22:37
Caoyang Rd.
(Transfer Among Line 4, 3 & 11)
Line 4
Inner Ring
5:41
Line 4
Inner Ring (Full)
21:41
Inner Ring (Yishan Rd.)
22:41
Outer Ring
6:18
Outer Ring (Full)
22:18
Outer Ring (Yishan Rd.)
23:18
Line 3
To South Railway Station
6:12
Line 3
To South Railway Station
23:22
To South Changjiang Rd.
5:45
To South Changjiang Rd.
22:50
To North Jiangyang Rd.
5:45
To North Jiangyang Rd.
22:50
Line 11
To Huaqiao
6:09
Line 11
To Anting
To Huaqiao
23:07
22:42
To North Jiading
6:04
To North Jiading
23:12
To Jiangsu Rd.
6:16
To Jiangsu Rd.
22:28
Zhenping Rd.
(Transfer Among Line 4, 3 & 7)
Line 4
Inner Ring
5:44
Line 4
Inner Ring (Full)
21:44
Inner Ring (Yishan Rd.)
22:44
Outer Ring
6:15
Outer Ring (Full)
22:15
Outer Ring (Yishan Rd.)
23:15
Line 3
To South Railway Station
6:10
Line 3
To South Railway Station
23:20
To South Changjiang Rd.
5:48
To South Changjiang Rd.
22:53
To North Jiangyang Rd.
5:48
To North Jiangyang Rd.
22:53
Line 7
To Meilan Lake
6:10
Line 7
To Meilan Lake
23:10
To Huamu Rd.
5:52
To Huamu Rd.
22:52
Zhongtan Rd.
(Transfer Between Line 4 & 3)
Line 4
Inner Ring
5:46
Line 4
Inner Ring (Full)
21:46
Inner Ring (Yishan Rd.)
22:46
Outer Ring
6:13
Outer Ring (Full)
22:13
Outer Ring (Yishan Rd.)
23:13
Line 3
To South Railway Station
6:07
Line 3
To South Railway Station
23:17
To South Changjiang Rd.
5:50
To South Changjiang Rd.
22:55
To North Jiangyang Rd.
5:50
To North Jiangyang Rd.
23:55
Shanghai Railway Station
(Transfer Between Line 4 & 3)
Line 4
Inner Ring
5:49
Line 4
Inner Ring (Full)
21:49
Inner Ring (Yishan Rd.)
22:49
Outer Ring
6:10
Outer Ring (Full)
22:10
Outer Ring (Yishan Rd.)
23:10
Line 3
To South Railway Station
6:05
Line 3
To South Railway Station
23:15
To South Changjiang Rd.
5:53
To South Changjiang Rd.
22:58
To North Jiangyang Rd.
5:53
To North Jiangyang Rd.
22:58
Baoshan Rd.
(Transfer Between Line 4 & 3)
Line 4
Inner Ring
5:52
Line 4
Inner Ring (Full)
21:52
Inner Ring (Yishan Rd.)
22:52
Outer Ring
6:07
Outer Ring (Full)
22:07
Outer Ring (Yishan Rd.)
23:07
Line 3
To South Railway Station
6:01
Line 3
To South Railway Station
23:11
To South Changjiang Rd.
5:56
To South Changjiang Rd.
23:01
To North Jiangyang Rd.
5:56
To North Jiangyang Rd.
23:01
Hailun Rd.
(Transfer Between Line 4 & 10)
Line 4
Inner Ring
5:55
Line 4
Inner Ring (Full)
21:55
Inner Ring (Yishan Rd.)
22:55
Outer Ring
6:04
Outer Ring (Full)
22:04
Outer Ring (Yishan Rd.)
23:04
Line 10
To Xinjiangwancheng
6:13
Line 10
To Xinjiangwancheng
22:44
To Hangzhong Rd.
5:48
To Hangzhong Rd.
22:13
To Hongqiao Railway Station
5:53
To Hongqiao Railway Station
22:18
Century Avenue
(Transfer Among Line 4, 2, 6 & 9)
Line 4
Inner Ring
6:05
Line 4
Inner Ring (Full)
22:05
Inner Ring (Yishan Rd.)
23:05
Outer Ring
5:53
Outer Ring (Full)
21:53
Outer Ring (Yishan Rd.)
22:53
Line 2
To Guanglan Rd.
6:11
Line 2
To Guanglan Rd.
23:26
To Xujing East
5:28
To Xujing East
23:01
Line 6
To Oriental Sports Center
6:08
Line 6
To Oriental Sports Center
23:08
To Gangcheng Rd.
5:57
To Gangcheng Rd.
22:57
Line 9
To South Railway Station
5:34
Line 9
To South Railway Station
22:34
To Middle Yanggao Rd.
6:21
To Middle Yanggao Rd.
23:07
Lancun Rd.
(Transfer Between Line 4 & 6)
Line 4
Inner Ring
6:10
Line 4
Inner Ring (Full)
22:10
Inner Ring (Yishan Rd.)
23:10
Outer Ring
5:49
Outer Ring (Full)
21:49
Outer Ring (Yishan Rd.)
22:49
Line 6
To Gangcheng Rd.
5:52
Line 6
To Gangcheng Rd.
22:52
To Oriental Sports Center
6:13
To Oriental Sports Center
23:13
South Xizang Rd.
(Transfer Between Line 4 & 8)
Line 4
Inner Ring
6:17
Line 4
Inner Ring (Full)
22:17
Inner Ring (Yishan Rd.)
23:17
Outer Ring
5:42
Outer Ring (Full)
21:42
Outer Ring (Yishan Rd.)
22:42
Line 8
To Shendu Highway
6:08
Line 8
To Shendu Highway
23:08
To Shiguang Rd.
5:58
To Shiguang Rd.
22:58
Dong'an Rd.
(Transfer Between Line 4 & 7)
Line 4
Inner Ring
6:23
Line 4
Inner Ring (Full)
22:23
Inner Ring (Yishan Rd.)
23:23
Outer Ring
5:36
Outer Ring (Full)
21:36
Outer Ring (Yishan Rd.)
22:36
Line 7
To Meilan Lake
5:56
Line 7
To Meilan Lake
22:56
To Huamu Rd.
6:06
To Huamu Rd.
23:06
Dalian Rd.
(Transfer Between Line 4 & 12)
Line 4
Inner Ring
5:59
Line 4
Inner Ring (Full)
21:59
Inner Ring (Yishan Rd.)
22:59
Outer Ring
6:00
Outer Ring (Full)
22:00
Outer Ring (Yishan Rd.)
23:00
Line 12
To Jinhai Rd.
6:07
Line 12
To Jinhai Rd.
22:27
To Qufu Rd.
6:27
To Qufu Rd.
22:27

Transfer of Line 5
Station
First Train
Last Train
Xinzhuang
(Transfer Between Line 5 & 1)
Line 5
To Xinzhuang
--
Line 5
To Xinzhuang
--
To Minhang Development Zone
6:00
To Minhang Development Zone
22:30
Line 1
To Fujin Rd.
5:30
Line 1
To Fujin Rd.
22:32
To Main Railway Station
5:30
To Main Railway Station
22:32
To Xinzhuang
--
To Xinzhuang
--

Transfer of Line 6
Station
First Train
Last Train
Oriental Sports Center
(Transfer Between Line 6, 8 & 11 )
Line 6
To Gangcheng Rd.
05:30
Line 6
To Gangcheng Rd.
22:30
To Oriental Sports Center
----
To Oriental Sports Center
----
Line 8
To Shendu Highway
6:19
Line 8
To Shendu Highway
22:19
To Shiguang Rd.
5:47
To Shiguang Rd.
22:47
Line 11
To Luoshan Rd.
6:40
Line 11
To Luoshan Rd.
22:52
To Jiading North
5:48
To Jiading North
22:48
To Huaqiao
5:53
To Anting
22:43
---
---
To Huaqiao
22:18
West Gaoke Rd.
(Transfer Between Line 6 & 7)
Line 6
To Gangcheng Rd.
5:44
Line 6
To Gangcheng Rd.
22:44
To Oriental Sports Center
6:21
To Oriental Sports Center
23:21
Line 7
To Meilan Lake
5:43
Line 7
To Meilan Lake
22:43
To Huamu Rd.
6:20
To Huamu Rd.
23:20
Lancun Rd.
(Transfer Between Line 6 & 4)
Line 6
To Gangcheng Rd.
5:52
Line 6
To Gangcheng Rd.
22:52
To Oriental Sports Center
6:13
To Oriental Sports Center
23:13
Line 4
Inner Ring
6:10
Line 4
Inner Ring (Full)
22:10
Inner Ring (Yishan Rd.)
23:10
Outer Ring
5:49
Outer Ring (Full)
21:49
Outer Ring (Yishan Rd.)
22:49
Century Avenue
(Transfer Among Line 6, 2, 4 & 9)
Line 6
To Oriental Sports Center
6:08
Line 6
To Oriental Sports Center
23:08
To Gangcheng Rd.
5:57
To Gangcheng Rd.
22:57
Line 2
To Guanglan Rd.
6:11
Line 2
To Guanglan Rd.
23:26
To Xujing East
5:28
To Xujing East
23:01
Line 4
Inner Ring
6:05
Line 4
Inner Ring (Full)
22:05
Inner Ring (Yishan Rd.)
23:05
Outer Ring
5:53
Outer Ring (Full)
21:53
Outer Ring (Yishan Rd.)
22:53
Line 9
To Songjiang South Railway Station
5:34
Line 9
To Songjiang South Railway Station
22:34
To Middle Yanggao Rd.
6:21
To Middle Yanggao Rd.
23:07
Jufeng Rd.
(Transfer Between Line 6 & 12)
Line 6
To Oriental Sports Center
5:47
Line 6
To Oriental Sports Center
22:47
To Gangcheng Rd.
6:17
To Gangcheng Rd.
23:17
Line 12
To Jinhai Rd.
6:24
Line 12
To Jinhai Rd.
22:44
To Qufu Rd.
6:11
To Qufu Rd.
22:11

Transfer of Line 7
Station
First Train
Last Train
Zhenping Rd.
(Transfer Among Line 7, 3 & 4)
Line 7
To Meilan Lake
6:10
Line 7
To Meilan Lake
23:10
To Huamu Rd.
5:52
To Huamu Rd.
22:52
Line 3
To South Railway Station
6:10
Line 3
To South Railway Station
23:20
To South Changjiang Rd.
5:48
To South Changjiang Rd.
22:53
To North Jiangyang Rd.
5:48
To North Jiangyang Rd.
22:53
Line 4
Inner Ring
5:44
Line 4
Inner Ring (Full)
21:44
Inner Ring (Yishan Rd.)
22:44
Outer Ring
6:15
Outer Ring (Full)
22:15
Outer Ring (Yishan Rd.)
23:15
Changshou Rd.
(Transfer Between Line 7 & 13)
Line 7
To Meilan Lake
6:08
Line 7
To Meilan
23:08
To Huamu Rd.
5:55
To Huamu Rd.
22:55
Line 13
To Changshou Rd.
--
Line 13
To Changshou Rd.
--
To Jinyun Rd.
6:12
To Jinyun Rd.
22:30
Jing'an Temple
(Transfer Between Line 7 & 2)
Line 7
To Meilan Lake
6:03
Line 7
To Meilan Lake
23:03
To Huamu Rd.
5:59
To Huamu Rd.
22:59
Line 2
To Xujing East
5:42
Line 2
To Xujing East
23:16
To Guanglan Rd.
5:57
To Guanglan Rd.
23:12
Changshu Rd.
(Transfer Between Line 7 & 1)
Line 7
To Meilan Lake
6:01
Line 7
To Meilan Lake
23:01
To Huamu Rd.
6:01
To Huamu Rd.
23:01
Line 1
To Main Railway Station
5:06
Line 1
To Main Railway Station
22:54
To Fujin Rd.
5:29
To Fujin Rd.
22:54
To Xinzhuang
5:42
To Xinzhuang
23:12
Zhaojiabang Rd.
(Transfer Between Line 7 & 9)
Line 7
To Meilan Lake
5:58
Line 7
To Meilan Lake
22:58
To Huamu Rd.
6:04
To Huamu Rd.
23:04
Line 9
To Songjiang South Railway Station
5:51
Line 9
To Songjiang South Railway Station
22:51
To Middle Yanggao Rd.
6:03
To Middle Yanggao Rd.
22:49
Dong'an Rd.
(Transfer Between Line 7 & 4)
Line 7
To Meilan Lake
5:56
Line 7
To Meilan Lake
22:56
To Huamu Rd.
6:06
To Huamu Rd.
23:06
Line 4
Inner Ring
6:23
Line 4
Inner Ring (Full)
22:23
Inner Ring (Yishan Rd.)
23:23
Outer Ring
5:36
Outer Ring (Full)
21:36
Outer Ring (Yishan Rd.)
22:36
Yaohua Rd.
(Transfer Between Line 7 & 8)
Line 7
To Meilan Lake
5:47
Line 7
To Meilan Lake
22:47
To Huamu Rd.
6:16
To Huamu Rd.
23:16
Line 8
To Shendu Highway
6:12
Line 8
To Shendu Highway
23:12
To Shiguang Rd.
5:53
To Shiguang Rd.
22:53
West Gaoke Rd.
(Transfer Between Line 7 & 6)
Line 7
To Meilan Lake
5:43
Line 7
To Meilan Lake
22:43
To Huamu Rd.
6:20
To Huamu Rd.
23:20
Line 6
To Gangcheng Rd.
5:44
Line 6
To Gangcheng Rd.
22:44
To Oriental Sports Center
6:21
To Oriental Sports Center
23:21
Longyang Rd.
(Transfer Between Line 7 & 2 & 16)
Line 7
To Meilan Lake
5:33
Line 7
To Meilan Lake
22:33
To Huamu Rd.
6:31
To Huamu Rd.
23:31
Line 2
To Xujing East
5:21
Line 2
To Xujing East
22:54
To Guanglan Rd.
6:18
To Guanglan Rd.
23:33
Line 16
To Dishui Lake
5:50
Line 16
To Dishui Lake
22:00
To Longyang Rd.
--
To Longyang Rd.
--
---

Transfer of Line 8, 9, 10, 11, 12, 13, 16 & Virtual Transfer
---
-