Chongqing Railway Station
Chongqing Railway Station is also called Caiyuanba Railway Station. In service since 1952, it is one of the three major stations in Chongqing. Now that Chongqing North Railway Station in service, Chongqing Railway Station mainly operates trains from Chongqing to Guizhou, Chengdu and Huaihua. Chongqing Bus Station adjoins and has buses to Zunyi, Guiyang, Zigong, Dazhou and Yibin.

Address: Caiyuan Road, Yuzhong District



Facing the two-storied station building, you can find the ticket office on the right. There are twelve windows in service, and each is equipped with two LED screens: one for the station staff, and the other for passengers to acquire information about remainder tickets. On the square in front of the Chongqing Train Station building, there are bus stops, taxi stands, and parking lots for private cars.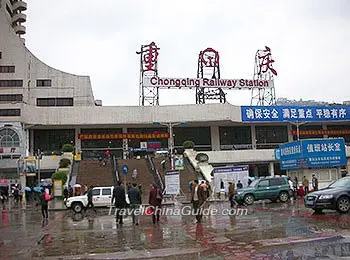 After getting your tickets, take the escalator to the waiting hall on 2F. There are four normal waiting rooms, six VIP rooms and one soft seat/sleeper waiting room. Passengers can find the corresponding room according to the train number shown on the large LED screen. VIP rooms charge an extra fee, but passengers can enjoy a more comfortable environment and facilities such as TV, boiled water and newspapers. Only soft seat/sleeper tickets holders are permitted to enter the soft seat/sleeper waiting room. In addition, on the first floor, teahouse waiting rooms are in service. Passengers pay CNY 10 per person to enter. Passengers in VIP, soft seat/sleeper and teahouse waiting rooms can get on board thirty minutes before normal check-in time. In addition, passengers can easily find the luggage porters who wear red hats and uniforms. They can carry your luggage to your carriage ahead of check-in time. CNY 10 is charged for each piece of luggage.
If passengers want to store their luggage, some left luggage spots are available. Facing the station building, there is a left luggage spot on the left side beneath the steps to 2F. There are two other left luggage spots respectively near the station exit and ticket office. They charge CNY 10 for small bags and CNY 15 for large luggage per day. In addition, Country Style Cooking Restaurant and Dicos provide left luggage service for free if you buy some food or drink. Even just a cup of coca-cola is OK.
Schedule

Major Rail Lines from Chongqing Railway Station to:

Schedule to major destinations:
(Last Update on Mar 24, 2022)
To
Trains
Duration
Ticket Fare (CNY)
Soft/ Hard Sleeper

Guangyuan

K1503, K679 at 08:38 and 16:45
4h21m - 5h47m
CNY 155.5/ 105.5
USD 24/ 17

Lanzhou

K1503, K679 at 08:38 and 16:45
11h2m - 11h56m
CNY 325/ 214
USD 51/ 34

Shiyan

K1064 at 21:36
10h22m
CNY 297/ 196
USD 47/ 31

The above schedule is for reference only. For real-time schedule and ticket booking, please click the arrival stations.
See detailed
Chongqing Train Schedule
Transportation

By bus
Take the bus 207, 210, 325, 347, 419, 439, 503, 606, 618 or 619, and get off at Caiyuanba Railway Station.
Take bus 606 or 862 and get off at Caiyuanba South Square.

By metro
Take metro line 1 or line 3 and get off at Lianglukou Station, leave from Exit 3. Then take the Great Crown Escalator to Chongqing Railway Station, CNY 2.

By taxi
It takes 30 minutes and costs CNY 60 from
Chongqing Jiangbei Airport
.
It takes 20 minutes and costs CNY 30 from
Chongqing North Railway Station
.
It takes 25 minutes and costs CNY 20 from
West Railway Station
.

Transfer from Chongqing Railway Station to Chaotianmen Dock:
1. Take bus No. 112 for 4 stops and get off at Chaotianmen Jinhaiyang (Chaotianmen Golden Ocean), then walk northward along the road for about 656 yards (600 meters), you will find the dock.
2. Take bus No. 503 for 3 stops and get off at Changbin Road Jiumatou (Changbin Road Ninth Dock), and walk northward for about 656 yards.
3. Take metro line 1 from Lianglukou station and get off at Xiaoshizi after 3 stops. Leave from Exit 4B and walk northward along the road for about 0.7 miles (1.2 km).
4. Taxi is also available and it takes 15 minutes and costs CNY20.

From Jiangbei Airport, passengers can take metro line 3 to Lianglukou station, and leave from Exit 3 or 4. Then walk the station. It takes about 1 hour.
Print

- Last modified on Mar. 24, 2022 -
Questions & Answers on Chongqing Railway Station
Asked by AkiEnO from THAILAND | Jan. 06, 2020 03:24

Reply
Is there any luggage storage at Shapingba train station or Shapingba metro?
Answers (1)
Answered by Leon | Jan. 06, 2020 17:47

0

0

Reply
No, no luggage storage service
Asked by Walan from THAILAND | Sep. 11, 2019 01:00

Reply
Is there left luggage service (or luggage storage) at the Ciqikou Station?
Answers (1)
Answered by Joe | Sep. 12, 2019 03:58

0

0

Reply
No, I did not see any place for luggage storage
Asked by Ricardo | Jul. 17, 2019 01:58

Reply
Which is nearest station to my hotel - Bloom Boutique Hotel?
How much it costs by taxi?
Answers (1)
Answered by Miguel from SPAIN | Jul. 17, 2019 18:14

0

0

Reply
This Chongqing Station is indeed the nearest one, about 20min by taxi. Taxi fare may be around CNY35. The problem is which station you can use depends on the train you will take. As I know this station only has slow rides. If you need to use high speed type, then you may consider West Station, North Station or Shapingba station.
Asked by Naharuetai from THAILAND | Oct. 14, 2018 18:56

Reply
What is the station for Z 49 train from Chongqing to Chengdu
If I book train ticket Z49 depart 05.45 to Chengdu 08.39 ,What is the station , North Railway Station or Chongqing railway station or West Railway Station. And how about K503 are the same station or not.
Thank you
Answers (1)
Answered by Gloria | Oct. 15, 2018 01:02

0

0

Reply
both Z49 and K503 are from the North Railway Station.
Asked by Siri from THAILAND | Oct. 10, 2018 23:26

Reply
Jiangbei Airport to Chongqing North
Could you please advise best way to get from Jiangbei Airport to Chongqing North Railway Station and how long to take it
Answers (2)
Answered by Yvette | Oct. 11, 2018 01:37

0

0

Reply
It is very convenient to use metro line 3, 12 stops, directly to North station. About 45min
Answered by siri from THAILAND | Oct. 11, 2018 02:32

0

0

Reply
Thank you so much