Chongqing North Railway Station
Chongqing North Railway Station is also called Longtousi Railway Station. It is about 10 miles (16 kilometers) from
Ci Qi Kou Village
, 11 miles (18 kilometers) from
Chongqing Zoo
, and 6 miles (10 kilometers) from
Chongqing Railway Station
, 20 kilometers (12.4 miles) from
West Railway Station
.
Address: Kunlun Avenue of Longtousi in Yubei District

Schedule and Ticket Booking
It is one of the two major stations in the city, which mainly operates trains to/from Beijing, Shanghai, Lanzhou, Xi'an, Guangzhou, Shenzhen and Changsha. It also has bullet trains to Chengdu, Shizhu, Fuling, Lichuan, Nanchong and Wanzhou.



Major Rail Lines from this station to:

High Speed Train Schedule:
(Last Update on Jan 19, 2023)
To
Trains
Duration
Ticket Fare (CNY)
First/ Second Class Seat

Beijing West

G4866, G52, G388, G54 from 01:21 to 14:33
6h54m - 11h25m
CNY 1,354/ 846
USD 199/ 124

Guangzhou South

G319, D1861, D1875, D1841...
13 departures from 07:11 to 14:56
7h48m - 9h6m
CNY 661/ 413
USD 97/ 61

Shanghai

D3074, D3074, D2214, D958...
13 departures from 06:22 to 10:17
10h28m - 14h1m
CNY 935/ 585
USD 138/ 86

Xi'an North

G2232, G2240, G2236, G1836...
17 departures from 06:37 to 18:27
4h55m - 6h17m
CNY 447/ 279.5
USD 66/ 41

Wuhan

D2378, D2378, D3074, G3452...
40 departures from 05:50 to 18:32
4h45m - 7h41m
CNY 432/ 250.5
USD 64/ 37

Qingdao

G1836, G1836, G316, G1324...
7 departures from 07:57 to 10:05
11h15m - 14h16m
CNY 1,322.5/ 827.5
USD 194/ 122

Shenzhen North

G319 at 07:11
8h24m
CNY 760.5/ 487.5
USD 112/ 72

Wanzhou North

C6428, C6428, C6404, G3452...
66 departures from 06:07 to 21:33
1h11m - 2h3m
CNY 126/ 78
USD 19/ 11

Lanzhou

D751, D805, D755, D755...
5 departures from 06:36 to 16:10
7h4m - 7h45m
CNY 356/ 222
USD 52/ 33

The above schedule is for reference only. For real-time schedule and ticket booking, please click the arrival stations.

Normal Speed Train Timetable
(Last Update on Jan 19, 2023)
To
Trains
Duration
Ticket Fare (CNY)
Soft/ Hard Sleeper

Beijing West

Z96, Z50, Z4, K508 from 11:25 to 21:00
18h47m - 24h34m
CNY 702/ 444
USD 103/ 65

Xi'an

K692, K692 at 10:20 and 10:20
8h53m - 9h37m
CNY 316/ 205
USD 46/ 30

Shanghai

K73, Z258 at 09:46 and 14:10
18h58m - 26h17m
CNY 686/ 436
USD 101/ 64

Shenzhen

K485 at 18:30
25h2m
CNY 779/ 424
USD 115/ 62

Guiyang

K507, K1501, K141, K871...
5 departures from 09:43 to 18:19
3h46m - 4h51m
CNY 179/ 117
USD 26/ 17

The above schedule is for reference only. For real-time schedule and ticket booking, please click the arrival stations.
See detailed
Chongqing Schedule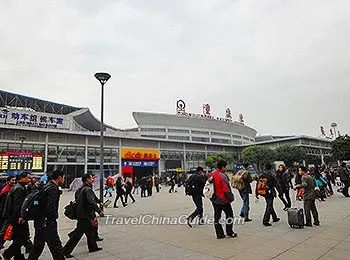 Chongqing North
Station plan
The station consists of two terminal buildings and two squares on the north and south sides of the railway tracks. Their waiting halls are connected with each other, so passenger can enter the station from either north square or south square.
Besides, there is an underground passage connecting the two squares. It takes about 5 minutes to walk from one square to the other.
South Terminal
The south terminal building has two floors linked by escalators, stairs and lifts for the disabled. It has seven waiting rooms in total, including two regular waiting rooms, a VIP waiting room, a soft seat/sleeper waiting room and three rooms respectively for the disabled, servicemen and mother & baby. A large LED screen displays the train numbers, their arrival and departure times, and waiting rooms. Use it to find your waiting room and follow the direction boards to get there for boarding. There is also a game center on the 2F, so passengers can spend their time here. Passengers can watch TV, enjoy free WI-FI and charge their mobile phones in the waiting rooms. McDonald's provides passengers with food and drink. Passengers waiting on 2F can reach the platforms via a foot bridge.
Two ticket offices are available here. One is to the east side of the station entrance; the other is close to the exit 2 of metro station- North Train Station on line 3 on the South Square.
On the South Square, there is a coach station, taxi stands, bus stations, ticket office and metro stations.
North Terminal
The north terminal building has six floors. There is a large waiting hall on 1F. At two sides of the waiting hall, toilets and hot drinking water are provided. Boarding gates are also on two sides of the hall. Read your ticket to see which boarding gate you should use. In addition, restaurants and dessert shops are also available. Two ticket offices are located at the east and west sides of the waiting hall on 1F; and the third one is located on -1F.
On the North Square, there are also city bus stations and a coach station.
How to transfer between North Railway Station and downtown/nearby cities

By metro:
Line 3
,
Line 4
,
Line 10
&
Circle Line
There are metro stations at both square of Chongqing North Train Station. On North Square, passengers can find the metro station for line 4 and line 10, while on the South Square, oone can find the metro station for line 3, line 4 and Circle Line.

By bus:
At South Square: 105, 138, 202, 421, 439, 532, 616, 0800 night line, 821, 841, 869, 879, 885, 0491, BRT 01
At North Square: 119, 141, 217, 245, 288, 354, 622, 818, 820, airport special line 02

By taxi:
Passengers can be dropped off at either South Square or North Square. Three taxi pick-up stands are as follows: at the underground passage of south square, next to Longtousi South Coach Station at South Square, and on -2F of north terminal building respectively.
| From/To | Duration (Minutes) | Cost (CNY) |
| --- | --- | --- |
| Ci Qi Kou Village | 30 | 35 |
| Railway Station | 20 | 25 |
| Chongqing Zoo | 40 | 40 |
| Jiangbei Airport | 30 | 45 |

By long-distance bus:
If traveling by long-distance bus, passengers will arrive at Chongqing North Railway Station South Square Coach Station or Chongqing North Railway Station North Square Coach Station. The former one has coaches to/from Kashgar, Fuzhou, Xiamen, Jinan, Qingdao, Heyuan, Kunming, Xi'an, Guangzhou, Leshan, Jiuzhaigou, and Wanzhou etc. The latter one operates coaches to/from Yongchuan, Dazu, Tongliang, Jingjin, Hechuan, Guang'an, Wanzhou, Fenghuang, Longtan, Nanchuan, and Chengdu etc.
How to get to famous downtown places from North Railway Station

Railway Station
Take metro line 3 to get there.
Or take bus no. 439 at South Square to get there.

Ci Qi Kou Village
Take bus no. 202 at South Square to get to the destination.

Chongqing Zoo
Take metro line 3 to Niujiaotuo station, and then change to subway line 2 to the zoo.

Jiangbei Airport:
Take metro line 3 to the airport directly.
Or take airport special line 02 to get there. It is available between 08:00 and 22:30 every 30 minutes. Ticket fare is CNY 10 per person and duration is 30 minutes.
Print

- Last updated on Jan. 19, 2023 -
Questions & Answers on Chongqing North Railway Station
Asked by Lucy from CHINA | Jul. 21, 2022 22:19

Reply
Covid test
Do you need to show covid test results before you board train?
Answers (1)
Answered by Rosie | Jul. 26, 2022 01:29

0

0

Reply
No, but it may be required at the arrival station.
Asked by Jerome from GERMANY | May. 09, 2020 17:52

Reply
Is there bus at Chongqing North Station to Fairy Mountain?
Answers (1)
Answered by Lim from CHINA | May. 11, 2020 17:43

0

0

Reply
There is no direct bus to Fairy Mountain. You can take a train from North Railway Station to Wulong first and then change to bus to Fairy Town. Or you can take a taxi/metro to Sigongli Bus Station first and then take a bus to Wulong, finally change bus to Fairy Town.
Asked by Sara from GERMANY | Oct. 04, 2019 01:37

Reply
Left Luggage at North Station
Hi, is there a left luggage place at North Station?

Thank you

Sara
Answers (1)
Answered by Nancy | Oct. 08, 2019 19:57

0

0

Reply
Did not see an official office for this service but shops on B1 floor seems offer this service.
Asked by georgiy donskikh from РОССИЯ | Oct. 03, 2019 08:50

Reply
How can i get to Fengdu Ghost City ?
Answers (1)
Answered by Nancy | Oct. 08, 2019 20:02

0

0

Reply
I heard there are very few buses from the long distance bus stations near Chongqing North Station to Fengdu, then you can take city bus or taxi to the Ghost City. If you cannot catch a bus from the nearby bus station, you can go to Sigongli long distance bus station for the bus instead.
Asked by Maxwell from UNITED KINGDOM | Jul. 16, 2019 02:51

Reply
Hello, I heard that the south square is closed for construction?
Is this true, so now we will only checkin from north square right?
Answers (3)
Answered by TravelChinaGuide | Jul. 16, 2019 18:51

0

0

Reply
Thank you for your inquiry.

South square will stop for use until year 2021. During these time, only North Square will be used. Travelers with tickets depart from North Station can go to North Square directly for checkin.

Answered by Pshr from 尼泊尔 | Jul. 28, 2019 14:11

0

0

Reply
I have ticket coming week for shanghai on a sleeper train , i think its Z train , where do i go? South square or north?
Answered by Kellie | Jul. 28, 2019 22:59

0

0

Reply
North Square