Wansheng Stone Forest
Formed 465 million to 600 million years ago underwater due to continuous sedimentation, the Wansheng Stone Forest in Chongqing is proved to be the oldest forest of stones in China, even 200 million years older than the
Stone Forest in Kunming
and honoured as "Father of Stone Forest in China". Enjoying typical Karst landform, it is renowned for its different forms of stone forests and underground Karst caves. Various fossils make the scenic area unique compared with other similiar sites in China. Local residents, mostly
Miao people
, are friendly and encourage you to experience and learn their customs and culture.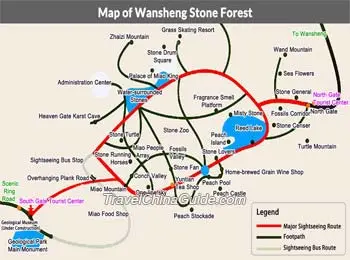 Map of Wansheng Stone Forest
(Click to enlarge)
Stone Forests
All kinds of forests of stones contribute to making Wansheng Stone Forest a mysterious place. Every stone has its own shape, giving different feelings to visitors.

Stone Running Horses
A great number of diverse and well-proportioned stones stand in order, looking like thousands of running horses. According to legend, Stone Running Horses were dead war-horses in a battle from ancient times. Visitors have been said to hear them crying loudly while visiting the site.

Stone Zoo
In the middle zone of the scenic area, animal-shaped stones stand casually. Walking in the zoo, visitors may see a vivid stone lion roaring, a stone rabbit sleeping, and a stone tiger glaring at another stone dragon.

Stone Censer
Looking closely, Stone Censer is a peak comprised of a great amount of limestones about 109 yards (100 meters), while looking from a distance, it seems like a censer. Sunshine after rain makes it feel like a fairyland surrounded by cloud and mist. Stone Censer is considered a land with auspicious
Fengshui
by local people who always go there to worship Buddha for a bumper harvest and happy life in harvest time or on festival days.

Stone Lovers
Stone Lovers is composed of two stones. The stone to the south is said to be a male while the other to the north is a female. It looks like the "male" stone is holding the "female" stone tightly in his arms. Legend goes that Stone Lovers is created by God who helps two lovers to be together.
Other famous forests of stones include Stone Towers, where hundreds of tower-like stones are crowded. Misty Stones, which are always shrouded by water mist and Water surrounded Stones in a river, where the stones and water have been present for a long time.
Underground Karst Caves
In addition, underground Karst caves are also art works of nature in Wansheng Stone Forest.

One-line Sky (Single Line Sky)
One-line Sky is a typical Karst landform, shaped by millions of years of flowing water. Sharp cliffs on both sides are composed of huge and heavy solid stones with similar shapes, which are like ancient city walls - quite splendid and miraculous. One-line Sky is 328 yards (300 meters) long, but only one to two yards (0.91 to 1.82 meters) wide. Strolling in it and looking up, there is only one stream of light. There is also Little One-line Sky, much narrower than One-line Sky, which only allows one person to pass it.

Heaven Gate Karst Cave
Sceneries in Heaven Gate Karst Cave is varying and impressive. The temperature inside the cave is 40 ℉ (5 ℃) lower than the temperature outside, making it very cool. Along the journey, visitors will see a natural hole at the top of the cave which is said to lead to heaven, because looking out from the hole, the sky and clouds appear close enough to be reached by ones' hands.
Various Fossils
A great number of fossils lie in Wansheng Stone Forest as well. A majority of fossils are sinoceras, formed in the Cambrian period (488 million to 542 million years ago). These various fossils evolved from geology movement and marine biology evolution, playing an important role in geological and biological research.
Inside the scenic area, there is a corridor where most of the fossils sleep soundly. The corridor is 55 yards (50 meters) long, formed in the Ordovician period about 440 million years ago. In the corridor, fossils have different shapes and forms, mainly including tortoises, shells, eggs, conches, fans, drums and mushrooms.
Miao Nationality Folk Customs
Residents living in Wansheng are mostly Miao people who have developed rich and splendid Miao culture over a long history.

Mountain Treading Festival
As an important festival, the Mountain Treading Festival is celebrated from January 2nd to 5th in the Chinese lunar calendar every year, which usually falls in early February. All of the Miao people will dress up and carry their classical instruments to participate in the celebration. Visitors can feast their eyes on some colorful activities, such as climbing poles and traditional Miao dances. They are also treated by local people with home-brewed grain wine.
How to get there from Chongqing
Wansheng Stone Forest is located in Shilin Town of the Wansheng Economic Development District of Chongqing City. There is no direct bus from Chongqing to the scenic site so visitors should make a transfer.

First, visitors can take a long-distance bus from Chenjiaping, Nanping, or Longtou Temple Long-distance Bus Station to Wansheng. Duration is about 1.5-2 hours.
| Long-Distance Bus Station | Departure Time | Ticket Price |
| --- | --- | --- |
| Chenjiaping | 08:00, 09:00, 10:00, 11:00, 12:00, 13:30, 14:30, 15:30, 16:30, 17:30 | CNY 41 |
| Nanping | 09:00, 13:40 | CNY 40 |
| Longtousi | 10:00, 17:00 | CNY 42 |

After arriving at Wansheng Long-Distance Bus Station, take a city bus no.111 to the scenic area. The bus departs from 06:00 to 17:30, costing CNY 5. The whole journey is about 60 minutes.
Admission Fee
March - October: CNY 65; November - February: CNY 50
*Children of or below 1.3 yards (1.2 meters) are free of charge.

Sightseeing bus inside the scenic area: CNY 10
Opening Hours
09:00 to 16:00
Recommended Visit Time
3 hours
Nearby Attraction
Black Mountain Valley
: Visitors can take a bus from the South Gate of Wansheng Stone Forest to either the Tourist Center or the South Gate of Black Mountain Valley directly. Ticket costs CNY 30 and CNY 15 respectively for a one-way ride.
- Last updated on Dec. 03, 2019 -
Questions & Answers on Wansheng Stone Forest
Asked by Mei Tan from SINGAPORE | Nov. 29, 2019 23:34

Reply
Hello, can I Wansheng Stone Forest and Black Mountain valley in one day trip from Chongqing? Thanks
Answers (1)
Answered by Gina from CANADA | Dec. 03, 2019 17:11

0

0

Reply
It is possible but the time is a little tight. You can spend two days to tour around.
Asked by Rick Darling from AUSTRIA | Oct. 07, 2019 20:38

Reply
Hello. Is there any bus from Wansheng to Chongqing West train station?
How much time does the bus take? If there is no bus, then best cheap way to travel from Wansheng to Chongqing?
Thanks
Answers (1)
Answered by Jeremiah from UNITED KINGDOM | Oct. 12, 2019 00:42

0

0

Reply
You can take a coach from Wansheng Coach Station to Chenjiaping first. It takes around 1.5 hours with the fare of CNY 40 per person. The bus schedules are from 08:00 to 17:00. After arriving, take a taxi to West Railway Station. The cab fare is around CNY30.