Shenlong Gorge Scenic Area
Shenlong means great dragons in Chinese. Shenlong Gorge Scenic Area is named after its dragon-like landform and dragon-related legends. It is located in Nanping Town of Nanchuan District in Chongqing City, 17 miles (27 meters) from Nanchuan and 53 miles (85 meters) from Chongqing. The Gorge is 2.6 miles (4.2 meters) long and averages 55 yards (50 meters) wide, with the widest part being 98 yards (90 meters) and the narrowest only 11 yards (10 meters). Formed by extrusion of crustal movement over millions of years, it has been home to thick forests, diverse animals, plunging waterfalls, rippling waters, steep cliffs and high mountains. It is a great place for visitors to breathe fresh air and relax. The area, with an average temperature in summer of less than 56.7 F, is a great summer resort, where it is possible to enjoy rafting and camping.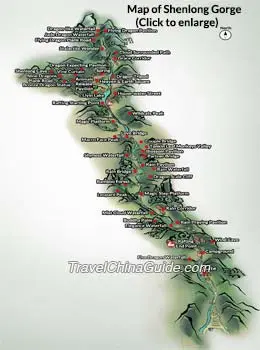 Map of Shenlong Gorge
(Click to enlarge it)
Climbing along the plank road from the entrance, visitors will first see Five Dragons Waterfall, which according to legend, came from the five sons of the Dragon King, who is the God of Rain in Chinese mythology. The five sons fought fiercely with an evil flood dragon until the flood dragon was frozen. To guard the area, the dragon sons sacrificed themselves and turned into five waterfalls opposite the Wind Cave where the flood dragon lives. Alongside the Five Dragons Waterfall, visitors can feel light breezes touching their bodies. As you keep walking forward, Wind Cave comes into sight. The air inlet of Wind Cave is towards Five Dragon Waterfall, making it an auspicious place for people to worship. Inside the cave, visitors can see colorful water sprays with the aid of high-tech sound and light systems.
Continuing on, visitors will see a number of small attractions, including waterfalls, pavilions, mountains and bridges. After arriving at Nine Dragons Plank Road and crossing it, visitors will see Shenlong Cave. Legend has it that Shenlong Cave is the place where the Dragon King lived. People worship the Dragon King here to ask for a happy life. Climbing upward nearly to the top of Shenlong Gorge Scenic Area, you may hear the Dragon-like Waterfall. Visitors can climb up to the Dragon-like Pavilion to have a better experience of the Dragon-like Waterfall.
On the way down, we recommend that you raft from Cloud Gorge to the Tourist Center. The rafting area is 1.7 miles (2.8 meters) long with a drop of 83 yards (76 meters). The whole journey takes about 30 to 40 minutes and is a thrilling experience. At the end, visitors are provided with rooms to take a shower and change their clothes. There is also a campground there.
How to get to Shenlong Gorge from Chongqing
First, take a bus from the Chongqing Nanping Long-distance Bus Station to the Nanchuan West Long-distance Bus Station. The buses depart every 15 minutes. The whole journey is about 2 hours. Upon arrival, take a Nanchuan-Shenlong bus and get off at Shenlong Gorge Scenic Area. The bus departs at 8:00, 10:00 and 14:00, costing CNY 8. The whole journey is about 30 minutes.
Admission Fee
CNY 100.
Fees for Rafting
Usual Days: CNY 130
Saturday, Sunday and Chinese Holidays: CNY 150
Fees for Camping
If visitors bring their own tents, the site use fee is CNY 50;
If they want to hire a tent, the total fee is CNY 100.
Sightseeing Bus inside the Scenic Area
CNY 15
- Last updated on Jul. 23, 2018 -
Questions & Answers on Shenlong Gorge Scenic Area
Asked by Lukas from GERMANY | Jul. 22, 2018 11:14

Reply
Is there a student discount for the Shenlong Gorge Scenic Area park
or the rafting and how much is the long distamce bus to the
Answers (1)
Answered by Billy from DENMARK | Jul. 23, 2018 01:20

0

0

Reply
No, there is no student discount.