General Joseph W. Stilwell Museum
The General Joseph W. Stilwell Museum is situated in Yuzhong District of Chongqing, and occupies an area of 1.2 acres (about 4,800 square meters). It was founded in memory of Joseph W. Stilwell (1883 - 1946), an American general who contributed a great deal to Chinese people. Since the museum has been opened to the public in 1991, tens of thousands of visitors from home and abroad have been there, including scholars, students, US ambassadors, veterans, and political and military officials. William Pace, a former American Secretary of Defense, made a special trip to the museum in 1994 and was greatly touched by how well it had been preserved. Although it has been restored and enlarged several times, the style of it has not been changed.
In 1942, during the Second World War, General Joseph W. Stilwell acted under orders to come to Chongqing. He worked as Chief of Staff in the China Theater of Operations and as the Commander-in-Chief of the American Army in the China Burma India (CBI) Theater. The residence became the headquarters of the China Burma India Theater during that period. General Stilwell participated in a series of political and military affairs in the CBI Theatre of World War Ⅱ, and cemented a profound friendship with Chinese people fighting side-by-side in the Anti-Fascist War in China. In July 1944, campaigns in Northern Burma succeeded and a road between India and China was built under his direct supervision, which made ammunitions and weapons accessible to China and brought an end to the blockade of the fascist state. The road was later named Joseph W. Stilwell Road. President Roosevelt recalled General Stilwell to Washington in 1944. To date, the museum and road are the only ones in China that are named after a foreigner.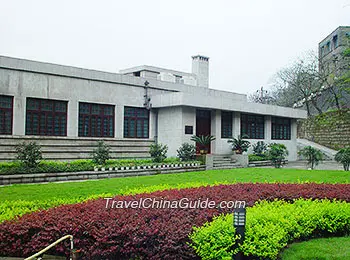 The main building of General Joseph W. Stilwell Museum is the former residence of General Joseph W. Stilwell. It is a three-storied house, including an office, an adjutant room, two meeting rooms, bedrooms and a basement. Simple furniture is shown as it was during the time that he lived there, and more than one hundred articles such as household utensils, manuscripts and the uniform which was used by the general are displayed. In the residence's courtyard, a monument stands in the center on which is engraved a passage of epigraph in both English and Chinese. The epigraph was written by Franklin Delano Roosevelt on May 17, 1944. There is a bust of General Joseph W. Stilwell to one side of the monument, which gives visitors a vivid portrait of this great general.

The most precious collection in General Joseph W. Stilwell Museum is four military cars of US forces that served in WWII. They were donated by an American Chinese named Tan Yongzhao in 2007, whose father-in-law was once a colleague of General Joseph W. Stilwell. According to him, these four cars were used in the military operations of American forces to aid China.
Transportation

By Metro
1. Take
metro line 2
and get off at Fotuguan Station.
2. Take
metro line 1
and get off at Eling Station.

By Bus
1. Take bus line 118, 128, 138, 268, 299, 402, 403, 411, 412, 413, 416, 421, 424, 462, 466, 476, 818, 819, 871, or 873 and get off at Eling Station.
2. Take bus line 210, 215, 219, 261, 262, 318, 501, 503, 802, or 808 and get off at Liziba Station.
Chongqing Bus/Metro Search
| | |
| --- | --- |
| Entrance Fee | CNY 15 |
| Opening Hours | 09:00 to 17:00 (Not open in January and February for renovation) |

Further Reading
Flying Tigers Heritage Park
in Guilin is another symbol of China-US friendship, built in memory of those American volunteers of the famed Flying Tigers, who devoted themselves to helping local people fight against Fascism during WWII.
- Last updated on May. 24, 2022 -
Questions & Answers on General Joseph W. Stilwell Museum
Asked by Roger Mitchell from USAS | Jun. 08, 2015 16:25

Reply
Does the museum store still carry the General Stilwell Commemorative Pin?
If so, may I purchase one through the mail?
Answers (2)
Answered by Liana from HUNGARY | Jun. 08, 2015 20:35

2

0

Reply
I heard the museum store still has that, but not very sure. You'd better consult in advance. Here is the number of the museum for your reference:
86-023-63609515
Answered by Doug from USA | Sep. 12, 2015 03:49

2

1

Reply
I was there Sept 12,2015. There were no items for sale. The table where I think they once were available is empty. It is a very worthwhile museum to visit. I wish that it was kept up a bit better. There were some breaks in the floors, for example, and cobwebs near some of the photos. Makes me think that, in spite of our best intentions, we may be losing our grip on the importance of the sacrifices made in China during WWII.