Dalian Weather
Bordered by the Bohai Sea and the Yellow Sea, Dalian is situated at the southern end of the Liaodong Peninsula in northeastern China. This is a warm temperate zone with a semi-moist monsoon climate and ocean climate features. The annual average temperature here is from 8 to 11

C (about from 46 to 52

F) and it has four distinct seasons: spring, summer, autumn and winter. Influenced by the mild ocean winds from the Bohai Sea and the Yellow Sea, Dalian weather is pleasant with an annual rainfall of 550 to 1000 millimeters, over 60% of which falls during the summer period.
7-Day Dalian Weather Forecast
Dalian Weather by Month
Averages for Dalian Weather
High/Low Temperatures of Dalian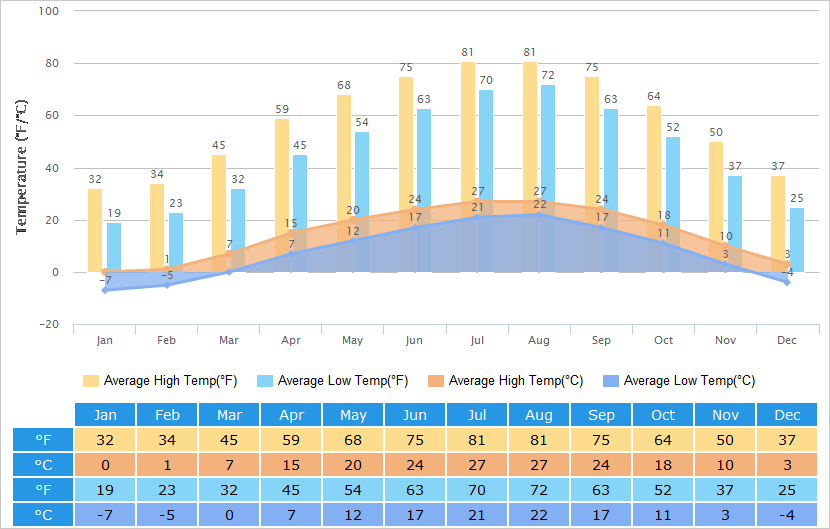 Average Temperatures of Dalian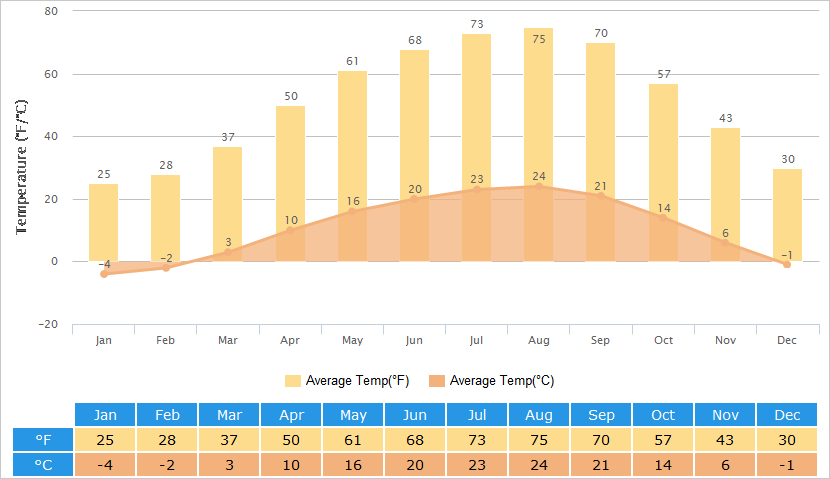 Humidity Graph of Dalian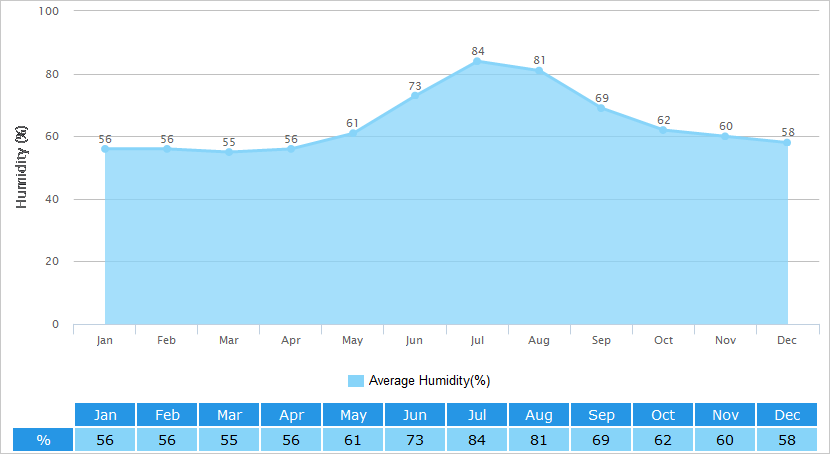 Average Rainfall of Dalian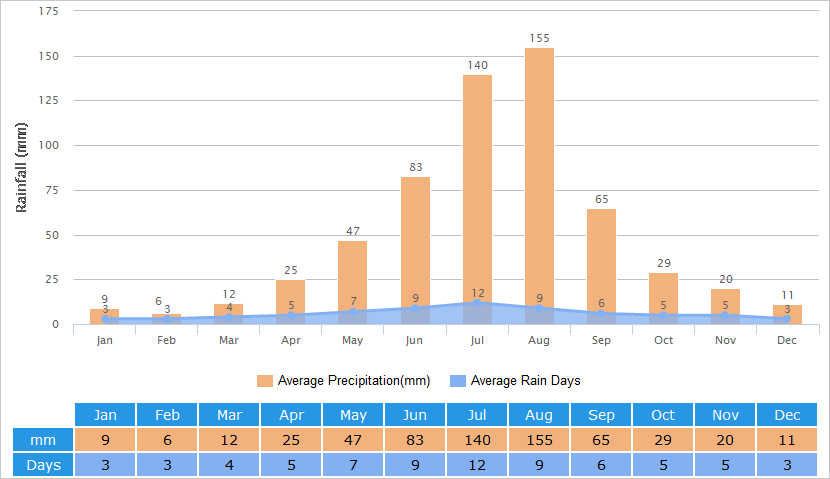 Air Quality of Dalian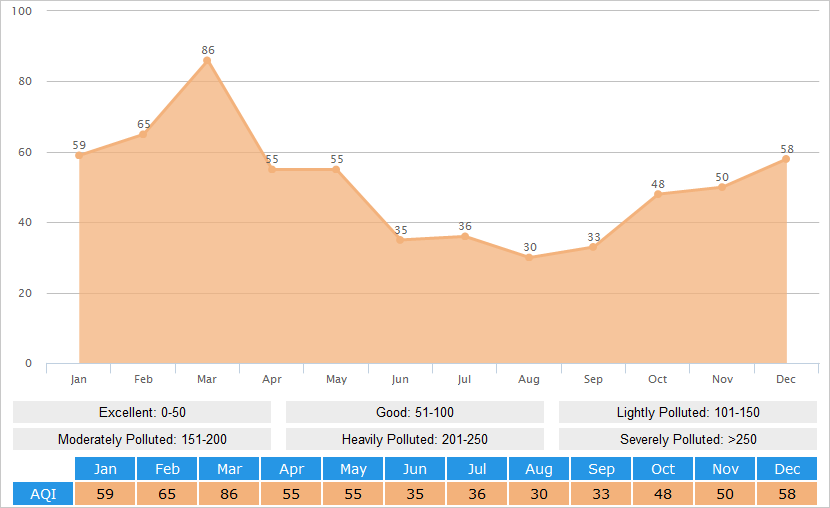 Dalian Seasons & Travel Advice
Spring
Dalian's spring begins in late March or early April when the warm southeast ocean winds bring the temperatures up. You need to wear jackets, sweaters, shirts and jeans to protect yourself from the last of the winter's cold.
Summer
The best time to travel is from May onwards when the Dalian Chinese Scholar Tree Blossom Affairs and Commodity Export Fair open in the city. They run through to mid-September. The mild and comfortable weather of these months welcome huge numbers of tourists from different areas in China and the world. The summer period from July to early September has an average temperature of around 20

C (68

F) and in the hottest month of August thousands of people come to the southern seashore in the city to enjoy the sunshine, the sea and exciting water sports. Bring T-shirts, shorts, skirts, sandals, sunglasses, hats and suntan oil with you. The summer is also the rainy period, however most rain falls at night. You will still need to take an umbrella or rainwear with you in the evenings.
Autumn
In late September, Dalian welcomes autumn and the cold weather begins to control this area. The average temperature drops down to around 15 to 20

C (59 to 68

F). Whilst tourist crowds retreat from the seashores, it is a perfect time for fishing as it is the migrating season for fish.
Winter
From late November, the cold north winds become stronger and dominate the city till the following February. January is the coldest month and you need to wear an overcoat, sweater, jeans, gloves and warm shoes.
In recent years, the government has advocated a special '3S' (spring, sports and shopping) tourist program in the city in order to attract more tourists during the low winter season. Winter sports such as skiing, mountain climbing, horse-racing and winter swimming have attracted many sports adventurers who wish to spend the New Year period in the city. The Ice Festival in Bingyu Valley and the hunting sports in Jinshitai Scenic Area are two of the most popular sightseeing options.
- Last updated on Apr. 07, 2021 -
Questions & Answers on Dalian Weather
Asked by John W Corbett from UNITED STATES | Jul. 14, 2020 16:00

Reply
Does Dallian have beach hours or is it open 24 hours a day?
Answers (1)
Answered by Hunter from DENMARK | Jul. 19, 2020 19:58

0

0

Reply
As I know, most of them open 24 hours.
Asked by Richard from AUSTRALIA | Dec. 17, 2016 21:21

Reply
Winter forecast for 24th December 2016 in Dalian
May I enquire about the forecast for 24th December 2016; how cold will it be compared to Beijing given the fact that DL is surrounded by large bodies of water?
Answers (1)
Answered by Nick from CANADA | Dec. 19, 2016 02:21

1

0

Reply
It is reported to be sunny and the avergae temp will be 28F. It will be cold, bitter than Beijing. You are suggested to prepare down jacket, sweater and long john. The air is much better than Beijing by the way!
Asked by melvin from SINGAPORE | Oct. 29, 2016 04:32

Reply
May i ask how is weather on Nov. 9 to Nov. 13 in Dalian?
With long sleeve heetech (top / bottom ) & down jacket & jean, will it be ok?

Also when i arrived at zhoushuizi airport how to get to city & what is the city name?
Answers (1)
Answered by Abbey from NEW ZEALAND | Oct. 31, 2016 01:35

1

0

Reply
It will be cloudy then. The temperature will range from 35F to 50F. It is quite cold. Yes, the clothes will be okay. You should take an umbrella or raincoat in case of rain.

The city center is the Qingniwa Area. You may take metro line 2 from the airport to Qingniwa Bridge Station. Have fun! :)