Yangzhou Weather
Located in the subtropical humid climate zone, Yangzhou has four distinct seasons consisting of moist summers and dry winters. July weather is usually the hottest with an average temperature of 28

C (82.4

F) and January is the coldest with a mean temperature of 1

C (33.8

F). The rainy season lasts from June to July. Typhoons often occur in August and September.
Yangzhou Seasons & Travel Advice
Generally, the best time to visit the city is during March to April when the weather warms up. At this time, various flowers around the Slender West Lake are blooming with a riot of color, especially the pure white Wild Chinese Viburnum. In this season, Yangzhou portrays a sunny and vigorous image of a water city. However, during September and October, the pretty lakes are enveloped in the light mist and clouds, showing different style of scenery.
Every year, local festivals in different themes are available with abundance. Every year from April to May, the March International Economy & Trade Tourist Festival of Yangzhou is held in the theme of carrying forward the local culture of Yangzhou. Various activities include the Yangzhou Food Festival, local theatrical performances and a cruise around the city.
In July and August, the Summer of Yangzhou attracts lots of students from all over China to participate in various summer camps on tourism or science. Then, the Luna Cultural Festival of Yangzhou on traditional local culture will be held in the autumn (during September to October) when the climate is cool and pleasant. In this festival, activities such as the Yangzhou Food Festival, Bathing Festival and a cruise on the Slim West Lake are available.
On Chinese New Year's Eve, a ceremony of benediction for New Year would be run in Daming Monastery. The abbot will strike the bell for the New Year. Many folk performances are available here such as the dragon and lion dances and a gong and drum band.
7-Day Yangzhou Weather Forecast
Averages for Yangzhou Weather
High/Low Temperatures of Yangzhou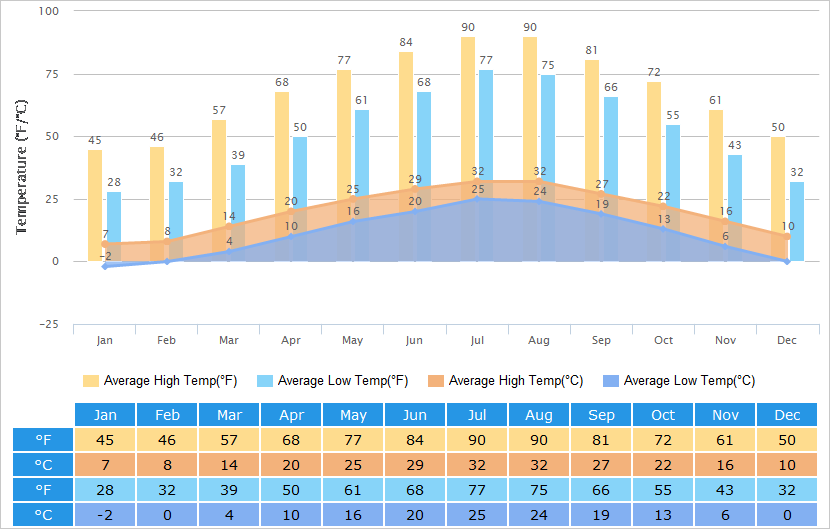 Average Rainfall of Yangzhou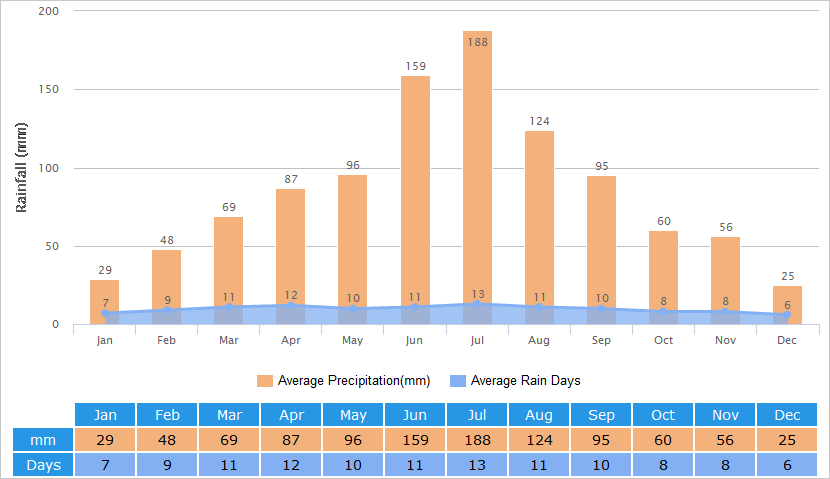 Air Quality of Yangzhou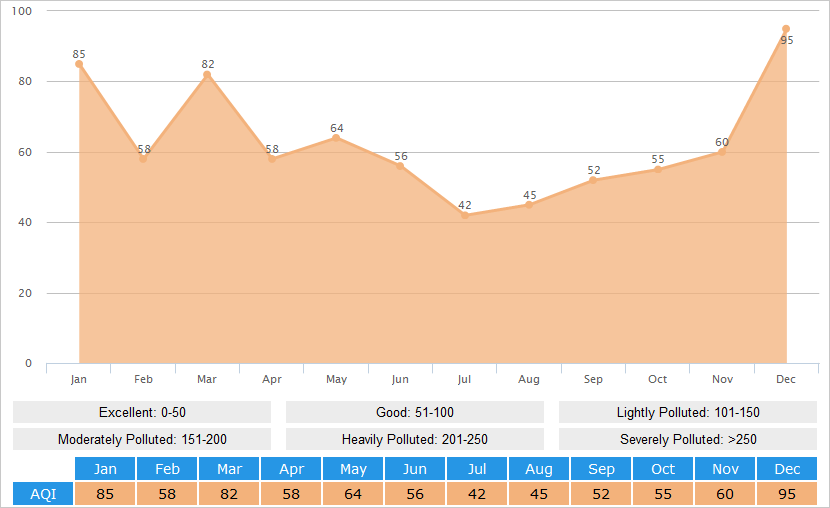 - Last updated on Jun. 21, 2022 -
Questions & Answers on Yangzhou Weather
Asked by Toni from INDIA | Jun. 23, 2019 09:33

Reply
Should I carry woolens for first week of July in Yangzhou?
Answers (1)
Answered by Jane from USA | Jun. 23, 2019 23:46

0

0

Reply
The temperature may range from 20C to 30C and there is no need to carry woolens. You can take a thin coat or hoodies.
Asked by Max from AUSTRALIA | Jan. 18, 2017 06:42

Reply
How often does it snow in Yangzhou? I will be there between October and March 2017. Thanks!
Answers (1)
Answered by Allison from USA | Jan. 18, 2017 20:48

0

0

Reply
The previous statistics indicate that there may have some snowy days in the mid or end of January.
You are advised to keep close attention to the weather forecast. :)