Shenyang Weather
7-Day Shengyang Weather Forecast
Averages for Shenyang Weather
High/Low Temperatures of Shenyang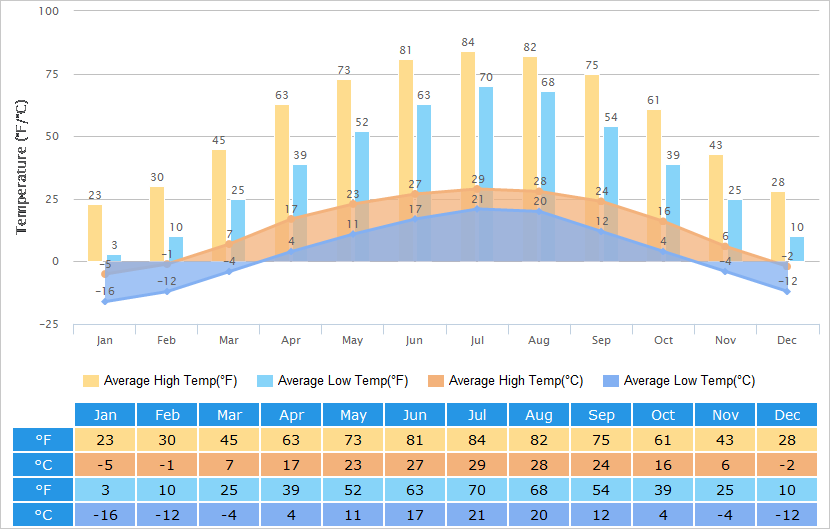 Average Temperatures of Shenyang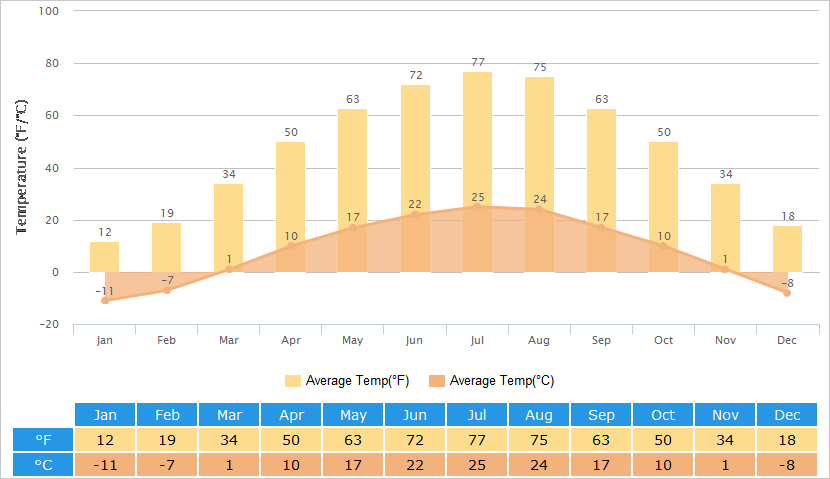 Humidity Graph of Shenyang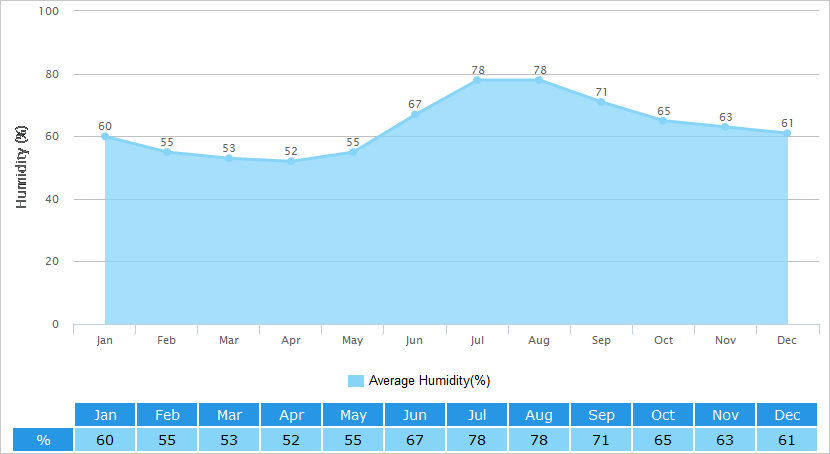 Average Rainfall of Shenyang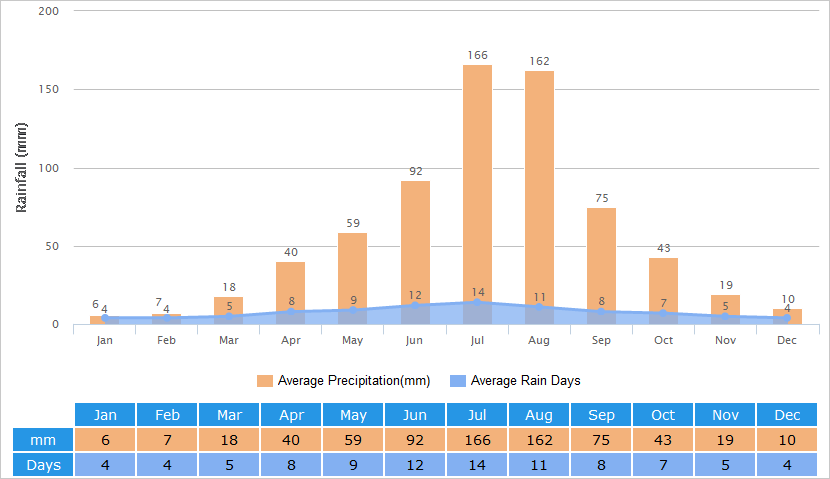 Air Quality of Shenyang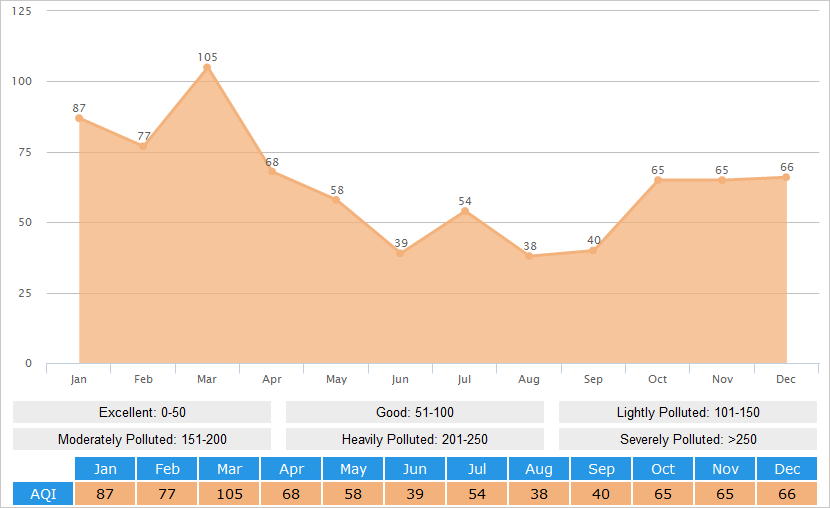 Shenyang Climate - Seasons & Travel Advice
Shenyang belongs to the temperate climate zone and is greatly influenced by monsoons all the year round. The lowest temperature is -28.5

C and the highest is 36.1

C. The weather of July is the hottest of the year with an average temperature of 24.7

C, but it is much cooler than almost all the cities in southern China. January is the month with the lowest temperature of the year of about -11

C averagely. The seasons of spring and summer are decorated with green plants; autumn is short but the weather is sunny nearly everyday; winter is like a pretty girl with long and beautiful white skirt. Late summer, middle autumn and late winter are all good times to travel in Shenyang. Winter is an especially good time to visit because the Ice & Snow Festival is held then and is very entertaining and enjoyable.
If you come to Shenyang in spring or autumn, some light clothes are enough, such as knitted sweater, jackets. However, if you travel to Shenyang in winter, you must take heavy clothes to protect against the cold.
- Last modified on Mar. 04, 2019 -
Questions & Answers on Shenyang Weather
Asked by Rita kerin from AUSTRALIA | Feb. 28, 2019 18:42

Reply
What's the temperature like in early March in Shenyang and what should we wear?
Answers (1)
Answered by Christian from POLAND | Mar. 04, 2019 19:14

0

0

Reply
It will be -5C to 10C in early March. You still need to prepare enough winter clothes.
Asked by Joseph Tawai from NIGERIA | Nov. 26, 2018 14:30

Reply
I will be visiting Shenyang on 14/12/2018 what weather will i meet there and what clothes to wear?
Am visiting China and Shenyang as a foreign student, i don't know if there's any advice i can get for a first timer and as a student.
Answers (1)
Answered by Buda from CANADA | Nov. 26, 2018 18:46

0

0

Reply
It would be very freezing and the temperature may reach about ten degrees below zero. So take enough winter clothes to keep warm, such as thick down coat, winter pants, hat, gloves, snow boats. Pay more attention to keep warm. It is very dry and you need to take the hand cream.
Asked by Low from SINGAPORE | Oct. 24, 2018 00:53

Reply
Does Shenyang snow in Early December?
Answers (1)
Answered by Care from USA | Oct. 24, 2018 20:24

0

0

Reply
Based on the historical data, it usually snows in late December and early January. It would be chilly cold. About the exact snow date, you are advised to recheck the weather forecast before going there.
Asked by James from MALAYSIA | Aug. 30, 2018 08:29

Reply
I'm visiting Shenyang City on 6/9/18 till 21/9/18. Is it cold during this period. What clothes
Answers (1)
Answered by Peggy from USA | Aug. 30, 2018 23:57

0

0

Reply
The temperature may be 10C to 25C and you can wear thin sweater or jacket in rainy days and T-shirts or hoodies are available in sunny days.
Asked by SL Lau from MALAYSIA | May. 06, 2017 06:54

Reply
We plan to visit Northeast China for 10 days in Autumn this year.
Which month is more suitable and ideal to visit ShenYang and Harbin, September or October? What are the recommended hotels at or nearby the famous pedestrian walks in these two cities?
Thank you.
Answers (1)
Answered by Kaya from USA | May. 08, 2017 03:28

2

0

Reply
As I know, the end of the September and the beginning of the October is a better time to visit SY and it will be better to visit Harbin in winter.
SY: Rose Hotel located at no.201 Zhongjie Road is quite near the Zhongjie Pedestrian. The standard room usually charges around CNY300/night.
Harbin: Harbin Friendship Palace Hotel situated at no.263 Youyi Road is near the Central Street. It may cost CNY350-450/night.