Jiuzhaigou Weather
The biggest characteristic of Jiuzhaigou's weather is the sharp temperature difference between day and night, due to its plateau climate. In all seasons, it is mostly cool but the ultraviolet radiation is strong, so it is suggested to take a coat to keep warm, and take sun-blocking protections to avoid sunburn.
7-Day Jiuzhaigou Weather Forecast
Averages for Jiuzhaigou Weather
High/Low Temperatures of Jiuzhaigou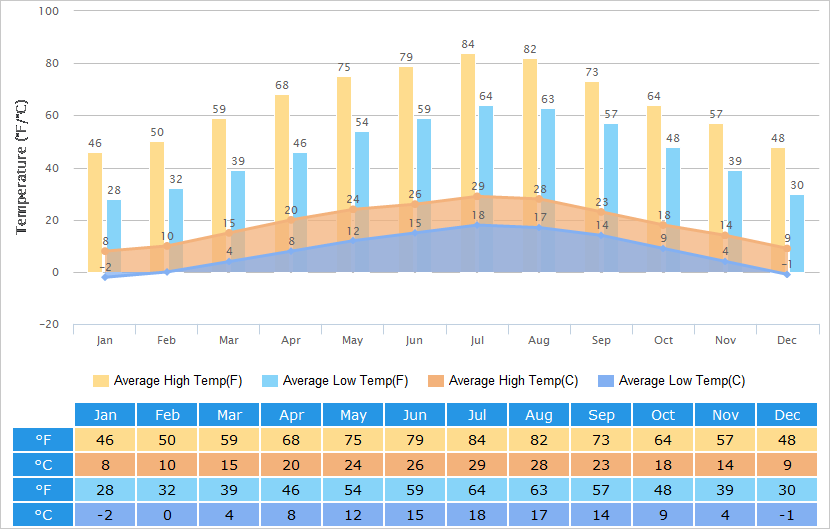 Average Temperatures of Jiuzhaigou
Humidity Graph of Jiuzhaigou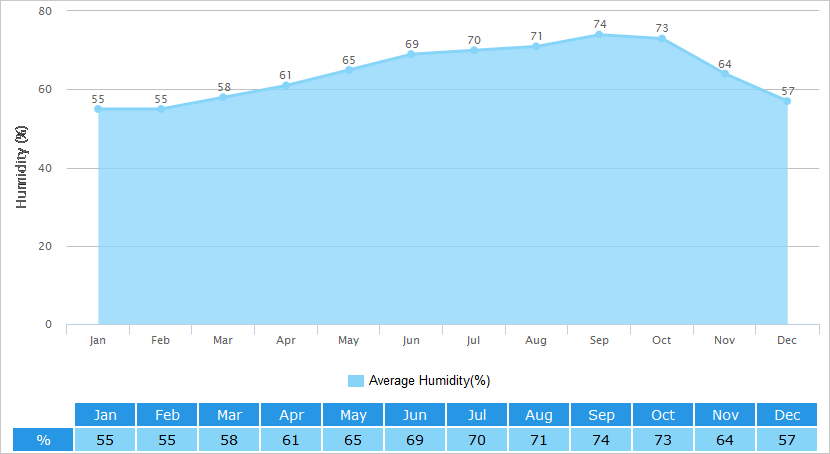 Average Rainfall of Jiuzhaigou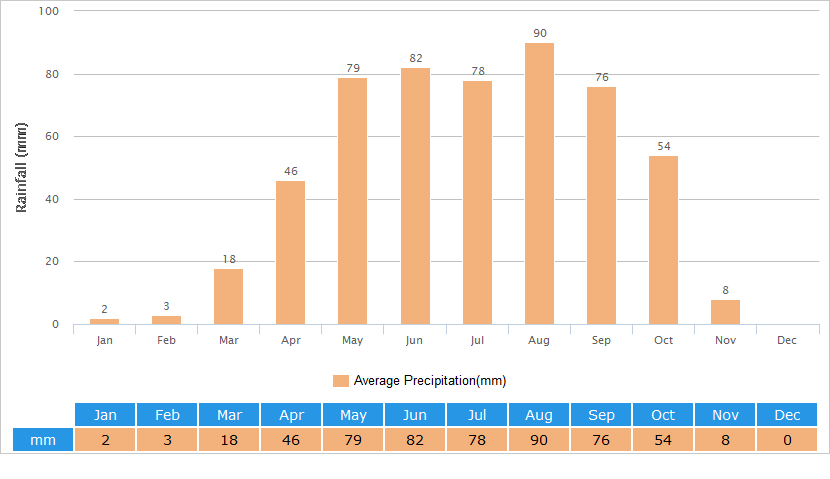 Jiuzhaigou Climate – Seasons & Travel Advice
With the average elevation at 3,000 m (10,000 ft), Jiuzhaigou is of the humid plateau climate. Spring and autumn is mild, while summer is cool and winter is cold. The mountain peaks are covered with snow in the whole year. Because of the plateau climate, the temperature between day and night varies a lot. In the noon, the sunshine and ultraviolet is strong, but at night, it can be cold, so a jacket is required in any season. In January, it is the coldest in a year with the lowest temperature at -2~0

C (28~32

F). August is the hottest season when the highest temperature is around 33~35

C (91~95

F).
Spring (Mar - May)
The temperature in spring is around 10~20

C (50~68

F). Before April, some places are still covered by snow. Later on, snow and ice start to melt. Trees are budding and flowers are blooming, showing a sign of vitality. Water is so clear that trees and flowers are reflected in the water, just like in the mirror, which is one of the typical scenery you can see in Jiuzhaigou.
What to Wear: long sleeves T-shirt, trench coat, jeans, walking shoes
Summer (Jun - Aug)
Spring ends and summer begins soon with the temperature rising rapidly. The average temperature of summer is 18~30

C (64~86

F). Jiuzhaigou is a great place to get away from heat, with large shades of trees and plenty of water providing coolness. Although the weather is cool, it should be noted that the ultraviolet might hurt your skin, so sun-blocking protections like sunscreen, sunglasses, and a sun hat are necessary. From July to August is the rainy season. The rainfall mainly gathers during this period but is not much. Still it is suggested to take an umbrella or a raincoat with you.
What to Wear: T-shirt, thin jacket, light pants, sneakers
Autumn (Sep - Oct)
The climate in autumn is mild with the temperature at 13~23

C (55~73

F). Traveling to Jiuzhaigou in autumn, you can find multiple colors combining together: trees' green, yellow and maples' red reflected in the water, painting a vivid picture. October is the month with the most excellent natural scenery, attracting global travelers and photography fans. Please be noted that from October 1st to 7th is the Chinese National Holiday, when is one of the peak periods, so it will be much more crowded than other time. Since late October, it starts to get cold especially at night and the soil starts to get frozen, so wear more clothes to keep warm.
What to Wear: thin sweater, jacket, sports pants, walking shoes
Winter (Nov - Feb)
The winter of Jiuzhaigou is cold and dry. The temperature is about -2~8

C (28~46

F) on average. Water frozen and mountains covered by snow make the attraction very quiet in winter. Frozen waterfalls are like giant natural ice sculptures. Some waterfalls and lakes turn blue after freezing, showing extraordinary scenery of "blue ice". As large fields of white snow may hurt your eyes, so it is recommended to wear a pair of snow glasses in case.
What to Wear: sweater, downcoat, sweatpants, hat & gloves
- Last updated on Apr. 13, 2021 -