Jiuzhaigou Travel Tips
Fast Facts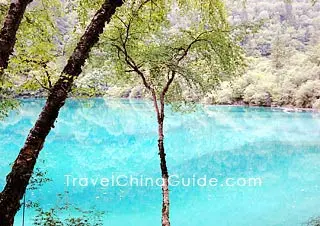 Jiuzhaigou Valley
Tourist Area: 50 square kilometers (about 12,355 acres)
Residents: Tibetan, Qiang and Han nationality
Area Code: 0837
Zip Code: 624000
Useful Numbers
Tourist Complaints: 0837-7739309
Tourist Inquiry Telephone: 0837-7739753
First Aid Telephone: 0837-7739818
Fire Alarm: 0837-7739909
The weather in Jiuzhaigou is generally mild but the temperature varies much within a day. The scenery in different seasons has different characteristics. Among all, September to October in autumn is the best traveling time when the views are most extraordinary.

Best Time to Visit Jiuzhaigou

Bank
The currency exchange service is not so convenient in Jiuzhaigou. There are only a few Chinese banks but no Bank of China providing currency exchange service located around
Jiuzhaigou Valley
, and ATMs are not available for currency exchange. Only in some five-star hotels like Sheraton can you exchange common currencies. Therefore, it is suggested to exchange enough cash before you travel there.
Cost
The traveling cost in Jiuzhaigou varies a lot depending on the transport means you choose, your traveling duration and accommodation conditions. A trip of 3 or 4 days from Chengdu to Jiuzhaigou for one person may cost CNY 1,000-3,000.
In the scenic area of Jiuzhaigou Valley, there is only one restaurant in Nuorilang Service Center, where the average cost of a person for a meal is CNY 70 and buffets are offering with the cost ranging from CNY 60 to CNY 130. Outside the scenic area, there are some small restaurants where the average cost for a meal is about CNY 50 per person. As for hotels, in the peak season from April to November, the cost for a room with complete conditions is usually CNY 300-1,500; the cost in low season is generally lower.
Festival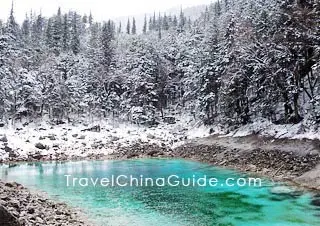 Muti-Color Pond in winter
The Ice-Waterfall Tourism Festival of Large Jiuzhai, Aba and the Southern Ice and Snow Festival of Sichuan have been successfully held for many times in Jiuzhaigou. The festivals are usually held when winter comes and last about two months. During this time, a series of activities related to the beautiful scenery will be organized, such as a photographic competition, ice sports, concerts and the Tibetan celebrations for Spring Festival.
As mentioned, the local Tibetans will hold some events to celebrate Chinese Spring Festival. The most important and largest one is the Mazi Fair held in Zharusi Temple, which is located in Shuzheng Valley. Held annually on May 15th of the
Chinese lunar calendar
, it is a vital religious event for Tibetans living here. It is said that this fair is held to commemorate a brave deity of Benbo, which is one branch of Tibetan Buddhism. This deity is called Mazi, responsible for vanquishing demons and monsters. Three days before the festival, all of the monks in Zharusi Temple will be gathered together to celebrate being a reverent Buddhist and practicing vegetarianism. On the day, Tibetans will dress up and come here to participate in the celebration.
Medical Care
Pengfeng Village Cooperative Medical Station
Address: Near 301 Provincial Road, Pengfeng Village, Zhangzha Town, Jiuzhaigou County
Phone: 0837-8896980
Communication
Usually, mobile phones can be used in the valley. Free wifi has covered the whole scenic area of Jiuzhaigou Valley, providing convenience for visitors to use the Internet.
Post Office
Near the entrance gate of Jiuzhaigou Valley, there is a post office where you can send postcards.
Opening Hours
Apr.1 to Nov.15: 08:30-17:30
Nov.16 to Mar.31: 09:00-17:00
Public Vacations: 09:00-16:00
Phone Number
0837-7734028
- Last modified on Apr. 13, 2021 -
Questions & Answers on Jiuzhaigou Travel Tips
Asked by Kate Moss from CZECH | Mar. 20, 2019 08:05

Reply
Hello, is the Jiuzhaigou Scenic Area still closed for individual tourists?
Answers (1)
Answered by Emerson from UNITED KINGDOM | Mar. 21, 2019 03:02

0

0

Reply
Yes, there is no latest news about the reopening time.
Asked by gnie from MALAYSIA | Sep. 18, 2018 20:53

Reply
I am going to Chengdu for 4 days. if I want to visit Jiuzhaigou, how long does it take to tour?
do I need to put up a night at this scenic area?
Answers (1)
Answered by Riley from USA | Sep. 18, 2018 23:35

0

0

Reply
At least two days. However, I'm sorry to tell you the scenic area has been closed at present and the date when it will be reopened has not been reported. The scenic area only receive the tour tourists and you are advised to join a travel agency two days' tour.

Asked by Kriss from THAILAND | Sep. 08, 2018 18:06

Reply
Any public bus from guangyuan to jiuzhaigou scenic area?
How much ticket cost ? And how long of journey?
Is it possible to take train from xian to guangyuan then transfer by bus to jiuzhaigou?
Many thanks
Kriss
Answers (1)
Answered by Jane from USA | Sep. 11, 2018 19:36

0

0

Reply
Hi, you can take a bus from Guangyuan Bus Station to Jiuzhaigou County, The bus departs at 10:20 and it takes 5 hours to get there. The bus fare is about CNY 100. After arrival, you can take a local bus to the scenic area.

Yes, it is available. However, the scenic area is still closed and the open time is uncertain.
Asked by Kevin Leonardi from INDONESIA | Aug. 29, 2017 02:03

Reply
whether I still can enter Mount Jiu Zhai Gou after the Earthquake that happened just few days ago?
Thank You. I wanna know if there is still a possibility to reach the area
Answers (1)
Answered by Teddy from TURKEY | Aug. 30, 2017 03:22

0

0

Reply
No, you cannot enter there. And the latest news says that the park will reopen in May, 2018.
Asked by Joshua from PHILIPPINES | Apr. 26, 2017 09:25

Reply
Is late April to early May a good time to visit Jiuzhaigou? Will the colors and views be nice?
Answers (1)
Answered by Owen from POLAND | Apr. 27, 2017 03:13

0

0

Reply
Yes, it will be a good time for you to tour around this scenic area. You will see the impressive scenery. Have a nice journey!