Jiuzhaigou Dining & Nightlife
Dining
Restaurant in Jiuzhaigou
Located at an altitude of more than 3,000 meters (about 9843 feet), Jiuzhai Valley National Park (Jiuzhaigou) faces special difficulties with dining. Many goods and materials have to be transferred from nearby towns and villages, resulting in high prices and a limited variety of foods.

Near the scenic spot are several small restaurants that offer different styles of Chinese cuisine. A simple dinner can be found there at a reasonable price. The Xiaobu Snack, a popular restaurant, is located at Bianbian Street to the right of the entrance gate to Jiuzhai Valley. Most of the restaurants in the area can be reached easily on foot; however, taking a taxi will save time. Since the area has been inhabited by a large number of Tibetans for a long time, the authentic local food offers unique Tibetan flavors, such as the famous buttered tea and highland barley wine. The strong flavor of the Tibetan food might not please everyone.

Apart from the above choices, the restaurants affiliated with star-rated hotels here provide better-tasting foods in a comfortable atmosphere. Jiu Zhai Paradise and Sheraton Jiuzhaigou Resort are two five-star restaurants that supply various kinds of good quality Chinese and Western food, especially the authentic Tibetan specialties. However, neither of them is the ideal choice for a budget-conscious visitors. Don't worry, for there are several lower grade hotels around the valley that serve some delicious food at reasonable prices.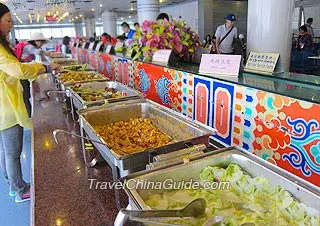 Buffet
It can take an entire day to visit this large scenic spot, so lunching in the valley is a practical option. Currently, there are four restaurants along Heyezhai, Shuzhengzhai, Nuorilang and Zechawa that serve several grades of buffet dinners. Another alternative is the tourist service center of Nuorilang, which offers various grades of buffet dinners, as well as a series of banquets which include Tibetan specialties and other Chinese cuisines.

However, during the peak season, the restaurants are always very crowded. One way to escape the crowds is to take food with you. In fact, it will be cozier eating in the charming natural beauty of the area than in the bustling restaurants. The prices of goods sold around the attractions are higher in China, so buying food and beverage before coming to Jiuzhai Valley will save money. Some Tibetans in the valley sell their simple food to visitors at reasonable prices. Visitors who are looking for more interesting experiences might enjoy trying the Tibetan food.

Nightlife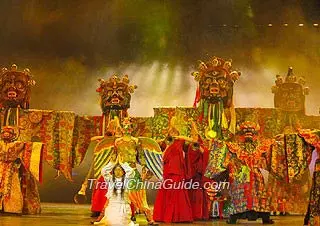 Tibetan Dance
With more and more visitors coming to Jiuzhaigou every year, the tourist industry of this region has sprung up vigorously. Now visitors can relax and enjoy a rich and interesting nightlife after their visits.
The first choice for an evening here is the exotic dancing and singing performance of local Tibetan and Qiang people. The ethnic groups in China are well known for being good singers and dancers, expressing their various emotions in daily life.
The
Jiuzhai Paradise Theater
, located in the star-rated hotel of Jarpo Town, organizes a wonderful performance every night. Actors and actresses, wearing colorful Tibetan and Qiang national costumes, perform joyful songs and powerful dances to express their beauty and bravery. Some national musical instruments are played during religious activities and Tibetan weddings. Audiences are invited to participate in the Tibetan Guozhuang dance, usually held during some important festival or event. People sing and dance in a circle, changing their movement according to the musical rhythm.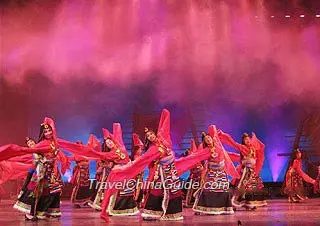 Performance in Jiuzhai Paradise Theater
To spend a quiet night after the day's adventure, go to
Bianbian Street
(near the entrance of Jiuzhai Valley) to sample a cup of unique Tibetan coffee leisurely or visit an exotic shop. This street, along with the wandering Baishui River, can also be a special destination area. There are pubs here where people can have drinks, meet fellow travelers and share their experiences and stories.
Jiu Zhai Paradise, the most luxurious hotel built in Jiuzhaigou, also has some good areas for visitors to spend their evenings. The
Paradise Ma Bang Pub
, decorated in Tibetan style, is a comfortable place to have a drink. A hot spring bath in the
Tian Yu Hot Spring Resort
of Jiu Zhai Paradise can be rejuvenating after a long day's journey.
- Last updated on Apr. 25, 2023 -
Questions & Answers on Jiuzhaigou Dining & Nightlife
Asked by tan from SINGAPORE | Jul. 07, 2016 01:43

Reply
What time does the Jiuzhai Paradise Theater performance starts?
Answers (1)
Answered by Vivian from USA | Jul. 08, 2016 02:54

0

0

Reply
It starts at 20:00, and lasts for around an hour. The fare is CNY 150 per person by the way.
You can see the performance at Jiuzhai Paradise Theater in Jarpo Town. Have fun! :)
Asked by Bianca from PHILIPPINES | Apr. 07, 2015 23:02

Reply
Howard Johnson Tianyuan Hotel in Jiuzhaigou
I'm staying at Howard Johnson Tianyuan Hotel, is their nearby restaurants? what can you recommend?

Also, how far is Howard Johnson Tianyuan to the Goukou Bus station?
Answers (1)
Answered by Ann from UNITED KINGDOM | Apr. 08, 2015 01:30

1

0

Reply
Hey, walk along the road 100 yards in front of the hotel to the southeast, there are several restaurants near the road, such as Chongqing Spicy Hot Noodles, Tiandiyuan Rural Restaurant, Jiemei Restaurant, etc.

The hotel is about 5.4 miles (8.7 kilometers) from the Bus Station.

Asked by Mr.ken lim from PHILIPPINES | Jun. 02, 2010 08:06

Reply
hi, we will be staying at Jiuzhaigou intercontinental paradise hotel. which nite show is recommended? we will be staying there for 3 nites. what do you suggest we do at nite?
Answers (1)
Answered by Mr.Jamie | Jun. 08, 2010 01:33

2

0

Reply
There is a performance team in the hotel to show you tibetan dances and songs.
Asked by Mr.Roy from M'SIA | Mar. 15, 2010 21:05

Reply
Hi I would like to know which show is the best in Jiu Zhai Gou? The night show in Jiafan Old Town in Gan Hai Zi or The Jiuzhai Paradise Theater?? What is the different? Thank you so much
Answers (2)
Answered by Mr.Hank | Mar. 16, 2010 01:29

1

0

Reply
Actually, the sing and dance shows supplied by hotels do have their own excelletn file. My suggestion is that you choose one close to your hotel so that you could return to the hotel easily after watching the show at night.
Answered by Mr.Roy from M'SIA | Mar. 16, 2010 02:58

4

2

Reply
Thank you so much Hank, May I know how far from sheraton hotel to Jiafan Old Town coz We're staying at sheraton. Easy to get a cab during at night? Thanks Hank
Asked by Ms.AMRAMICO from ISRAEL | Aug. 29, 2009 01:51

Reply
Where can we stay in Jiuzhaigou and how we can reach the night show?
Thanks for cooperation.
amramico
Answers (1)
Answered by Mr.Jason | Aug. 31, 2009 02:03

1

1

Reply
You can easily find several nice and budget hotels near the entrance of the scenic area. Just pick one when you arriving there.

The night show is in Jiafan Old Town in Gan Hai Zi. The ticket for the show is 180RMB and lasts 1.5 hours.