Universal Studios Beijing
Universal Studios Beijing, also Universal Beijing Resort, is the sixth Universal Studios in the world after Universal Studios Hollywood, Universal Orlando Resort, Universal Studios Japan, Universal Studios Hollywood and Universal Studios Singapore. Covering over 300 hectares, it has seven themed lands and provides immersive rides and colorful entertainment shows. CityWalk is a commercial area open to the public, providing dining and shopping service for visitors.
Universal Studios Beijing Layout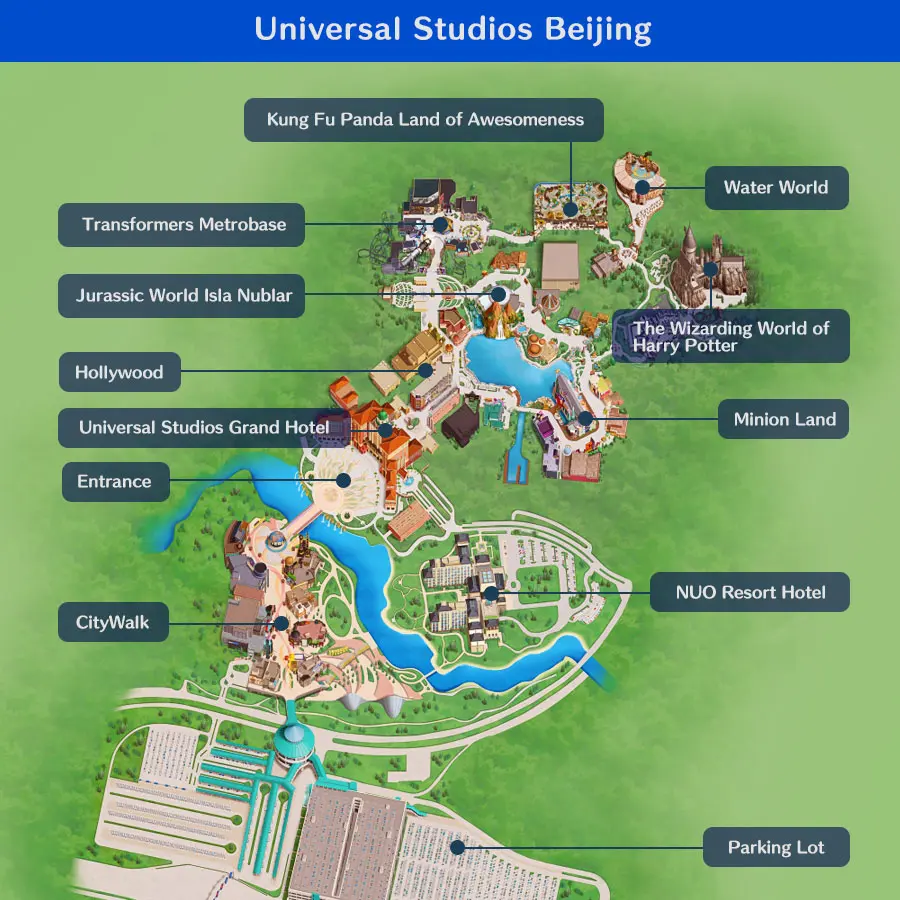 Seven Themed Lands
The Wizarding World of Harry Potter
Explore the mysteries of Hogwarts' castle! Immerse yourself in a magic world during the thrilling and exciting rides and shows.

Rides & Shows
Harry Potter and the Forbidden Journey:
The most popular one! Follow Harry Potter and his friends on a magical journey that will take you travel through the corridors and classrooms of Hogwarts, fly up and down over the castle like a wizard!
Flight of the Hippogriff: Sit on the back of the hippogriff for a flight training
Frog Choir: the small choir of Hogwarts' students and their throaty frogs
Ollivanders: See how a wand chooses a wizard
Hogwarts' Express Conductor: The Conductor is ready to guide you to all the mysterious corners of Hogwarts
Wand Magic: Get your own wand and practice the magic you learn
Triwizard Spirit Rally: Cheer on the procession of Hogwarts
Transformers Metrobase
If you dream of being a transformer and hero, then join N.E.S.T. Beijing to fight against the Evil Decepticons, and protect the Earth!

Rides & Shows
Decepticoaster:
This will be a once-in-a-lifetime ride! For you will ride through Decepticon Driller. But knowing that any wrong move could wake up this giant driller and then his razor-like teeth will spin wildly. Finally, check your equipment and go, agents!
Transformers: Battle for the AllSpark
Agents, the evil Decepticons are plotting to steal the Allspark! Get on the Autobot Evac and fight along with Optimus Prime to protect the AllSpark!
Bunblebee Boogie: A retro dance party
Transformers: Meet your favorite Autobots
Kung Fu Panda Land of Awesomeness
Step into this ancient land, feel the fragrant aroma at Mr. Ping's Noodle House and experience the charm of Kung Fu in a journey with the Dragon Warrior.

Rides & Shows
Kung Fu Panda Journey of the Dragon Warrior:
Kai has escaped from the Urn of Eternal Imprisonment and is going to destroy the Valley of Peace. Join Po to defeat him!
Po's Kung Fu Training Camp: Train with Po
Carousel of Kung Fu Heroes: Choose your favorite Hero
Lanterns of Legendary Legends: Commemorating 12 Kung Fu Masters by the rising of Colorful Lanterns
Kung Fu Games: Test your power at Po's Power
Peach Tree of Heavenly Wisdom
Hollywood
Stroll up the glittering lights on the star-studded streets and wander through classic Hollywood scenes like a movie star!

Rides & Shows
Light Camera Action: Want to see the behind-the-scenes process of a big movie, then get into the studio!
Untrainable - Ride the Skies:
Step into the land of Berk and get up close with your favorite dragons and characters!
Water World

Water World Stunt Show
A must-see show in the resort. The stunt show puts you in the center of a wonderful "water battle" through realistic performances and thrilling stunts.

Note: the show is irregular and depends on the weather.
Minion Land

Rides & Shows
Despicable Me Minion Mayhem:
Walk into Gru's house and enroll in Minion Training, join in on the mischief with lovable Minions!
Loop-Dee Doop-Dee: Twist and Shout; Ride through Super Silly Creature's Mouth
Super Swirly:
Ride in the creature-shaped vehicle and have a 360-degree bird's-eye view of the entire Super Silly Fun Land.
Minion Meet and Greet: Meet Illumination's Minions and take pictures with them
Jurassic World Isla Nublar
The Jurassic World of 65 million years ago has resurfaced: a rainforest full of unknowns, spectacular waterfalls and mysterious lagoons, and of course, the prehistoric dinosaurs that have been "awakened" and recreated!

Rides & Shows
Jurassic Flyers: soar above the prehistoric Jurassic World
Raptor Encounter: interact with the most dangerous and popular dinosaurs
Jurassic World Adventure:
Enter the heart of Jurassic World's Isla Nublar in the All-Terrain Luxury Autonomous System (A.T.L.A.S.) and get up close with your favorite dinosaurs in a tropical wilderness full of the unknown, and start a thrilling Jurassic World adventure!
CityWalk
Universal CityWalk Beijing is a comprehensive commercial venue that combines high-quality dining, shopping and entertainment. It features a multi-purpose theater, 15 restaurants that blend Chinese and Western flavors like Red Oven Pizza Bakery, Cowfish Sushi Burger Bar, Neon Street Hawkers, Peet's Coffee and Quanjude Roast Duck, and eight world-renowned retail stores.
Note: CityWalk is an open area which does not need a ticket.
Ticket & Hours

Themed Lands One-Day Dated Ticket: CNY418 – 748
| | |
| --- | --- |
| Off Season: some days in spring and autumn; most days in winter | CNY418 |
| Shoulder Season: most days in spring and autumn; some days in winter | CNY528 |
| Peak Season: some public holidays and summer holidays; some days in spring and autumn | CNY638 |
| Special Days: some public holidays and most days on summer holidays | CNY748 |

Themed Lands One and a Half Day Dated Ticket: CNY670 – 1,195
| | |
| --- | --- |
| Off Season Days | CNY670 |
| Shoulder Season Days | CNY755; CNY845; CNY935 |
| Peak Season Days | CNY1,020; CNY1,110 |
| Special Days | CNY1,195 |

Note:
From Nov. 20th to Mar. 20th the next year, if tourists enter the resort after 13:00, then they can enter again the next whole day.
From Mar. 21st to Nov. 11th, if entering the resort after 14:00, then tourists can enter again the next whole day.

Themed Lands Two-Day Dated Ticket: CNY730 - 1,335
| | |
| --- | --- |
| Off Season Days | CNY730 |
| Shoulder Season Days | CNY830; CNY930; CNY1,035 |
| Peak Season Days | CNY1,135; CNY1,235 |
| Special Days | CNY1,335 |
Universal Studios: 9:00 - 21:00
CityWalk: 7:00 - 23:00
Accommodation Inside the park

Universal Studios Grand Hotel
Features: Various themed rooms; live with Kung Fu Panda, Minions …
Location: the entrance of Universal Studios Beijing
Price: CNY2,000 - 6,000

NUO Resort Hotel
Features: Design inspired by Qing Style architecture like Summer Palace
Location: right next to the park entrance, No.1 Sunrise Avn., Tongzhou District
Price: CNY1,000 - 5,000

Note: The guests of the two hotels have the privilege of Early Park Admission via the VIP entrance.
How to Get to Universal Studios Beijing

By Subway: Take
Subway Line 7
or
Subway Line 1
to Universal Studio, take Exit B, C, or D and walk northward for seven minutes to the entrance.

By Bus: take 589, T116 or the universal studio shuttle bus to the resort directly.

From Tian'anmen Square, it takes 70 minutes and CNY6 by subway, and 50 minutes and CNY100-120 by taxi.

Self-driving: Universal Beijing Resort is adjacent to the East Sixth Ring Road and the Beijing-Harbin Expressway.

Recommended Tour:
Universal Beijing Resort One-Day Tour
- Last updated on Nov. 20, 2023 by Gabby Li -
Questions & Answers on Universal Studios Beijing
Asked by susi from INDONESIA | Apr. 04, 2019 02:48

Reply
anyone know when did this Universal Studios Beijing will be open for public?
thank you

Regards
susi
Answers (2)
Answered by Nina from NEW ZEALAND | Apr. 11, 2019 00:55

0

0

Reply
It is said that it will be opened in 2021 and there is no specific date yet.
Answered by susi from INDONESIA | Apr. 11, 2019 02:46

0

0

Reply
thank you