Ancient Observatory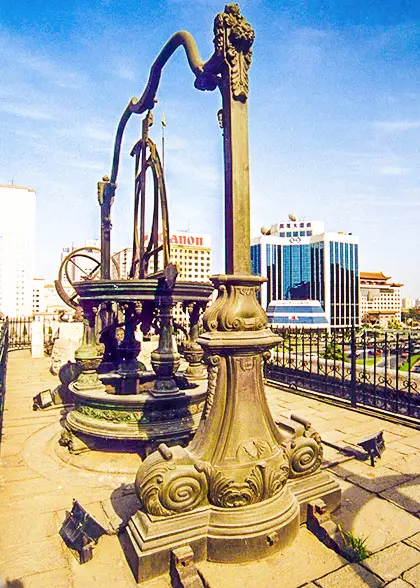 Beijing Ancient Observatory, towering in southwest of Jianguomen Overpass, was originally built in 1442 as one of the world's earliest royal observatories, two centuries ahead of the Greenwich in Britain (1675). It was once called 'Star Observation Platform' in Ming Dynasty (1368 - 1644) and 'Observatory' in Qing Dynasty (1644 - 1911). After 1911, it had been regarded as 'Central Star Observation Platform'. In 1927, it was taken place by newly-established Purple Mountain Observatory, so the old observatory became the Astronomical Instrument Museum under the jurisdiction of Beijing Planetarium. Nowadays, the Ancient Observatory wins popularity worldwide for its longest continuous astronomical observation among world's existing observatories. It is also famous for its architecture integrity and well-equipped instruments.

The Ancient Observatory mainly consists of two parts, the ancient astronomical instruments display hall and affiliated architecture.

With a rectangle shape, the observatory is 58 feet high and extends 26 yards from east to west. On the platform lie eight sets of ancient bronze astronomical instruments. From the southeast corner clockwise, they are Armillary, Quadrant Altazimuth, Celestial Globe, Ecliptic Armilla, Altazimuth, Azimuth Theodolite, Sextant and Equatorial Armilla. These instruments are delicate in shape and patterns, accurate in gradation and measurement, influenced by Western Europe astronomy in Renaissance; so they are historical witnesses to East and West cultural communications.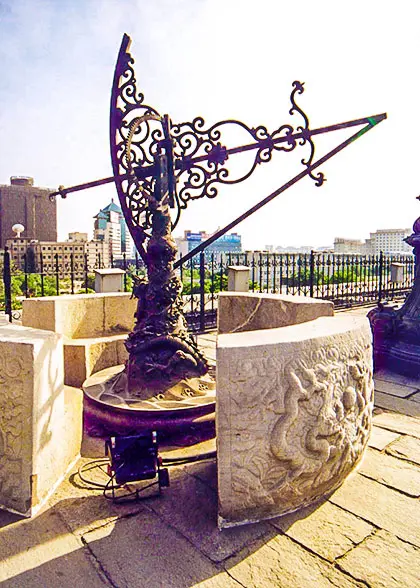 To the west side of the observatory is a courtyard, which contains Ziwei Palace, Dial Hall, Clepsydra Hall, and eastern and western wing-rooms. Used to function as the work place for the astronomical observation, it is now exhibition areas showing astronomical achievements in ancient China. The courtyard keeps the replicas of the bronze Armillary Sphere and Abridged Armilla from Ming Dynasty as well as Star Dial and Square Table from Yuan Dynasty (1271 - 1368). A plaque is hung in the Ziwei Palace, inscribed with Emperor Qianlong's handwriting, meaning observing the movements of stars and planet can help to create a calendar. Inside the Ziwei Palace and Wing Rooms, there are also other rich exhibition items. The time and calendar exhibition mainly shows the development and major achievements obtained in calendar study. 102 kinds of calendar are illustrated with pictures to present calendar application in different dynasties. Here, visitors can also learn accomplishments in astronomical observation via historical relics, such as astronomical patterns on painted pottery and Dunhuang stars map. The research on sunspots, Halley's Comet and supernova are also touched upon in this exhibition area.

The Ancient Observatory enjoys a high reputation in the world, so it gains much popularity among oversea visitors. Many superior officials and illustrious scholars have left their footprints there, such as former British Prime Minister Tony Blair and former Belgian prime minster Guy Verhofstadt.
How to go to Ancient Observatory

By Subway
Take
Subway Line 1
or
Subway Line 2
to Jianguomen Station. Get out from Exit C. Then walk for about 220m (250 yards) to the ticket office.

By Bus
1. Take bus 9, 20, 29, 39, 52, 59, 122, 126, 140, 403, 619, 622, 637, 638, 668, 673, 674, 805, 938, or 957, and get off at Beijingzhan Dong (
Beijing Railway Station
East). After that, walk east for 1 minute to South Jianguomen Street. And walk north along the street for 3 minutes to Ancient Observatory.
2. Take bus 39, 43, 44, 52, 122, 139, 637, 638 or Special Line 2 or 12 and get off at Jianguomen Nan Station, and then walk north along South Jianguomen Street for 5 minutes there.
Beijing Bus / Subway Search
Admission Fee
CNY 20
Opening Hours
09:00 – 17:00 (Closed on Mondays)
Note: Ticket sale stops at 16:30.

Recommended Itineraries:
5 Days Private Beijing Tour: to visit the most popular attractions
Science & Technology Tour: visit China Science & Technology Museum, Planetarium, the Ancient Observatory, Geological Museum, CCTV Tower
More Beijing Tours
Print