Why Choose Us?
Free 24/7 Services
100% Tailor Made
Hand-picked Hotels
Expert Local Guides
No Hidden Charge
Best Value for Money
Endorsed by
The New York Times Travel Supplement has named our company as being in their opinion a large and reliable Chinese travel agency. Details...
Nepal Travel Guide
Nepal deserves to be called a paradise for tourists, where they can appreciate snow mountains and sunrise, experience the exploration in rain forests and intoxicate themselves in the sight of lakes.
Kathmandu, the capital, is the symbol of Nepalese ancient culture and is famous for exquisite architectural arts and wood and stone carvings. Swayambhunath and Pashupatinath there are worth visiting. Swayambhunath is a momentous site for pilgrims, in which a grand Dharma assembly is held every year on the birth date (8th April in lunar calendar) of Sakyamuni. Pashupatinath on the bank of Bagmati River is the most significant Hindu temple in South Asia and the place for Hindu cremation. In the vicinity of Kathmandu lie Chitwan National Park and Boudha Stupa. Chitwan National Park gains its reputation for the large number of animals especially endangered species such as Indian rhinoceros. Boudha Stupa is inscribed as a world cultural heritage and is the biggest semi-circular stupa in the world.
Bhaktapur is counted as the city of culture with architectures built of unvarnished red bricks and dark chestnut woodcarvings.
Patan, previously known as Lalitpur (city of arts) is full of ancient temples, in which the most celebrated one is the Golden Temple. Durbar Square in Patan, along with the other two in Kathmandu and Bhaktapur, is the embodiment of architecture, history and culture and the essence of Nepalese. Each of them is centered on a palace, around which religious temples are built.
Pokhara is noted for natural landscapes. Annapurna Mountain and Mt. Fishtail with perennial snow, alongside with Phewa Lake make Pokhara one of the most popular tourist cities.
Lumbini is the birthplace of Sakyamuni, the founder of Buddhism, which attracts a continuous stream of Buddhists. Lumbini Museum is established to present Sakyamuni's lifetime and the development of Buddhism. Many coins of Maurya Empire and Kushan Empire, religious manuscripts, terracotta pieces, rock and metal sculptures are collected in the museum.

Durbar Square of Nepal
Best Time to Go
From October to November: it is the dry season with mild climate and clean air, best for traveling and hiking. The important festival Dashain is held in October and tourists have a chance to appreciate performances with Nepalese characteristics. Due to ample sunshine, necessities such as sunglasses, sunscreen cream and sunhats should be prepared in advance.
From December to January: it is cold but with good visibility. Snowy days are common.
From February to April: the dry season comes to an end with a lot of dust in the air. The visibility is relatively low while the weather is warm. The average temperature is between 54 and 72 ℉ (12 and 22 ℃). Thin sweater and coat are enough to keep out the cold.
From May to September: it is not the suitable time for best tours in Nepal.
Tourists can access the country by taking flights to Tribhuvan International Airport in Kathmandu from several countries, including China, India, Malaysia, Thailand, Turkey and Singapore. The only train departs from Janakpur and is bound for Jaynagar, India. Weather and political condition permitting, tourists can also get to Nepal through six border crossing points, among which five are in India and one in China.

Domestic flights are in operation by Lukla Airport, Pokhara Airport and Tribhuvan International Airport but usually with a small capacity of passengers. Buses, especially tour buses are available for commuters traveling between cities. Taxis are also a common vehicle. Cars with a driver, motorcycles and bicycles can be rented. Besides, rickshaws and Safa Tempo, similar to electro-tricycles are good choices.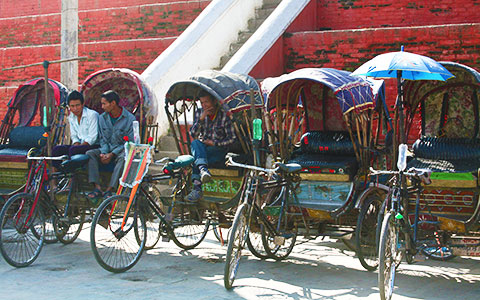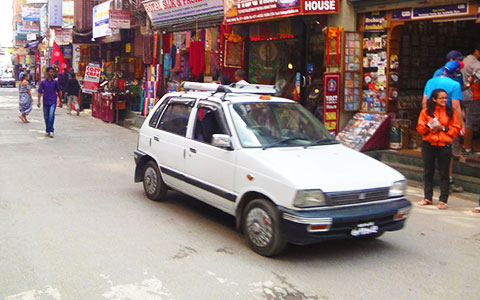 Local taxi
With a loose visa policy and low expenditure, the country makes tourism its leading industry. The expenditure on food, accommodation and shopping is cost-efficient. Specialty food such as Dal Bhat, Samosa, Momo, Newar food and Chapati is worth tasting. Shopping streets in most cities, especially in Kathmandu, provide all kinds of souvenirs. In addition, different festivals are celebrated every year, among which the grandest one is Dashain.
In a country with various religious beliefs and temples, tourists should pay special attention to their behavior. Hindu temples are exclusive to its pilgrims. Tourists should take off their shoes and leathery articles before entering temples and walk clockwise. Women dressed scantily are unfavorable and open intimacy in public is inappropriate.
Due to poor medical conditions, tourists who plan Nepal vacation package should drink bottled water as much as possible and prepare medicine for diarrhea, stomachache and anti-inflammation in advance. Plug adapters, batteries, power banks and temporary SIM card are indispensable.
History
Nepalese had settled in Kathmandu Valley in 6 B.C, where had become the center of politics, economy and culture ever since the Lichhavi Dynasty. After the death of King Yaksha Malla in 1482 of the Malla Dysnaty, his three sons divided the country up and set up three kingdoms with independent capitals, i.e. Kathmandu, Patan and Bhaktapur.
Most edifices were built in the Malla Dynasty during the 17th century like Hanuman Dhoka, a palace in Kathmandu, which got its name from Hanuman in the famous Indian epic 'Ramayana'. Changu Narayan Mandir, one of the oldest Hindu temples, was first built in the Lichhavi Dynasty during the 4th century and rebuilt in 1702 after being destroyed in a fire.
Geographical Features
Nepal is a landlocked state with the Himalayas in the north and Terai plain in the south. Therefore, its terrain appears to be high in the north and low in the south. The middle of the state lie valleys. Located in the southern foothills of the Himalayas, the country is famous for hiking and mountaineering activities.

Phewa Lake, Pokhara