China Consulate in Sydney, Australia

Visa Application Form of PRC


Procedure for Application at CVASC/by Post


Visa Fees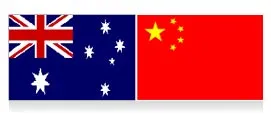 Consul General: Mr. Li Huaxin
Address: 39 Dunblane Street, Camperdown, NSW 2050, Australia
Tel: +61-2-85958002
Fax: +61-2-85958011
Office Hours: 08:30-12:00, 14:00-17:00, Monday-Friday (except holidays)
Website: http://sydney.china-consulate.org/eng/
Consular Office of Chinese Consulate in Sydney
Tel: +61-2-85958002 (Manual Phone 09:00-12:00, 14:00-17:00, Mon.-Fri.)
+61-2-85958000 (Auto Answer)
Fax: +61-2-85958021
Office Hours: 09:00-12:00, Monday-Friday (except holidays)
Consular District: New South Wales
Map of Chinese Consulate in Sydney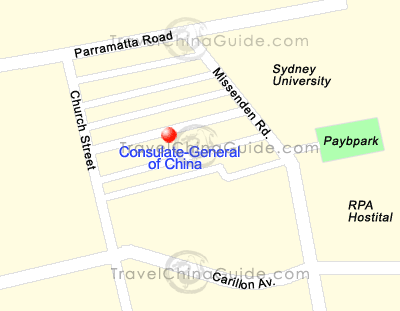 Transportation: Take Bus No. 412, 413, 435, 436, 437, 438, 440 or 461 and get off at Missenden Rd.
Important Notice
Chinese Visa Application Service Centre (CVASC) started its operation on 30th of November, 2009. Thereafter, the Consulate General stopped to accept applications from ordinary passport holders. The vast majority of applicants are kindly requested to go to CVASC. CVASC also collects visa fees and returns processed applications on behalf of the Consulate General. A service fee will be charged.

Applicants who hold Diplomatic, Service or Official passport, or who apply for Hong Kong visa/entry permit, or who apply for Chinese passport/travel document, or who apply for authentication/notarization should still submit the application directly to the Consulate General and don't have to make online appointment.
Detailed information about the CVASC:
Address: Level 5, 299 Elizabeth Street, Sydney, NSW 2000
Nearest Subway Station: Museum Station
Bus Routes: 311, 333, 373,377, 380, 392, 394, 396, 397, 399, 890, L94, X39, X73, X74, X92, X94, X96, BUS-10 (Hyde Park Bus Station)
Mailing address: P.O. Box 20516, World Square, NSW 2002 (for receiving mail application only)
Tel: +61-2-94758800
Fax: +61-2-92612088
E-mail: sydcenter@visaforchina.org
Business Hours: 09:00-15:00, Monday-Friday (submit you application before 12:00 noon for rush service)
2020 Holiday Schedule of CVASC in Sydney
| Festival | Date | Day |
| --- | --- | --- |
| New Year's Day | January 1 | Wednesday |
| Chinese New Year | January 24 - 28 | Friday - Tuesday |
| Easter Day | April 10 - 13 | Friday - Monday |
| International Labor Day | May 1 | Friday |
| Queen's Birthday | June 8 | Monday |
| Dragon Boat Festival | June 25 | Thursday |
| Chinese National Day | October 1 - 5 | Thursday - Monday |
| Christmas Day | December 25 - 28 | Friday - Monday |

Recommended tours:
China Tours from Australia
China Tours from Sydney
- Last modified on Dec. 31, 2019 -
Questions & Answers on China Consulate in Sydney
Asked by Lata Skola from AUSTRALIA | Jan. 19, 2020 12:00

Reply
Fee
How much is the Visa application fees

Answers (1)
Answered by Brenda from AUSTRALIA | Jan. 19, 2020 18:54

0

0

Reply
If you are an Australian, and you apply from the China Visa Center in Sydney, the visa application fee is AUD 109.5 for a single entry visa.
Asked by Pamela Epul from AUSTRALIA | Dec. 17, 2019 03:15

Reply
Tourist visa for a chilean
I am going to travel to China as a tourist in February 2020, around 25 days.
I am Chilean living in Sydney.
What is the process I need to do to get a tourist visa? Thank you
Answers (2)
Answered by Helen from AUSTRALIA | Dec. 17, 2019 19:44

0

0

Reply
First, prepare all the documents including your passport, application form, photo, residence permit in Sydney, and round-trip tickets and hotel bookings. Second, make an appointment on the website of the CVASC in Sydney. If you don't wanna do this, skip this step. Third, go to the CVASC in Sydney to submit the required documents.
Answered by Pamela from AUSTRALIA | Dec. 17, 2019 22:49

0

0

Reply
Thank you so much for your answer, I have booked my appointment.
Asked by Asenath Taylor from AUSTRALIA | Nov. 13, 2019 04:28

Reply
Chinese Visa for Tourism
I am travelling by train from Central Coast.
Can I lodge my application at your Chinese Consul General for a Tourism Visa?
If yes, do I need to make an appointment or can I just turn up?
Asenath
Answers (1)
Answered by Bell from AUSTRALIA | Nov. 13, 2019 19:21

0

0

Reply
Asenath, you need to lodge your application at the respective CVASC in your residence area.

You can either make an appointment or just turn up.
Asked by Julie from AUSTRALIA | Nov. 04, 2019 19:24

Reply
Which visa do I need?
I am an Australian citizen and will be on a cruise ship that is travelling from Japan, stopping next at Tianjin port (for Beijing) for a day, then sailing to Shanghai, stopping for a day, then sailing to Hong Kong.
I would like to get off in each Chinese port.
Do I qualify for either the 72 or 144 hour TWOV or do I need to get a Tourist visa?
Thanks
Julie from Sydney
Answers (1)
Answered by Nelson from CANADA | Nov. 05, 2019 22:11

0

0

Reply
Julie, you need to get a visa because you stop in both Beijing and Shanghai, which goes against the rules of 72 or 144 hours TWOV.
Asked by Mel Healy from AUSTRALIA | Nov. 03, 2019 02:06

Reply
Travelling for business mother accompanying
Hi there, I am travelling to Shanghai for work (I'm a journalist on a story trip) and my mother is joining me. Does she apply for a tourist visa and me a business visa (I have a letter of invitation for us both).
Also for the rush service if submitted before noon when will the visa be ready, the next day or the same day?
Thank you in advance.
Mel
Answers (1)
Answered by Cook from AUSTRALIA | Nov. 03, 2019 23:45

0

0

Reply
Your mother can either apply for a business or tourist visa.
If you use the rush service and submit before 12 o'clock noon, you can get the visa on the next day.