China Tour from Melbourne
SG02-INTL: 12 Days Tour of Melbourne - Beijing - Xi'an - Guilin - Yangshuo - Guilin - Shanghai - Melbourne
Tour Type:
Independent Travel
Accommodation:
11 nights, nice 5-star hotels
Meals:
11 western buffet breakfasts
Highlights:
Must-see sights in China - Mutianyu Great Wall, Forbidden City, Terracotta Army
Take a Li River cruise down to Yangshuo & admire the essence of Guilin landscape
View the soaring city skylines and feel the pulse of modern Shanghai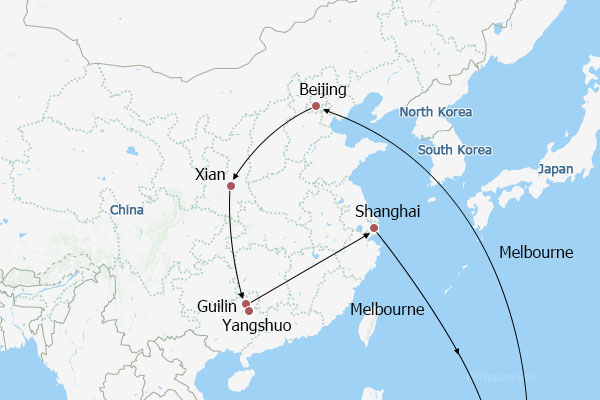 Day 1
Melbourne - Beijing
Please head to the airport and take flight from Melbourne to Beijing by yourself. The flight time is around 12 hours.

When you get to the Capital Airport, head to the recommended 3-star Hotel Ibis Jianguomen, which is in between of two subway stations along line 1, Jianguomen and Yong'anli. If your luggage is not so heavy, you can take the subway Airport Express Line to Dongzhimen Station, and then transfer to line 2 to reach Jianguomen. Exit from Exit C and walk east along Jianwai Street for 900 yards. Then, turn right to South Jianhua Road to find the hotel on your left. Or, take a direct taxi from the airport to the hotel and the fare is around CNY90. There are many nice restaurants around your hotel; you may find one to have a big meal to refresh yourself from the tired air travel and then get ready for your trip tomorrow.

Accommodation Suggestion: Hotel Ibis Jianguomen
Forbidden City
It's advised to get up early, as it might be a little bit tight with
Tiananmen Square
,
Forbidden City
, and
Temple of Heaven
on the list. To the first destination - Tiananmen Square, you can have a morning walk 700 yards westwards along Jianwai Street to take subway line 1 at Jianguomen. Leave from Exit D of Tiananmen East Station to get to the Tiananmen Square. Use the underpass to reach the
Tiananmen Tower
after 30-40 minutes' sightseeing of the square. You may want to take some pictures there. Then, go through the tower to reach the south gate of the Forbidden City, Meridian Gate, where you can buy tickets and store luggage. Audio guides, tour guides, strollers, wheelchairs, and umbrellas are all available for the convenience of visitors. The Forbidden City is very large, so we suggest you go along the central axis from the south to the north accordingly. It will be around lunch time when you reach the Gate of Divine Prowess, the north gate of the Forbidden City.
In the afternoon, Temple of Heaven, about three miles southeast of the Forbidden City, should be a good place to spend the rest of the day. When you get out of the Divine Prowess Gate, it's advisable to take a taxi to save both time and energy for a fare of CNY22. Or you can walk a few yards westwards to take bus no. 685 at Gu Gong Station and get off at Fahuasi to reach the east gate of the Temple of Heaven. After you finish the visit, you can get back to Fahuasi Station to take bus no. 43 to Ritan Road, and then walk back to your hotel. Hiring a taxi would be more convenient and it costs CNY25 or so.
Great Wall of China
Today you will visit the
Badaling Great Wall
, which is 37 miles away from the city center. We advise you prepare some food for the lunch, since most of the restaurants there offer low-quality food but ask for a high price. It will take a lot of physical energy to climb the wall, so make sure you take some high-calorie snacks, such as chocolates and dried beef. From the hotel, you can take subway line 2 at Jianguomen Station to Jishuitan. Get out from the Exit B2 and go east to Deshengmen Arrow Tower, where you can take bus no. 877 to Badaling with the duration of around one hour and a cost of CNY12. The ticket office of the Great Wall is about 10 minutes' walk from the drop-off point.
Spend half a day climbing the Great Wall. After that, also take bus no. 877 for your return trip. Upon arrival at Deshengmen, walk west to Jishuitan to take subway line 2 to Jianguomen. Then, walk to your hotel and have supper at a nearby restaurant.
Our suggestion for today is to visit the
Summer Palace
in the morning and catch an afternoon high-speed train to Xi'an. So you can check out the hotel after the breakfast, and take a taxi to Beijing West Railway Station to store your luggage at left-luggage office which charges about CNY 10–15/per day for each piece. Then you can take subway line 9 to National Library. Change to line 4 and leave from Exit D at Beigongmen (North Palace Gate) Station to find the north gate of the Summer Palace. Spend half of the day there and also get out from the north gate to have some meals. After lunch, you may walk to Beigongmen Station to take subway line 4. Transfer to line 9 at National Library Station and get off at West Railway Station to catch the high-speed train to Xi'an. We suggest you take a train leaving before 16:00 and arriving in Xi'an by 21:30. For more specific information, please check the real-time
China Train Schedule
. You will arrive at Xi'an North Railway Station in about five hours. We recommend you stay at the 3-star Xi'an Ibis Hotel. You can take subway line 2 at Xi'an North Railway Station and get off at Beidajie. Use Exit B to take bus no. 606. Alight at Huaxia Bank Station and walk 200 yards north along Heping Road to find the hotel. You can also take a taxi to your hotel at a cost of around CNY 45.
Accommodation Suggestion: Ibis Hotel
Terracotta Army, Xi'an
Our suggestion for this morning is to visit the
Terracotta Army Museum
, which is a must in Xi'an. After breakfast, you can take bus 25, 30, or 40 at Huaxia Bank Station in front of your hotel to Xi'an Railway Station, and then catch the Tourist Bus No. 5, also marked 306, on the east square of the railway station to the museum. It takes around one hour and the ticket price is CNY7 per person. After 1-2 hours' visit, you may have lunch in a nearby fast food restaurant. Take Tourist Bus No. 5 to go back to the railway station and then hire a taxi to get back to the hotel. After a short rest at your hotel, take bus no. 606 to the
Bell Tower
. After taking enough shots of the tower, cross the street through the underpass to the Bell and Drum Tower Square. Behind the square, there is a line of ancient buildings, housing some time-honored brand restaurants in Xi'an, such as Defachang Dumpling Restaurant and Tongshengxiang Restaurant. You can have dinner in one of them, or go to taste local snacks at the
Moslem Quarter
behind the
Drum Tower
. You can also buy some souvenirs and antiques there. In the end, take a taxi back to your hotel at a fare of about CNY15.
We suggest you get up early to leave enough time to explore more before extending your tour to Guilin in the evening. It is recommended that you list the
Shaanxi History Museum
and the
City Wall
on today's independent tour itinerary. Check out the hotel before you set out but store the luggage at the front desk. Then, go across the Heping Road and head south for 100 yards to catch bus no. 30. Get off at Cuihua Road to find the Shaanxi History Museum. Be sure you have passport in hand to get the free tickets. If there are too many people waiting in line, you can buy a CNY20 ticket for the theme exhibition so that you can enter the museum without queuing. You are recommended to spend two hours there. After having lunch in a nearby restaurant, take bus no. 26 at the gate of the museum to Nanmen, the South Gate of the City Wall. You can either take a walk or cycle around to experience the profound historical and cultural background of the ancient city. You are suggested to stay there for one hour. Get down from Heping Gate and walk 300 yards north back to the hotel to collect your luggage.
Make sure you go back to the Ibis Hotel at least three hours before the departure time of your flight to Guilin. Take a taxi to go directly to the airport, which would take around one hour at a cost of CNY120 or so. After two hours' flight, we recommend you check in the 3-star Guilin Hotel Universal, which is located by the beautiful
Li River
. You can take the airport shuttle bus at the exit of the arrival hall to Civil Aviation Mansion, and then take a taxi to your hotel. The bus fare is CNY20, and the taxi costs about CNY10. Or you can hire a taxi to go straight to your hotel from the airport with a fare of about CNY120.
Accommodation suggestion: Guilin Hotel Universal
Elephant Trunk Hill, Guilin
Explore the scenic spots around the city in Guilin. After breakfast, head to your first destination,
Reed Flute Cave
. Walk 900 yards westwards along the East Jiefang Road in front of your hotel to Shizijie to catch bus no. 3. Get off at Lu Di Yan (Reed Flute Cave) after 16 stops to find the south gate of the scenic area. It may take around an hour to get there by bus. You can also take a taxi from the hotel at a cost of around CNY25. Stay there for about one hour and then take a taxi to visit
Seven-Star Park
and
Elephant Trunk Hill
one after another.
After that, we recommend you take a night cruise to enjoy the charming scenery along the
Two Rivers and Four Lakes
. You can board at Wenchang Bridge Dock, which is near the western entrance of the Elephant Trunk Hill. The alighting point is at Jiefang Bridge Dock, opposite your hotel across the river. Walk over the Jiefang Bridge and you will see the hotel a few yards ahead.
Li River cruise
Today, take the Li River cruise at Mopanshan Dock to admire the picturesque landscape along the way. As there is no direct bus from the city to the dock, get up early and take a taxi at a cost of CNY70 to reach there in one hour. You are recommended to get on the ship departing at 9:00 to arrive in Yangshuo at around 13:00. You can either buy the tickets by yourself upon arrival, or book it beforehand at your hotel.
Upon arrival, check in a local hotel first, and we recommend the New Century Hotel, which is about 1,000 yards west to the dock. You can either walk or take a battery car to the hotel. When everything is settled, have some food in the hotel or a nearby restaurant. Then rent a bike from the hotel to explore the breathtaking scenery and local people's simple life in the countryside. Our advice for the evening is to watch the performance of
'Impression Sanjie Liu'
, which usually starts at around 20:00. An ordinary ticket costs CNY198. You can either book it at your hotel in advance or at the entrance of the theater. Walk east from your hotel to Yangshuo West Street to catch a battery car for a five minutes' driving to the theater.
Accommodation Suggestion: New Century Hotel
Day 9
Yangshuo - Guilin - Shanghai
Our advice for today is to spend the whole morning exploring the famed
Yangshuo West Street
, which is full of souvenir stores, cafes, and bars selling food of all over the world. The street is only 10 minutes' walk from your hotel, so you may have much time enjoying yourself there. After that, check out the hotel and fetch your entire luggage to catch your flight to Shanghai. The shuttle bus at Yangshuo North Bus Station to Guilin Airport costs CNY50 and travels for about two hours. You can take a battery car to get to the bus station.
Your direct flight will land at Shanghai Pudong Airport in about two hours and we recommend the 3-star Ibis Xujiahui for a two-night stay. Taking a taxi is the most convenient way to get to your hotel from the airport. It should take about 1.5 hours and cost approximately CNY170.
Accommodation Suggestion: Ibis Xujiahui
The Bund
The first stop in Shanghai is suggested to be the
Urban Planning Exhibition Hall
, where you can get an overview of the city in the minimum amount of time. To get there, you may walk 15 minutes to find the nearby Hongqiao Road Subway Station to take subway line 10. Transfer to line 8 at Laoximen Station and get off at People's Square. Go through Exit 2 to the Basement 1 of the Urban Planning Exhibition Hall - Shanghai Traditional Street in 1930s, and start your visit. After about one hour, take a taxi at a cost of about CNY15 to
Yu Garden
. Or, you can take bus no. 930 from People's Square (Guangdong Road) stop on Middle Xizang Road to Xinbeimen and head 240 yards south to Yuyuan Garden. Normally, you will spend two to three hours there for sightseeing, shopping, and tasting local snacks. Then, hike to the terminal of today's self-exploration,
the Bund
, which is regarded as the symbol of Shanghai. Go northwards from Yuyuan Garden to reach Renmin Road. Then, head east to the Bund on the western bank of the
Huangpu River
. Continue walking north along the river and you will see various buildings of different architectural styles. You don't want to miss the
Huangpu River cruise
, which can make you fully experience the marvelous night scene of the city. Take a taxi to head back for a fare of CNY 35 or so when you are fully gratified at the Bund.
A pleasant
Nanxun Ancient Town
trip is recommended today. With a history of over 700 years, Nanxun Ancient Town is famous for its elegant and exquisite gardens blending with Chinese and Western styles. You can take bus from the Hutai Road Bus Station located at No. 1015 north Zhongshan road, or Shanghai Long-distance Bus Station at 1666 Zhongxing Road. The ride takes about 2 hours and costs around CNY 50 per person. To ensure you have enough time to explore the water town, we kindly suggest you catch the bus departing at around 08:00 am. After reaching Nanxun, you need to buy the tickets at the ticket office first. The ticket fare is CNY 100 per person. Then you will start your self-guided tour with a visit to the Small Lotus Garden. It was the private garden of Liu Yong, a high ranking official during the late Qing Dynasty (1644 - 1911). Besides, you may not miss the Jiayetang Library, Zhang Shiming's Former Residence, Nanxun History Exhibition Hall as well as the Old Residential Row Houses when you stroll around this old town. At last, please return to the Nanxun Bus Station before 17:00 to take a bus back to Shanghai.
Day 12
Shanghai - Melbourne
Today our China tour from Melbourne comes to a close. You need to head to the airport on your own. We recommend you to reserve a taxi at the hotel reception beforehand to save time. We wish you all the best!

This trip can be customized to meet your individual needs!
Why Travel With Us
Itineraries you may also like: