China Care-Taking Group in Kiribati

There is no diplomatic relations between China and Kiribati now, and only a care-taking group remains in Tarawa, Kiribati.

Visa Application Form of PRC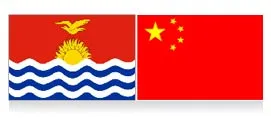 Address: Bairiki, Tarawa, Kiribati
Mailing Address: P.O. Box 30, Bairiki, Tarawa, Kiribati
Tel: +68-6-21486
Fax: +68-6-21116
Email: prcembassy@tskl.net.ki
Brief Intro
Situated in central Pacific Ocean, Kiribati is near to the junction of the equator and International Date Line. It has totally three coral inland groups and a volcano inland group that scattering all over the 5,000,000 square kilometers (1,930,511 square miles) waters. Nauru and Tuvalu are its near neighbors respectively located to its west and south.
Capital: Bairiki in Tarawa
Time: It is 12 hours earlier than GMT and 4 hours earlier than Beijing Time.
Official Language: English (Kiribati/Gilbertese is also widely used)
Major Religions: Roman Catholic, Kiribati Protestant
Currency: cent, Australian dollar
Important Holidays
New Year Day (January 1-2)
Women's Day (March 6)
Easter Holiday (at least four days from Good Friday to Easter Monday)
National Health Day (April 21)
Gospel Day (or Christian Churches Day)
National Independence Day (July 11-12)
Unimwane & Unaine (Elderly Men and Women) Day (July 13-14)
Youth Day (August 7)
Human Rights/Peace Day (December 11)
Christmas Day (December 25)
Notices for Chinese Going to Kiribati
1. Citizens from other countries must hold a valid passport, onward ticket and proof of sufficient funds to support their staying in Kiribati.
2. If the intended stay duration in the country is 30 days or les, Chinese citizens are exempted from obtaining a visa before entering the nation.
3. Visitors can apply for the visitor's permit upon arrival, entitling them to stay longer. Fees of AUD70 for a single visa and AUD70 for a multiple visa should be paid for the issuing of the visa.
4. The principal Immigration Officer, Ministry of Foreign Affairs, P.O. Box 68, Bairiki Tarawa can issue a visa it can be made in Kiribati honorable consulate office in Suva of Fiji, Rose Bay NSW of Australia and other foreign cities.



Related China Embassies in Oceania: Micronesia, New Zealand, Papua New Guinea
- Last modified on Sep. 16, 2018 -
Questions & Answers on China Care-Taking Group in Kiribati
Asked by Lailai from KIRIBATI | May. 19, 2019 15:45

Reply
I am an I-Kiribati citizen and I am going to attend the 'FIBA World Congress 2019' in Beijing.
Would the Kiribati citizens require to apply for visa if only less than a week to be in Beijing for attending the ' FIBA World Congress'?
Look forward to hearing from you soon.

Thank you,
Lailai
Answers (2)
Answered by Billie from USA | May. 21, 2019 01:50

0

0

Reply
Yes, you need. As there is no Chinese Embassy in Kiribati, you should go to other countries first and try to apply for Chinese visa.
Answered by Lailai from KIRIBATI | May. 21, 2019 20:05

0

0

Reply
Well noted but it is possible I will apply online from Fiji or Australia (Chinese Embassy??)
Asked by Rosemary Tekoaua from KIRIBATI | Nov. 04, 2016 00:23

Reply
Please kindly advise on how to process a visa before my traveling dates.
I am a Kiribati citizen and I will be traveling to Shenzhen china in early December attending a conference meeting.
Answers (1)
Answered by Mindy from IRELAND | Nov. 04, 2016 22:03

0

0

Reply
Rosemary, if this is a business trip, you can apply for a business M visa. The first thing is to prepare the relevant materials including your passport and its copy, the application form with a half-length color photo attached, and an invitation letter from the conference meeting.
Next, submit the application to China Care-Taking Group in Kiribati to apply for the visa.