China Embassy in Fiji

Visa Application Form of PRC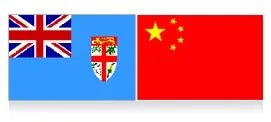 Ambassador: Mr. Qian Bo
Address: 183 Queen Elizabeth Drive, Nasese, Suva, Fiji
Switchboard: +679-3300215
Fax: +679-3300950
Email: chinaemb_fj@mfa.gov.cn
Website: http://fj.chineseembassy.org/eng/

Consular Office
Tel: +679-3300215 (available between 08:30-12:00 on working days)
Fax: +679-3300950
Office Hours: 08:30 am to 11:30 am (Monday to Friday, except legal festivals and holidays)
Sections of Chinese Embassy in Fiji
Consular Department
Tel: +679-3300215
Fax: +679-3303585
Political Office
Tel: +679-3300215
Fax: +679-3314614
Economic and Commercial Counselor's Office
Tel: +679-3300215
Fax: +679-3304564
Email: fj@mofcom.gov.cn
Administrative Office
Tel: +679-3300215
Fax: +679-3300950
Chinese Visa
Travelers to China can stay for less than 30 days without a visa but they need to have an onward flight ticket to a third country or a return ticket in case of inspection. If one needs to go to China for study, working, settlement or media activities, visa is required no matter how long it will stay.
Regular Visa Fee (FJ$)
| | | | |
| --- | --- | --- | --- |
| Type | Citizen of Fiji | Citizen of Other Countries | Citizens of USA |
| Single Entry | 30 | 60 | 280 |
| Double Entry | 50 | 90 | 280 |
| Multipe Entries (6 months) | 60 | 120 | 280 |
| Multipe Entries (12 months) | 90 | 180 | 280 |
Relations with China
Fiji established diplomatic relations at ambassadorial level with China on November 5, 1975. In the next year, China established embassy and accredit ambassador. From 1982, the Fijian ambassador to Japan also accredit to China. The bilateral relations get along swimmingly.
Education
The education is more developed than other island countries in South Pacific. Every child in the country is entitled to free education at primary school. The enrolment rate for children of school age reaches 98 percent. Every year, the educational appropriations accounts for 15 percent of government budget. The major universities are the University of Fiji and the University of the South Pacific. The latter is managed by various countries in the South Pacific.

Please contact Embassy of Fiji in China if Fijians are in problems there.



Related Chinese Embassies in Oceania: Kiribati, Micronesia, New Zealand

---
Selected Questions and Answers:

Asked by Mr. Ramesh
I am planning to transit through Hong Kong on my way to London. Do I need a transit visa?



Answered by Ms. Anne
Fiji passport holders are exempt from visa to Hk for 90 days, so you don't need any for your stopover at HK.
---

Asked by Mr. ratnesh
We are a business man trading as tabua civil & timber supplies we wish to travel in the PRC for business intent to do buying of civil products and portable timber sawmill we also got a invitation letter from a Chinese vortex co ltd who is hosting us in China. Please advice the procedures how to apply for visa and the steps what to follow



Answered by Ms.HELPER(Canada)
The company should apply for an original notification letter at the Foreign Affairs Office or Committee of Foreign Economic Relations and Trade, then send it to you. After you have the Invitation Letter from the company and the notification, you can take these documents along to go to the consular office of the Embassy for application, including your original passport, completed Application Form of PRC, hotel reservation and two-way flight tickets. If it's inconvenient for you to submit the application in person, you may also entrust a travel agent on your behalf.
- Last modified on Jan. 28, 2019 -
Questions & Answers on China Embassy in Fiji
Asked by Mukesh Chand from FIJI | Jan. 27, 2019 12:21

Reply
Fiji Citizens - visa requirement
My wife and I want to travel to China for our son's graduation ceremony in Nanjing in June this year. We will be travelling via Hong Kong and need to know whether we require to apply for a visitors entry permit. Please advise.
Answers (1)
Answered by Katz from RUSSIA | Jan. 28, 2019 00:20

0

0

Reply
You can enjoy free entry to HK for a stay of not more than 90 days. No need to apply for visa for HK.
Asked by Ray from NEW ZEALAND | Jan. 15, 2019 03:17

Reply
Hi there I'm a Fiji passport holder and also Nz passport holder residing in Nz. L
Hi there I'm a Fiji passport holder and also Nz passport holder residing in Nz. If I travel to China for a holiday do I need to apppy for a visa since my Fiji passport should allow me to enter China without entry permit?
Answers (1)
Answered by Hill from DENMARK | Jan. 15, 2019 18:04

0

0

Reply
You don't need to apply for visa to visit China.
Asked by TA from AUSTRALIA | Nov. 29, 2018 00:24

Reply
Tourist Visa to China for Dual citizenship holder of Australia and Fiji
I am a dual citizen of Australia and Fiji and i also hold a Fiji passport. Do i need a tourist L to China?
Answers (1)
Answered by Anessa from DENMARK | Nov. 29, 2018 17:54

0

0

Reply
If you use your Fiji passport to enter China, you don't need to apply for a visa then.
Asked by Niel from FIJI | Nov. 09, 2018 15:42

Reply
if family can stay in China under my Visa
I'm studying in China and have X1. I want my wife and two son to come and stay with me. Can they stay in china with me under my visa. If yes. What are the requirements?
Answers (1)
Answered by Wilder from RUSSIA | Nov. 11, 2018 19:25

0

0

Reply
They can apply for S type, and they need to prepare passport and the copy, passport-style photo, completed application form, air tickets and hotel reservation, an invitation letter from you and copy of your residence permit and passport, as well as your marriage certificate and the sons' birth certificate.
Asked by Joe from FIJI | Oct. 27, 2018 19:30

Reply
Fiji Citizen wishing to Work
I'm a fiji citizen, wishing to work in China for up to 12months, please advise on visa requirements etc?

Answers (1)
Answered by Emma from JAPAN | Oct. 28, 2018 23:06

0

0

Reply
If you want to apply for work Z type, you should prepare those documents including your passport and copy of its data page, a completed application form, a recently-taken passport-style photo, and a work permit from your employer, and your air ticket.