Embassy of P.R.China in the Federated States of Micronesia

Visa Application Form of PRC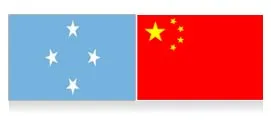 Ambassador: Mr. Li Jie
Address: Industrial Park, Palikir, Pohnpei, the Federated State of Micronesia
Mailing Address:
Embassy of the People's Republic of China in the FSM,
P.O. Box.1530, Kolonia, Palikir, Pohnpei, FM 96941
Emergency Tel: +69-1-320 5575/1646
Fax: +69-1-320 5578
Email: chinaemb_fm@mfa.gov.cn
Office Hours: 09:00-12:00, 14:00-17:00, Monday-Friday (except holidays)



Consular Department of Chinese Embassy in Micronesia
Tel: +69-1-3205575
Fax: +69-1-3205578
Office Hours: 09:00-12:00, 14:00-17:00, Monday-Friday (except holidays)



Economic & Commercial Counselor's Office
Counsellor: Wang Ruiqing
Address: PAMI Building, Kolonia, Pohnpei, FSM
Mailing Address: P.O. Box 1836 Kolonia, Pohnpei, Federated States of Micronesia 96941
Tel: +69-1-3205072
Fax: +69-1-3205074
Email: fm@mofcom.gov.cn



Means of Transaction for Visa
Applicants can go to the embassy in person to submit application. They can also entrust someone else, a travel agency to apply for it on their behalf. The authorization paper is not needed. However, the application form must be signed personally. There is no need to make an appointment.



Application by Mailing
Applicants can also send application by mailing, but they should pay attention to the following notices, otherwise, the application will be delayed or denied.
1. All required documents for application should be provided. You'd better offer your telephone number and address, so that the consular official can contact you easily.
2. Besides the regular visa fee, you also need pay 10 dollars for handling service fee per parcel and the postage for mailing back.
3. Please enclose required documents, fee, handling service fee and sufficient postage into one envelop. Please mark clearly 'VISA' or 'PASSPORT' on the envelope.
4. Express Service is not available for application by mailing, so please send application at least 30 days before your travel.



Time of Transaction for Visa
Micronesia passport holders are exempted from China visa fees. The embassy regularly takes 4 working days to process the application. If you apply for the Rush/Express Service, you can pick it up on the 2nd or 3rd working day counted from the date of submission. Extra 30/20 dollars are charged.



Please contact Embassy of Micronesia in China if this country's citizens are in troubles there.



Related China Embassies in Oceania: New Zealand, Samoa, Papua New Guinea