Embassy of the People's Republic of China in New Zealand

Visa Application Form of PRC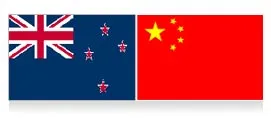 Ambassador: Mr. Wang Lutong
Address: 2-6 Glenmore Street, Kelburn, Wellington, New Zealand
Postal Address: P.O. Box 17-257, Karori, Wellington, New Zealand
Tel: +64-4-4749631
Fax: +64-4-4990419
Emergency call: +64-21-528663
Office Hours: 09:00-12:00, 13:30-16:30, Monday-Friday (except holidays)
Email: info@chinaembassy.org.nz
Website: http://www.chinaembassy.org.nz/eng/



Consular Office of Chinese Embassy in New Zealand
Address: 4 Halswell Street, Thorndon, Wellington
Tel: +64-4-4733514, 4749631
Fax: +64-4-4995572
Office Hours: 09:00-11:30 & 14:00-16:00 for Monday, Wednesday and Friday; 09:00-11:30 for Tuesday and Thursday
Email: nzchinaembassy@sina.cn



Consular Districts
| Embassy/Consulate | Consular_Jurisdiction |
| --- | --- |
| Embassy of PRC in Wellington | Bay of Plenty, Gisborne, Hawke's Bay, Taranaki, Manawatu-Wanganui, Wellington |
| Consulate General of PRC in Auckland | Northland, Auckland, Waikato |
| Consulate General of PRC in Christchurch | Tasman, Nelson, Marlborough, West Coast, Canterbury, Otago, Southland |

Fees
1. Regular Fee per Person
| Types | New Zealand Citizens | U.S. Citizens | Canadian Citizens | Citizens of Other Countries |
| --- | --- | --- | --- | --- |
| Single-Entry with 3-month Validity | NZ$ 140 | NZ$ 200 | NZ$ 110 | NZ$ 90 |
| Double-Entry with 6-month Validity | NZ$ 210 | NZ$ 200 | NZ$ 110 | NZ$ 60 |
| Multi-Entry with 6-month Validity | NZ$ 280 | - | - | NZ$ 120 |
| Multi-Entry with 12-month Validity | NZ$ 420 | - | - | NZ$ 180 |
Note: The embasy only accepts Credit Card (Visa/MasterCard only), Bank Cheque (excluding Personal cheque and Company cheque), and Money Order as means of payment. Make the check payable to "Embassy of the PRC in New Zealand". EFTPOS and Credit Card is acceptable at the counter of the consular office.
2. Express & Rush Service Fee per Person
The regular processing time is 4 working days. For urgent cases, the express or rush service is available, but urgent application must be lodged in person and extra fee is charged as following: (It may take 6-8 working days if the application is couriered to the Embassy, and the rush and express service are not applicable for applications lodged via post or courier)
| | |
| --- | --- |
| Rush Service (1 working days processing) | NZD 60 |
| Express Service (2-3 working days processing) | NZD 40 |
Note: The urgent process is only available with approval of consular officer at the time the application is lodged. Proof of outward travel, such as a fully paid fight ticket may be required.
3. Handling Service Fee for Application by Post/Mail
| | |
| --- | --- |
| Fee per Package/Mail | NZD 15 |
Note: Applicants should enclose visa fee, handing service fee (bank check and company check payable to "Chinese Embassy", please write down your name and contact details on the back of the check) in a self-addressed, pre-paid return envelope. Otherwise you have to collect the passport at the Embassy. Please do not include any cash with your application. Only one handling fee is charged if you have include more than one applications in the same envelope.

Major Visa Types & Requirements
Types

Purpose
Tourist (L)
It is issued to those who comes for tourism. Group L is available for tourists who travel on a group basis.
Business (F/M)
F is issued to those who intend to go to China for exchanges, visits, study tours and other activities.
M is issued to those who intend to go there for commercial and trade activities.
Employment/Work (Z)
It is issued to an alien who comes for a post or employment, or commercial performance.
Student (X)

It is issued to foreigners who come to study in China.

Family Reunion (Q)
It is issued to those who are family members of Chinese citizens or of foreigners with Chinese permanent residence and intend to go to China for family reunion, or to those who intend to go there for the purpose of foster care.
Q1 grants a stay of more than 180 days, while Q2 allows a stay of no more than 180 days.
Private visit (S)
it is issued to family members of foreigners with work Z and student X in China or visit for other private affairs.
Talent (R)
It is issued to aliens who are high-level talents or whose skills are urgently needed in China.
Transit (G)

It is issued to a foreign citizen who is to transit through China on his or her way to a third country(or region).

Hong Kong SAR & Macao SAR Visa
New Zealand citizens are exempt from Hong Kong Visa if they go to Hong Kong for visit or sightseeing and they stay at Hong Kong for not more than 90 days, and Macao for up to 30 days.

Please contact Embassy of New Zealand in China if New Zealanders are in troubles there.

China Tour from New Zealand

Other Chinese Embassies in Oceania: Papua New Guinea, Samoa, Embassy of China in Tonga