China Embassy in Tonga

Visa Application Form of PRC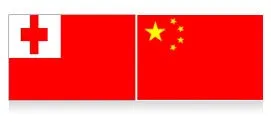 Ambassador: Mr. Cao Xiaolin
Address: Vuna Road, Nukualofa, Kingdom of Tonga (P.O. Box 877)
Tel: +67-6-24554
Fax: +67-6-24595
Email: chinaemb_to@mfa.gov.cn
Office Hours: 09:00-12:00, 14:00-17:00, Monday to Friday (except holidays)
Consular Office Hours: 09:00-12:00, Monday to Friday (except holidays)
Economic & Commercial Counselor's Office of Chinese Embassy in Tonga
Tel: +67-6-24554
Fax: +67-6-22899
Email: ecotonga676@gmail.com
Brief Intro
Tonga Archipelago is also known as the Friendly Islands. It is made up of 173 islands in the southern Pacific Ocean, about 650 kilometers east of Fiji and 1,770 kilometers northeast of New Zealand. It can be divided into three island group: Vava'u, Ha'apai and Tongatapu. Only 36 of all its inlands are inhabited. It enjoys tropical rainforest climate. May to August is the dry season and December to April the rainy season. Rainstorms and strong wind or even hurricane may usually happen during November to March.
Land Area: 699 square kilometers (about 270 square miles)
Capital: Nukualofa
Time: It is 12 hours earlier than GMT and 4 hours earlier than Beijing Time.
Language: Tongan, English (taught as the second language in schools)
Major Religions: Christianism
Currency: seniti, pa'anga (Tonga dollar)
Major Holidays
New Year's Day (January 1), ANZAC Day (April 25), Emancipation Day (June 4),Birthday of the Heir to the Crown of Tonga (July 12), Constitution Day (November 4), Christmas (December 25), Boxing Day (December 26)
Notices for Chinese Going to Tonga
1. Chinese citizens should get a visa upon entry. Applicants can apply for and get an entry permit at the Tongan Honorable Consulate in Beijing in possession of a copy of valid passport and invitation letter. Entering the country with the permit, visitors can get a travel visa after arrival, which is valid for one month.

2. There are visas for visitors, business, employment and transit. Citizens of all the nationals who is over two years old should pay for an airport tax if their transit periods exceed twenty-four hours.

3. Applications for visas should be made prior to arrival. Approximately three to five working days are required.

4. Visitors are allowed to stay up to one month. Extensions for a maximum of six months or in exceptional circumstances six months required permission from the principal immigration officer. Business and employment visa are valid for up to two years and they can be renewed when they are going to be expired.



Please contact Embassy of Tongo in China if this country's citizens are in troubles there.



Related Chinese Embassies in Oceania: Vanuatu, Australia, Fiji
- Last modified on Nov. 04, 2020 -
Questions & Answers on China Embassy in Tonga
Asked by Utuone from TONGA | Mar. 15, 2016 16:31

Reply
We would be transitting in Shanghai on our way to Rome - do we need a Visa for transit?
Answers (1)
Answered by Kate from CANADA | Mar. 16, 2016 03:17

1

0

Reply
If the layover time is not beyond 24 hours, you don't need the transit permit. Remember you should apply for a temporary stay permit at the airport in case you want to go outside for a trip.
Asked by Lina from TONGA | Jan. 05, 2015 15:50

Reply
I am Tonga, but want to travel to china for seminar. What should I do to get a visa to China?
Do i submit an application to the Chinese Embassy here in Tonga ? Please explain.
Answers (1)
Answered by Leonard from RUSSIA | Jan. 06, 2015 02:20

0

0

Reply
You may either submit your application for an F type in person, or entrust someone else to submit your application at the Embassy. Documents required for the application are your valid passport and a photocopy of its data page, a filled application form affixed with your color photo taken within six months, and an invitation letter from the relevant entity or individual in China.
Asked by Ms.matalinna from USA | Aug. 10, 2009 16:40

Reply
Go China!I love China being in Tonga. Their office is great and beautiful and I love their presence in Tonga. I hope we work together and come to terms w/ helping one another and building positive issues always to lend a helping a be there for a great reason. I will pray for both nations and always ask GOD for good blessings. Malo ofa atu to China always. God bless. Ofa atu!
Answers (1)
Answered by Mr.Zhang from CHINA | Aug. 10, 2009 22:36

0

0

Reply
Ms.matalinna, thanks a lot for your compliments.