China Tour from Auckland
SG15-INTL: 14 Days Tour of Auckland - Beijing - Shanghai - Xi'an - Guilin - Hong Kong - Auckland
Tour Type:
Independent Travel
Accommodation:
10 nights, nice 3-star hotels
Meals:
10 western buffet breakfasts, 1 lunch
Highlights:
Must-see sights in China - Mutianyu Great Wall, Forbidden City, Terracotta Army
Take in the impressive skylines of Shanghai as you walk along the Bund
Feel the vibrant atmosphere & explore bustling markets in Hong Kong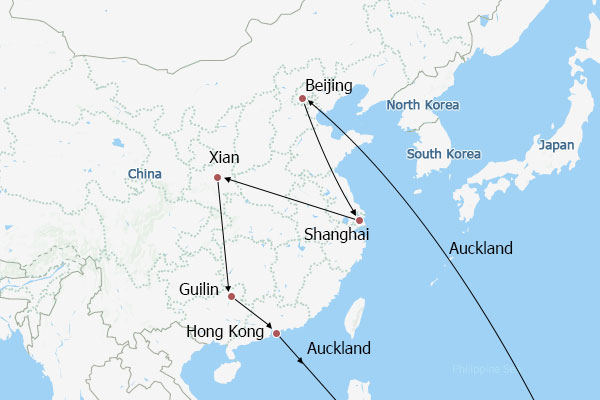 Day 1
Flying from Auckland
There is one direct flight available from Auckland to Beijing every day except Wednesday and Friday. You can book one based on your travel schedule. On the day of departure, you need to make your own way to the airport and board the flight to Beijing.
Upon landing after 13 hours' flying, please find your way to the hotel we booked for you. If you travel with heavy luggage, we suggest you take a taxi directly to your hotel. The taxi fare is CNY120. You will be free for the rest of the day to relax or to explore the city independently.
Accommodation: Hotel Yoo Beijing



Summer Palace, Beijing
This day is reserved for your self-service exploration. After finishing the check-out procedure, you can still leave the luggage at the hotel concierge. You may begin your visit with Beijing Zoo, where you could see cute
Giant Pandas
and other rare animals. Leaving from the hotel, you are advised to move eastward to reach a T - junction, turn right and walk southward to East Chang'an Street and then go along the street for about 450 meters to the west, you will arrive at Tian'anmen East Subway Station. Take Subway Line 1 (to Pingguoyuan Direction) for two stops, interchange Subway Line 4 (to Anhe Qiao North Direction) at Xidan, you will arrive at Beijing Zoo after taking it for six stops. Next you can turn to the
South Gong and Drum Lane
(Nanluogu Xiang) for a Hutong experience. You could take Subway Line 4 (to Gongyixiqiao Direction) for three stops and leave from Exit C (southeast exit) of the Ping'anli station. Here you can go east for 70 meters and cross the street to arrive at East Ping'anli Crossing, from where we suggest you take Bus No. 118 eastward for 5 stops to reach the South Gong and Drum Lane. Alternatively, you can take a taxi instead of the bus for it only costs you less than CNY15. You could try some tasty local food as lunch when visiting the Hutong area. Also, riding a rickshaw through the narrow alleys will add a fresh experience to your trip. After that, you may return to the hotel directly by taxi at a cost of around CNY15. Alternatively, you can return to South Gong and Drum Lane Stop to take Bus No. 60 (eastward direction) and get off at Nanheyan Stop, from where you only need to walk less than 100 meters to get back to the hotel.
We kindly remind you to plan your time properly as you need to pick up your luggage from the hotel and leave for the railway station no later than 18:30. A taxi will cost about CNY10 to Beijing Railway Station from the hotel. To avoid traffic jams, you may choose the subway instead. Walk to Tian'anmen East Station to take Subway Line 1 (to Sihuidong Direction) and interchange Subway Line 2 (Inner Ring) at Jianguomen, and then get off at Beijing Railway Station. Please find the Exit C (Southeast Exit) to leave from the subway station. Ride an overnight soft sleeper train departing at about 21:00 to Shanghai on your own. For the train will not arrive in Shanghai until 09:00 in the morning, we suggest you prepare some snacks and drinks for breakfast. There is a dining car available on the train, but the food is just passable and slighly expensive. In order to put your luggage in a favorable position, you'd better go to the railway station and check-in earlier. You can read the guideline of the
luggage allowance
on the train in advance. And we also suggest you look after your valuable belongings and keep your eyes on your luggage.
Meals: Western buffet breakfast
Accommodation: Overnight soft sleeper train
Yuyuan Garden, Shanghai
The train will arrive in Shanghai in the morning. After getting off the train and walking to the main exit tunnel inside the railway station, we suggest you look for the English signpost indicating the direction to the Exit at South Square of Shanghai Railway Station. Following the way to this exit, you can see the station of subway line 1, take it and get off at the next stop, then walk to the hotel we booked for you. You may have a short break or take a shower if the hotel offers free early check-in. Old and modern, Shanghai is a great city of easy access for one to arrange self-service visit. We suggest you start your sightseeing with the more than 400 years old
Yuyuan Garden
. You can walk about 30 meters to northwest, turn right, walk for 30 meters, turn left into Hengfeng Road, and then go along this road to Heng Feng Road Han Zhong Road to take Bus No. 64. Please carry small change for the bus ticket (usually CNY2 or CNY3). Get off at Xinbeimen Station after riding the bus for seven stops. Then you are advised to walk along Anren Street to get to the entrance of Yuyuan Garden. We believe you will be impressed by its surrounding old streets and market along the way. It is also advisable to have lunch at eateries hereabouts before leaving for your next destination. A taxi ride only costs flag-down fare (CNY14) will take you to
Shanghai Museum
, which is a major museum of ancient arts housing 120,000 valuable articles. You can rent an audio guide to learn about those treasures more deeply. Thereafter, we advise you to hail a taxi again at the flag-down fare to reach the prosperous
Bund
, where you can take some free time to feel the pulse of this great city. The most convenient way for you to get back to the hotel from the Bund area is still by taxi and it will cost you CNY21. We would deliver the train ticket to Xian to your hotel in advance, and you are advised to collect it from the reception.
Meals: No meals
Accommodation:
Golden River-view Hotel



Terracotta Army, Xi'an
Your tour will be extended to Xian today. The full daytime is still at your disposal. You can make use of it to visit the
Qibao Old Town
, which is a popular destination for one to experience old Shanghai culture and taste various delicious local snacks. It is easy to access by subway from your hotel. You can take Subway Line 1 (to Xinzhuang direction), get off at Xujiahui station and then interchange to Subway Line 9 (to Songjiang Xincheng direction) to arrive at Qibao station. Remember to leave from the No. 2 exit from the station. Then walk to the northeast along the Caobao Road for 180 meters, turn right into Mingzhu Road, continue to walk for another 180 meters, you will arrive at the old town. If you are not interested in this town, you may get to the Bund area to take a
cruise on the Huangpu River
, visit the
Oriental Pearl TV Tower
,
Jin Mao Tower
or
Shanghai World Financial Center
, which are all grouped in the Pudong New Area. Again, remember to buy some light food for the train journey this evening. In the late afternoon, you can get back to the hotel to pick up your luggage and go to the railway station for the overnight train to Xian.
Meals: Western buffet breakfast
Accommodation: Overnight soft sleeper train
When the train gets to Xian in the morning, please take a short taxi ride to the hotel we booked for you. Then we would like to suggest you take our
Xian Mini Group Day Tour
to travel around this ancient city.
Meals: No meals
Accommodation:
Days Inn City Centre Xi'an



The time in Xian today will be on your arrangement. The first place we suggest for your self-service exploration is the more than 600 years old
Xi'an City Wall
, which is also a must-go spot for you to touch the city's history. As your hotel is not far from the South Street, you can ascend the wall from the entrance at the South Gate, which is less than 550 meters walking southward from the Bell Tower Crossroad. If you are energetic enough, you can do one or two hours hike on it. Alternatively, you may rent a bicycle or take an electronic car, and the cost for the former is CNY40.00 per person and for the latter is CNY80.00 per person. Then you may walk northward back to the
Bell Tower
, and go further westward to the
Drum Tower
. Relax yourself by strolling along the adjoining bustling
Muslim Street
. It is a compact community for about 20,000 Xian Muslims and famous for its unique Muslim culture, delicious local snacks and interesting souvenirs. Later, go back to your hotel to pick up your luggage and take the shuttle bus to the airport for an afternoon flight to Guilin. The shuttle bus stop is just in front of the Melody Hotel on the other side of the street to the Drum Tower, so you can find it very easily. Our Guilin guide and driver will wait for you at the airport and transfer you to the carefully-selected hotel. You will also receive the train ticket of Guilin/ Hong Kong from the guide.
Meals: Western buffet breakfast
Accommodation:
Hotel Universal



Day 10
Guilin - Yangshuo - Guilin
There is no better place in China to enjoy natural scenery to its full other than in Guilin. In a certain sort of way, the
Li River cruise
is the essence of Guilin landscape. This morning, we will transfer you to the pier to board the Li River Cruise ship. Then the activities during the cruise and in Yangshuo are on your own to enjoy. A dazzling succession of beautiful scenes passes by as you cruise down the Li River to Yangshuo for 4 hours. You'd better have your battery charged fully since the views will occupy large space in your camera's memory. After the ship arrives in Yangshuo, you will first walk across the more than 500 meters antique and modern West Street. In the next 2 hours, you could take an electric car to the nearby countryside, where you can take a look at the pure and simple life that the locals live. Please purchase the bus ticket return to Guilin at the bus station by yourself.
Tips: Since the simple box lunch provided by the cruise is not up to TCG's serving standard, you may consider having a hearty breakfast at the hotel this morning.
Meals: Western buffet breakfast, Lunch
Li River, Guilin
How to manage your time in Guilin today? We would like to suggest you do a self-guided tour to the three most typical sightseeing spots in the city. Walking for about 100 meters to the Binjiang Road from your hotel and moving along the road to its northeast for about 350 meters, you will get to the Feng Qing Yuan Bus Stop. Here you can take Bus No. 58 for just four stops and get off at Reed Flute Cave Stop (Lu Di Yan). Walk back for about 370 meters, turn left and go on for 110 meters more, you will see its ticket office.
Reed Flute Cave
, a famous Karst formation, is acclaimed as the "art palace of nature". Kindling your imagination, those stalactites in various shapes under the colorful light will make you feel like in a magic world. The next stop you may go is
Seven Star Park
, which is a comprehensive park with the marvelous landscape of Guilin in miniature. You can return to the same bus stop as where you arrived to take Bus. No 58 (return direction) for five stops and get off at the Seven Star Park Stop (Qi Xing Gong Yuan). After crossing the road, you are advised to walk backward (northeast direction) for about 200 meters to reach the entrance of Seven Star Park. For your information, you can stop for lunch at a nearby restaurant named "Hao Wei Dao" before entering the park. Then you may conclude the sightseeing with a visit to the
Elephant Trunk Hill
, which is the city's landmark. This spot is still accessible by Bus. No 58 from the Seven Star Park Stop that you just get off. You can take it for only one stop and get off at Xiangshan Park. Then the entrance of Elephant Trunk Hill Park is about 20 meters away. Afterwards, you may take a taxi back to the hotel and the cost is within CNY10.
Meals: Western buffet breakfast
Day 12
Guilin - Hong Kong
Today, you can leave for Guilin West Railway Station to take a high speed train to Hong Kong on your own. The train ride takes nearly 3.5 hours. Upon arrival at Hong Kong West Kowloon Station, please follow the passengers to the exit tunnel and then walk about 10 minutes to the hotel. As an international metropolis, the public transport in Hong Kong is very convenient for one to get around in. Therefore, we only reserve the hotel for you and you can plan all the activities by yourself.
Meals: Western buffet breakfast
Accommodation:
B P International House



Victoria Peak, Hong Kong
Today is free for you to explore Hong Kong on your own. We recommend you visit the
Ocean Park
, where you can watch many amazing Asian animals and series of enjoyable performances.
At noon, you are advised to have lunch inside the park. Then, you can head to the
Stanley Market
, where many stores selling small products and souvenirs. After that, enjoy a pleasant sunbath at
Repulse Bay
.
Before night comes, take a bus or taxi to reach
Victoria Peak
to appreciate the charming night scenes of
Victoria Harbour
.
Meals: Western buffet breakfast
Day 14
Hong Kong - Auckland
After breakfast at the hotel, you need to go to the airport independently, which indicates the end of your China tour from Auckland. There are two direct flights from Hong Kong to Auckland on Monday, Tuesday and Thursday and three direct flights on the other days of the week. The flight journey takes about 11.5 hours. Wish you have had a happy trip!

Meals: Western buffet breakfast
This trip can be customized to meet your individual needs!
Why Travel With Us
Itineraries you may also like: