Escorted Tours to China -

100% No Shopping Stops
Joining an escorted tour to China is the best choice for first-time travelers to China. Thousands of years' old nation with rich cultural legacy, as well as one of the world's economic engines of today, China is LARGE beyond your imagination. Let our China escorted tour experts take the hassle out of travel planning and give you an experience of a lifetime.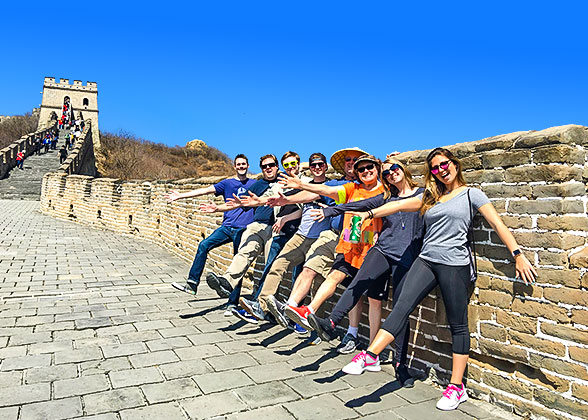 ●

Flight time from the United States to China: 11 - 14 hours

●

US cities having direct flights to Beijing China: New York, San Francisco, Los Angles, Boston, Washington, D. C., Houston, Dallas, Seattle, San Jose, Las Vegas, Chicago, Detroit, Honolulu.

●

Time Difference: Daylight Saving Time - China is 12 hours ahead of US Eastern Time; Standard Time - China is 13 hours ahead of US Eastern Time.
●

Flight time from Australia to China: 9 - 12 hours

●

Flights: Sydney and Melbourne have direct flights to Beijing China; Sydney, Melbourne, and Brisbane have direct flights to Shanghai China; Sydney, Melbourne, Brisbane, Perth, and Adelaide have direct flights to Guangzhou China.

●

Time Difference: No time difference between Australian Western Standard Time and China Beijing Time. The Australian Eastern Time is 2 hours earlier than China.
Why Choose TravelChinaGuide - 4 Reasons
We are among
China's earliest
online travel companies,
with more than
26 years' experience.
Handpicked itineraries,
for maximum 18 members'
small groups,
or tailor made tour plans,
catering to personal taste.
Say

NO

to
hidden charges!
We stick to
all-inclusive prices.
We offer one-on-one
travel consultant service
for free,
with free cancellation 30
days before departure.
8 Things You Should Know before Starting an Escorted Tour to China
What does an escorted tour to China include?
The price of our escorted China tours includes everything from the round-trip international airfare, to flight, train, bus, and all kinds of transfers within China, hotels with breakfast, lunch as the itinerary specifies, admission costs, and the guide service. We have 'Honest Price Guarantee' and 'No Hidden Charge Promise'.
Most of our escorted China tours set the capital city Beijing for entry and the largest cities like Shanghai or Hong Kong for exit. You can also enjoy a tailor-made tour going a reverse route if you like. Feel free to tell our travel consultants your entry and exit plans.
Our escorted tours to China offer 9 to 17 days' tour plans. For a classical tour of 'golden triangle' of Beijing - Xi'an - Shanghai, 9 days is needed at least - 5 weekdays plus 2 weekends. 12 to 20 days is recommended for an immersive travel exploring more destinations.
The best months to go to China are September and October. The late spring from April to June is also recommended. Try to avoid the busiest travel seasons around the Chinese New Year and the National Day Holiday in the first week of October.
Best Places to Go & Top Things to Do
Beijing - capital city, imperial palaces, Great Wall
Xi'an - long history and rich culture, Terracotta Warriors
Shanghai - modern sights, the Bund and the skyline of Pudong
Guilin - fantastic karst landscape, Li River cruise
Chengdu - home of giant pandas, spicy Sichuan food
Hong Kong - one of the world's most important financial centers

The top things to do in China include to hike the Great Wall in Beijing, to see a Kungfu show, to hold a giant panda, to take a high speed train, and to try the Chinese food.
Get to know China through the tongue!
Try the local food like Chinese Dumplings, the Beijing Roast Duck, the no. 1 Sichuan dish Kung Pao Chicken, the spicy Hot Pot, and the Rou Jia Mo which is known as Chinese hamburger in Xi'an.
Don't forget to buy the Chinese tea, handicrafts, silk products, and digital products at very reasonable prices.
Apply for a tourist visa to China at least 2 months in advance.
After you book an escorted China tour from us, we can provide you with an invitation letter if you need in visa application. Take this letter, your passport, and a filled application form with a recent bareheaded photo to the nearest Chinese embassy or consulate in your place.