Private Itineraries
Unique Services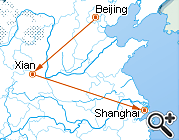 China Golden Triangle Tour
B-101A:
9 Days China Tour from San Francisco USA to Beijing

Xian

Shanghai
Day 1
San Francisco - Beijing
Your exciting China Golden Triangle tour from USA will begin when you board the international flight to Beijing. Here we offer two direct flight schedules from San Francisco to Beijing for your reference. The earliest one is United Airlines UA888 which departs from San Francisco International Airport at 10:50 and arrives at Beijing Capital International Airport at 15:30 the next day. The later one is Air China CA986 1350/1755+1. If you leave from other cities like Salt Lake City of Utah, Boise of Idaho, Las Vegas of Nevada, Tucson of Arizona, Portland of Oregon or Eugene of Oregon, you can also make the transfer at San Francisco and fly to Beijing. You can check in your luggage at your local airport and the luggage can be transferred directly to Beijing without picking up and rechecking at San Francisco Airport.
For foreign tourists traveling to China, China visa should be handled in advance. You can apply for the visa at your local Chinese consulate with your valid passport, filled application form and photos. The process usually takes 5 to 7 working days. For details of consulate-general in San Francisco, please check
the page
. Hope it helps.
After 12 hours flying, you arrive at Beijing Capital Airport. We suggest the 3-star Days Inn Forbidden City Hotel which is located in the city center, close to the Forbidden City. You can take a taxi if it is hard for you to transfer with heavy luggage. A taxi from the airport to the hotel costs about CNY 100. The hotel is located at the central area of the city. Walk south along Nanheyan Street for 200 yards until you reach East Chang'an Street, turn left and move eastward for 450 yards, you will reach the famous Wangfujing Commercial Street, where you can find modern shopping malls and best local snacks.

Accommodation Suggestion: Days Inn Forbidden City
Forbidden City
Have the buffet breakfast at the hotel and start your independent Beijing tour from San Francisco! Hereunder is our suggestion.
From your hotel, walk south along Nanheyan Street for 200 yards, turn right and walk westwards along the East Chang'an Street for another 700 yards, you will see the Tiananmen Tower. In front of the tower is
Tiananmen Square
, where you can take some photos of the full view of the tower. Walk northward all the way to the Meridian Gate, the entrance of the
Forbidden City
, you can hire a guide or rent an audio guide there. The charge for a guide is CNY 200 to 400 and the cost for an audio guide is CNY 40 with a deposit fee of CNY 100. Since the Forbidden City is very large, we suggest you follow the central axis and visit the major palaces. In this way, you can finish it in 2 to 3 hours and exit from the Gate of Devine Prowess, the North Gate.
Reference Reading:
Forbidden City Independent Tours
At lunch time, you can have a taste of the Cantonese food at Da San Yuan restaurant to the west of the Gate of Devine Prowess. The food there is delicious but a little bit expensive. Or, walk northward along Jingshan West Street for about 450 yards, you will find a Yanlan Tower Restaurant which features Lanzhou dishes. For photography lovers, we strongly recommend you visit
Jingshan Park
after lunch, where you will get a full view of the Forbidden City on the top of the Jingshan Mountain.
After a leisure walk in the park, you can pay a visit to the
Qianmen Street
and
Dashilar Street
. Please leave the park from the south gate and cross the street to take the special sightseeing bus No.2 in front of the Gate of Prowess and get off at Qianmen stop, where old-styled buildings and famous local restaurants stand along the street. Turn into Dashilar Street, you will find many time-honored shops and knickknack stores. If you are interested in local dishes, you can have dinner there. Our recommendations are Duyichu Restaurant which is located at No. 38 Qianmen Street and famous for Steamed Pork Dumplings and other local snacks, or Donglaishun Restaurant at No. 7 Dashilar Street which is famous for hot pot. Take a taxi back to your hotel, which costs CNY15.
"He who does not climb the Great Wall is not a real man", so our suggestion for today is to climb the
Badaling Great Wall
. You might need to get up early and have a big breakfast as the great wall is a little bit far from the city and climbing the wall is quite energy-consuming. You can also take some snacks with you, such as chocolate and biscuits. A pair of comfortable shoes, of course, is very necessary. Please walk to Tiananmen East to take subway line 1 to Fuxingmen and change to line 2 to Jishuitan. Get out of the station from Exit B2 and walk 300 yards east along Deshengmen West Street and find the Deshengmen Arrow Tower. You can also take a taxi from hotel to Deshengmen at a cost of CNY25 around. From the bus station beside the Deshengmen Arrow Tower, you can take bus No. 877 to Badaling Great Wall. The bus fare is CNY12 per person and the duration is about an hour. Upon arrival, follow the signs to find the entrance to Badaling Great Wall. You can either climb the wall by yourself or take the cable car. Recommended visiting time here is three hours. Most restaurants near the great wall are of low quality and high price, but there is a KFC near the Great Wall Museum, where the food may be to your taste and reasonably priced.
Take bus No. 877 back to the downtown. The bus stops at Deshengmen which is very close to the
old hutongs
. You can pay a visit there if you have time and energy. Go down the Deshengmen Bridge all the way south for about 200 yards and turn to the left Drum Tower West Street. You can either take a 20 minutes' walk or take a bus No. 5 for 3 stops to the famous
Skewed Tobacco Pouch Street
. Relax yourself in the featured local restaurants and bars, and then take a taxi back to your hotel with a cost of about CNY20.
Xian City Wall
We suggest that you get up early in the morning and visit the
Temple of Heaven
and proceed to the
Summer Palace
in the afternoon, and take an overnight soft sleeper train to Xian.
After breakfast, you can check out and leave your luggage at the front desk, and then head for the Temple of Heaven. A taxi from the hotel to the Temple of Heaven costs approximately CNY20. The recommended travel time is 2 to 3 hours. After that, you can have lunch in the Donglaishun Hot Pot Restaurant, 500 yards west to the north gate of Temple of Heaven. After lunch, start your way to the Summer Palace. Take subway line 5 from Tiantan Dongmen (East Gate of Temple of Heaven) to Huixinxijie Nankou, and then change to line 10 to Haidian Huangzhuang, where you can transfer to line 4 to Beigongmen, the north gate of Summer Palace. We suggest that you follow the route of Suzhou Street - Four Great Regions - Hall of the Sea of Wisdom - Tower of Buddhist Incense - Hall of Dispelling Clouds - Marble Boat - Long Corridor - Hall of Joyful Longevity - Hall of Benevolence and Longevity, and leave from the East Gate. The approximate visiting time is 3 hours. Walk 650 yards east along the Tongqing Street to Xiyuan Subway Station to take subway line 4 to Xidan, and then transfer to line 1 to Tiananmen East. Exit from Exit B and walk back to your hotel to take the luggage. Take a taxi from the hotel to Beijing West Railway Station for an overnight soft sleeper train to Xian, and the taxi fare is about CNY 35. We suggest that you take train Z19 that travels from Beijing West to Xian in 12 hours without any stop on the way so that you will arrive in Xian in the morning.
Accommodation: Overnight soft sleeper train
We suggest that you book all the train tickets in advance. Upon arrival at Xian Railway Station, collect your pre-booked train ticket to Shanghai.
You should never miss the
Terracotta Army Museum
when visiting Xian, so we suggest that you make it your first destination. Since the tourist bus No. 5, also marked No. 306, to the museum stops at the East Square in front of the railway station building, you can leave your heavy luggage at the left luggage center to the east of the exit of the railway station. Afterwards, board the tourist bus No. 5 and the conductor will come to you for a ticket at a price of CNY7 per person. You will reach the museum in about one hour. Recommended visiting time is 2 to 3 hours. Local food near the museum is of low quality and high price, so we recommend the fast food restaurants on the commercial street outside the museum, such as Subway, KFC, King Coffee, and Dicos. You can have lunch and take a short rest and then take the tourist bus No. 5 back to Xian Railway Station and retrieve your luggage. We recommend the 3-star Days Inn City Center Hotel, which is located on the North Street and near the Bell Tower, the center of Xian City. A taxi from the railway station to the hotel takes about 10 minutes and costs CNY 10.
Accommodation Suggestion: Days Inn City Center
You can check out of the hotel after breakfast and leave your luggage at the front desk, and then start today's exploration. We strongly recommend the
City Wall
and the
Shaanxi History Museum
. The South Gate for ascending the City Wall is about one mile south of your hotel. If you would like to walk there, just go straight south; pass the Bell Tower through an underground passage, and then go further south to reach the South Gate. If you want to save time, just take a taxi at a cost of CNY 9. You can either walk or ride a bicycle on the ancient City Wall. One hour later, get off the wall and find the bus stop beside the Exit B of the nearby Yongningmen subway station. Take bus No. 26 or 701 to Cuihua Road stop, where the Shaanxi Provincial History Museum lies. You can choose a nearby restaurant to have lunch or have some simple local fast food on the -1F of the museum.
After 2 to 3 hours spending in the museum, it's time to get back to the hotel. A taxi takes 25 minutes and costs about CNY 15. Retrieve your luggage and head for Xian Railway Station to catch an overnight soft sleeper train to Shanghai. There are direct trains available at 9 and 10 pm, which are fine choices. For detailed schedule and tickets booking, you can use our
China train search
. Besides, please arrive at the railway station at least one hour prior to the train's departure time.
Accommodation: Overnight soft sleeper train
The Bund, Shanghai
Upon arrival in Shanghai, find your way to the hotel. We recommend the 3-star Holiday Inn Express Zhabei Hotel which is located just on the North Square of Shanghai Railway Station. There are two squares outside the railway station. Remember to leave the station from the platform to the North Square and walk northwest to McDonald's direction for 50 yards, you will find the hotel. Check in and have a short rest, and then start your independent Shanghai tours from San Francisco. Our recommended itinerary today is
Yu Garden
,
Shanghai Museum
,
Nanjing Road
and
the Bund
.
From the hotel you can walk to Shanghai Railway Station to take subway line 4, make a transfer to line 10 at Hailun Road, and finally reach the Yuyuan Garden subway station. Get out of the station from Exit 3, walk 700 yards east along Fuyou Road to find the garden on your right hand. For gourmets, many delicious local snacks on the commercial area outside the garden are attractive. After visiting the garden, walk west back to the subway station, take subway line 10 for one stop to East Nanjing Road and change to line 2 for another stop to People's Square. Leave the subway station from Exit 1 and walk to the Shanghai Museum. Visitors have to queue up to get the free entry permit of this museum and morning is usually the peak time, so we suggest that you get there around noon from 12:00 to 13:00. From Shanghai Museum, you can walk to People's Square subway station to take subway line 2 to East Nanjing Road and exit from Exit 4. Stroll along the famous commercial street Nanjing Road all the way east to the end, you can see Shanghai's landmark site, Huangpu River and the Bund. We strongly recommend the night view and the light show of the Bund to you. You can also take a night cruise to enjoy the charming views. A taxi back to your hotel costs CNY30 around.
Accommodation Suggestion: Holiday Inn Express Zhabei
Day 9
Shanghai - San Francisco
Your impressive independent China tour from San Francisco ends today. Please check out of the hotel before 12:00 and make your own way to the airport. There are two airports in Shanghai. The flights heading to San Francisco leave from Shanghai Pudong Airport. You can take subway to reach the airport in 1.5 hours. First take subway line 1 from the railway station to People's Square, and then transfer to line 2. When the train reaches Guanglan Road, you need to get off and walk to the opposite platform to take the extension of line 2 to Pudong Airport. A taxi from your hotel to the airport costs CNY 170 - 200.

There are two non-stop flights from Shanghai to San Francisco for you to choose. United Airlines UA858 departs at 13:30 and arrives at 8:35. By taking China Eastern Airlines MU589, you will leave from Shanghai at 14:20 and get back home at 09:30. The flight duration is around 11 hours. If you need to transfer to cities as Salt Lake City, Boise, Las Vegas, Tucson, Portland or Eugene, you have to go to the baggage claim area before clearing customs. After custom clearance, follow the transfer gate and hand your luggage to the airport staff. There's no need to walk out of the airport and recheck in. Have a safe journey home!
Need detailed infomation on train, flight or bus/ metro schedule? Use the search tool below.
If the above route does not meet your requirements, you could DIY an itinerary by choosing daily guided tours, free days, hotels, trains and/or flights freely. Our estimated quotation can be a reference for your independent travel.

Similar Guided Itineraries:
Best of China: 8 Days Small Group Beijing - Xian - Shanghai starting from $939
Golden Triangle: 8 Days Private Beijing - Xian - Shanghai starting from $1039