China Tour from Seattle
SG03-INTL: 15 Days Tour of Seattle - Beijing - Xi'an - Guilin - Chongqing - Yangtze River Cruise - Yichang - Shanghai - Seattle
Tour Type:
Independent Travel
Accommodation:
9 nights at nice 3-star hotels, 3 nights on Yangtze River cruise
Meals:
12 western buffet breakfasts, 3 lunches, 2 dinners
Highlights:
Must-see sights in China - Mutianyu Great Wall, Forbidden City, Terracotta Army
Fantastic cruise tour on the Li River from Guilin to rural Yangshuo
Unwind with a Yangtze River cruise tour & see the Three Gorges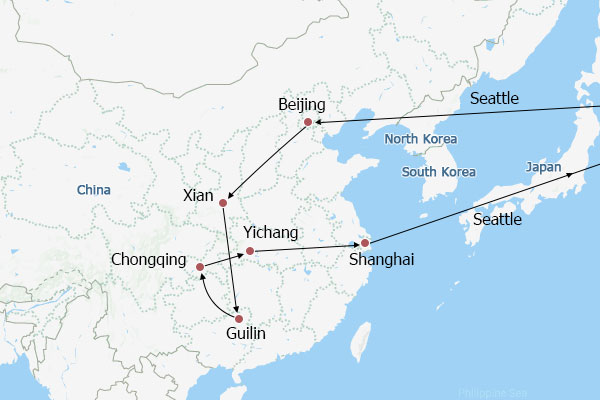 Day 1
Flying from Seattle
From Seattle-Tacoma International Airport to Beijing, 2 direct flights at the duration of 12 hours are available daily. Please go to the airport in Seattle and catch the flight to Beijing by yourself on your departure date.
Upon landing at Beijing airport, you can take a taxi to your hotel we recommended. It takes around 1 or 1.5 hours and costs CNY120 or CNY160 from the capital airport or Daxing airport respectively.
Meals: No meals
Accommodation: Hotel Yoo Beijing



At the very beginning of this China tour from Seattle, you may want to see the landmarks of Beijing. Then we would like to suggest our
Beijing Mini Group Day Tour
.
Meals: Western buffet breakfast
Day 5
Beijing to Xi'an by Overnight Soft Sleeper Train
Great Wall
Today we suggest you take an overnight soft sleeper train to Xi'an. Since train leaves in the evening, you will have a whole day free to explore the capital city on your own. After checking out of the hotel, you can deposit your luggage with the concierge of the hotel and then visit the
Yonghe Lamasery
,
Imperial College
and the
Confucius Temple
on your own.
From the hotel, walk eastward for 40 meters and turn right to get into the South Riverside Avenue (Nanheyan Avenue). Walk along the street for 200 meters and turn left, then go for 20 meters and turn left again to the East Chang'an Avenue. You will get to the Wangfujing station after a few minutes. Take subway Line 1 (Si Huidong direction) for one stop to arrive at Dongdan station, transfer to Line 5 (Tiantongyuan North direction), get off at Lama Temple station after 5 stops, exit from northeast at exit B, and then walk along the Andingmen East Street for 170 meters, and you will get to the first destination, Yonghe Lamasery. If you prefer to take taxi, then the fare is around CNY17. But please note that the rush hour is from 7:00 to 9:00 in the morning and from 17:00 to 19:00 in the afternoon, when the taxis are difficult to get.
After visiting the temple, you can go south for 400 meters to the Imperial College, which was the highest educational institution in feudal times. Then you may continue to the Confucius Temple, which is just next to the college. For your lunch today, we would like to recommend Jindingxuan in the area, a well-known restaurant with 24-hour service. After that, take subway Line 2 at Lama Temple station and get off at the second stop, Gulou Street Station. Then walk for 990 meters to Houhai area and experience the old history and special culture of
Hutongs
by rickshaw or on foot. After a short walking, you will get to the Skewed Tobacco Pouch Street (Yandai Xiejie), go through the street and take bus No. 82 or No. 60 at Drum Tower Station to get back to the hotel. Please get off at South Riverside (Nanheyan) Station and keep moving for 40 meters, then turn right and go on for 40 meters, and the hotel will be on your right. After fetching your luggage, you can head to Beijing West Railway Station to catch the overnight soft sleeper train to Xi'an. Since it is not convenient to go there with your heavy luggage by subway or bus, we suggest you take a taxi and the fare is about CNY24.
Compared with a hard sleeper, the soft sleeper is much more comfortable with a private compartment which can accommodate four people. However, we would like to suggest you prepare some snacks for dinner. Moreover, due to the space limitation in the compartment, we invite you to consult
China train baggage allowance
for more information.
Meals: Western buffet breakfast
Accommodation: Overnight soft sleeper train
Terracotta Army
The train journey takes about 11 hours and you will arrive in Xi'an at around 08:00 in the morning. Please take a short taxi ride to your hotel in the city center. After that, we suggset you take our guided Xian Mini Group Day Tour. On this one day tour, you will visit the Terracotta Army and other landmarks in Xi'an with a group of no more than six travelers. A professional tour guide will handle all the activities
.
Meals: No meals
Accommodation:
Days Inn City Centre Xi'an



The activities in Xi'an today will be arranged on your own. After checking out of the hotel, please walk southwards to get to South Street. Keep going along the street for 520 meters and you will see the South Gate in front of you. Here you will find the tickets office of the City Wall very easily. Protected by broad deep moat and dense woods, the time-honored
City Wall
was built in the early Ming Dynasty, so it has seen the great development of the city over the past 600 years. You can also rent a bicycle to ride on the wall. Then walk along South Street back to the city center, also the Bell and Drum towers area, where there is a famous
Muslim Street
, a good place for you to taste local foods and buy souvenirs.
From the Bell Tower, you can take Subway Line 2 and transfer to Line 14 to Xi'an Xianyang International Airport for your afternoon flight to Guilin. It may take around one hour and 20 minutes to reach the airport. After the flight lands in Guilin, please find your own way to your hotel. It takes approximately one hour at a cost of CNY100 or so by taxi.
Meals: Western buffet breakfast
Accommodation:
Hotel Universal



Li River cruise
Another highlight of your journey comes today - you will cruise down to Yangshuo along the
Li River
, where you will see picturesque scenery of limpid water, elegant hills and green fields all the way.
It takes about 40 minutes by taxi to the Zhujiang wharf and the taxi fee is around CNY100.
The most famous attraction along the Li River is the Mural Hill, one side of which is blazoned with yellow, white, black, grey and green colors, resembling nine horses in various poses. The cruise journey will last about four hours.
Upon arrival at Yangshuo, please make your way to the 4-star New Century Hotel, which is not far away from the dock. After checking in and settling down, you can take an electric car along the country road to enjoy the beautiful and serene scenery. Nearby the hotel, there are Yangshuo Park and West Street for you to wander around and eat something or drink coffee leisurely. For your information, you can also take an electric car to Lijiang Theater from West Street to enjoy the "
Impression Sanjie Liu
", which is a famous show directed by Zhang Yimou and highly recommended by former clients.
Tips: Since the simple Chinese box lunch served on the cruise today may not be satisfactory, it is advisable that you have a hearty breakfast at the hotel in the morning.
Meals: Western buffet breakfast, Lunch
Accommodation:
New Century Hotel




After breakfast, please check out of the hotel and make your own way back to Guilin city. You can take a bus at Yangshuo Bus Station, which is located beside the West Street. The Bus tickets can be purchased on the spot at the station, and the bus runs about every 20 minutes. It will stop at Guilin Railway Station, from where you can take bus No. 10 or No. 11 and get off after 5 stops (Jiefang Bridge Station). Then walk for 40 meters to the Hotel Universal we have arranged for you. After a short break at the hotel, we would recommend the nearby attractions for your independent exploration. First, you can walk to Fengqingyuan Station and take bus No. 58 to the
Reed Flute Cave
(the fourth stop). After that, take the same bus return from Reed Flute Cave Station to the
Seven Star Park
(five stops), where you can see gorgeous karst caves, splendid mountains, clear water, a serene valley and ancient bridges, temple and stone tablets. The bus No. 58 also takes you to the
Elephant Trunk Hill
, which is the emblem of Guilin City. It will be memorable to take photos in front of the huge elephant. Since the Elephant Trunk Hill is very near to your hotel, you may walk back after the visit.
Meals: Western buffet breakfast
Accommodation:
Hotel Universal



Day 10
Guilin - Chongqing
This morning, you will head to the Guilin West Railway Station for a 5-hour bullet train journey to Chongqing by yourself. From the hotel, you may walk to Lequnlukou Station and take bus No. 22 to the railway station. The bus fare is CNY 2 per person. Alternatively, you are also recommended to get to the railway station by taxi directly and the fare is around CNY 35.
After your arrival in Chongqing, please take a taxi to Chaotianmen Port at a cost of CNY50. After boarding the Yangtze River cruise ship, you can leave your luggage on board and go out to explore Chongqing city by yourself. Your wonderful cruise experience starts as the ship sets sail at 22:00, so you would better get to the port by 20:00.
Meals: Western buffet breakfast
Cruises:
President No.7/No.8
with balcony





Day 11
Yangtze River Cruise
In the morning, the Yangtze River Cruise guide will give a presentation of the day's schedule. If interested, you can take an onshore excursion to the mysterious Fengdu Ghost Town at your own expense. Or you can just walk around the deck and appreciate the natural scenic view of the continuous green hills.

After the buffet lunch, you will disembark and tour the Mount Shuanggui, a scenic national forest park lying on the bank of Yangtze River. At around 20:30 in the evening, the Captain will host a welcoming party.

Meals: Western buffet breakfast, Lunch, Dinner
Day 12
Yangtze River Cruise
Shennong Stream
Today the breathtaking views of the Yangtze Three Gorges will be an indelible part of your China tour from Seattle. At about 11:00 am, the cruise ship will pass through the 8 kilometers long
Qutang Gorge
, full of steep hills and sheer precipices for you to admire. In the afternoon, the beautiful
Wu Gorge
will also impress you deeply with its
twelve
pretty peaks. Then, after a delightful exploration of the scenic Shennong Stream by sampan, you will return to the ship and continue the Yangtze River Cruise.
Meals: Western buffet breakfast, Lunch, Dinner
Day 13
Yichang - Shanghai by Bullet Train
The final onshore excursion is to visit the
Three Gorges Dam
, the largest hydropower project in the world. In the scenic area, you will see the gigantic dam and learn about the culture of engineering and water conservancy. The natural landscape there is very impressive. After that, your cruise experience will end as they will transfer you to the Three Gorges Tourist Center in Yichang city, where you need take a short taxi ride to Yichang East Railway Station to take a 7.5-hour bullet train to Shanghai. Upon arrival in Shanghai, you will need to find your own way to the hotel we have booked for you.
Please note that you may arrive at either Shanghai Railway Station or Shanghai Hongqiao Railway Station. The taxi fare from Shanghai Railway Station to the hotel is about CNY20, while the fare from Hongqiao Railway Station is about CNY70. Or you may take the subway Line 1 (Xinzhuang direction) at Shanghai Railway Station and get off at the Hanzhong Rd. Station. Exit from Exit No.4 and then walk to the hotel. From Hongqiao Railway Station, you can take subway Line 10 (Xin Jiang Wan Cheng Direction) and transfer to Line 12 at South Shaanxi Road Station. The subway Line 12 will take you to Hanzhong Road, from where the Golden River-view Hotel is about 500 meters away.
Meals: Western buffet breakfast
Accommodation:
Golden River-view Hotel



The Bund
We leave the whole day free for you to explore this prosperous city at your own pace. In the morning, we recommend you to visit the
Yu Garden
,
the Bund area
and
Nanjing Road
. You may walk to the Hanzhong Road Station to take subway Line 12 (Jinhai Road direction) and get off at Tiantong Road Station after 2 stops, then transfer to Line 10 for two stops. After getting out of the Exit 1, walking for 150 meters, you will arrive at the Yu Garden. The taxi fare is around CNY23. After that, go ahead to the Bund area along the Huangpu River by taxi and it costs about CNY14. You can also get there on foot in half an hour while exploring the nearby old market. Standing on the Bund, you will see totally different scenes on the two banks of the river: on the east bank, rows of modern skyscrapers demonstrate the city's development; while on the west, the old-style western buildings tell you its glorious past. Move on to north from the Bund, you will get to the famous commercial street Nanjing Road. Take your time to stroll along Nanjing Road to Nanjing East Road and enjoy your lunch at a restaurant on the way. From the road, you can take subway Line 10 to
Xin Tian Di
(Exit 6). The taxi fee is around CNY20. This is a very famous and popular place for young people. You can also sample some tasty food or just have fun at the bars there to spend an exciting evening. For your information, the taxi fare from Xin Tian Di to your hotel is about CNY26.
Meals: Western buffet breakfast
Day 15
Shanghai - Seattle
At the last day of this 15 days China tour from USA, we suggest you to take a taxi to the airport at the cost of about CNY200. Your homeward flight can be caught from Pudong airport about 1 to 2 times a day, and the direct flight journey will last 11 hours. Bon Voyage!

Meals: Western buffet breakfast
This trip can be customized to meet your individual needs!
Why Travel With Us
Itineraries you may also like: