China Tour from New York
SG01-INTL: 9 Days Tour of New York - Beijing - Xi'an - Shanghai - New York
Tour Type:
Independent Travel
Accommodation:
5 nights, nice 3-star hotels
Meals:
5 western buffet breakfasts
Highlights:
Must-see sights in China - Mutianyu Great Wall, Forbidden City, Terracotta Army
View the soaring city skylines and feel the pulse of modern Shanghai
Experience the unique Chinese culture and the exquisite natural splendour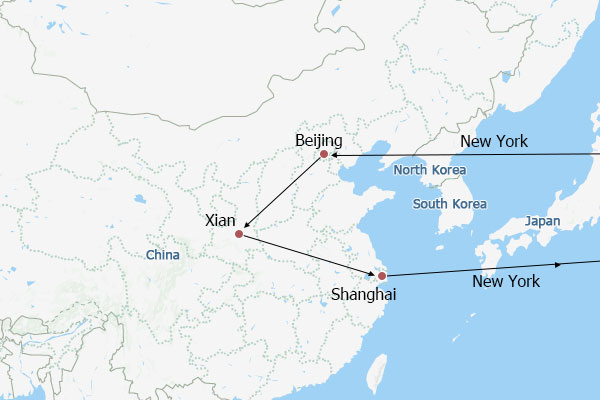 Day 1
Flying from New York
Most of the time, there are 4 direct flights operating daily from New York to Beijing with about 13.5 to 14 hours duration time. You can book a flight based on your prefered time. On the departure date, please make your own way to the airport and catch your flight to Beijing.
Our clients at Tiananmen Square
Your delightful China tour from USA will start the moment you touch down at Beijing airport. Please find your own way to the hotel we booked for you in advance. There are two ariports in Beijing. If your flight lands at the capital airport, a taxi ride to your hotel may take around one hour and cost CNY120. A taxi ride from Daxing airport will take 1.5 hours and the fee is around CNY160. After check into the hotel, you can have a rest to get refreshed.
Meals: No meals
Accommodation: Hotel Yoo Beijing



You can start your sightseeing tour by joinning in our
Beijing Mini Group Day Tour
at an unbeatable price. You will see the best of Beijing by visiting the
majestic Forbidden City, hiking on the Mutianyu Great Wall, strolling along Beijing's old Hutongs and more.
Meals: Western buffet breakfast
Today you are suggested to take our
One Day Beijing Mini Group Tour
to gain insight into imperial Beijing. You will visit the Temple of Heaven, old Hutongs, Lama Temple, and the Summer Palace. You can also have a rickshaw tour around Hutongs.
Meals: Western buffet breakfast
Today the whole day's sightseeing is by your own arrangement. You can store your luggage with the hotel concierge after checking out in the morning. We have some suggestions for your further exploration of this city. From the hotel, you can take a taxi at a cost of CNY10 to get to
Jingshan Park
, which is an ideal place to get a panoramic view of the Forbidden City. Exiting from Jingshan West Gate, you can head north for 70 meters to Xibanqiao bus stop on Jingshan West Road. Take bus No. 5 and get off at Gu Lou (Drum Tower) stop, and then walk for 5 minutes to the Skewed Tobacco Pouch Street (Yan Dai Xie Jie), which is one of the oldest
Hutongs
in Beijing. Here you can experience the old capital's culture and local people's traditional lives by visiting the narrow alleys. If you are interested, you may take a special rickshaw ride through the various Hutongs and appreciate the lively street scenes with dazzling goods and handicrafts for sale. You can also find a good eatery to have your lunch there. If it is approaching 16:00, we suggest you take bus No. 82 from Gu Lou (Drum Tower) stop and get off at Nanheyan stop to return to the hotel for your luggage. If it is still early in the afternoon, you can take a taxi by only spending CNY10 to the
Lama Temple
, Yonghe Palace, which is the largest Buddhist temple in Beijing. After visiting the site, you can take a taxi back to the hotel at about CNY18, or you can find Yonghegong subway station to take Subway Line 5 (Songjiazhuang Direction) for 5 stops to arrive at Dong Dan, change to Line 1 (Pingguoyuan Direction) for 1 stop, get off at Wangfujing and then leave from Exit C (Southwest Exit). Walk westward for 420 meter and turn right, cross the underground passage and walk straight ahead to Nanheyan Street. Walking for around 200 meters to the north will get you back to the hotel. After fetching your luggage, you can take a taxi to Beijing West Railway Station at a cost of about CNY22.00. Tonight you will ride an overnight soft sleeper train to Xi'an by yourself. Considering traffic jam, we usually suggest clients go to the railway station at least two and half an hour before departure.
Taking a train in China is a special experience which will make your journey more interesting and exciting. Here we would like to remind you that the food on the train is not nice and a little bit expensive, so we kindly suggest you have some Chinese or Western snacks for dinner before boarding the train. If you have any doubt, please feel free to ask our guide for help beforehand or to call our office, which is accessible working 24 hours a day, seven days a week. In the soft sleeper train that we have arranged, there are private compartments and each one has four bunks, two upper and two lower. Here are some tips about the
train baggage allowance
for your reference.
Meals: Western buffet breakfast
Accommodation: Overnight soft sleeper train
Terracotta Army, Xi'an
Upon your arrival in Xi'an in the early morning, please take a short taxi ride to your hotel we booked for you in advance.
Your hotel is
well located in the city center. Breakfast is by your own arrangement. You may find many restaurants near your hotel
. After a short break, you can start your sightseeing by taking our
Xian Mini Group Day Tour
. On this day tour, you will
discover the UNESCO world-heritage listed Terracotta Warriors and Horses,
Small Wild Goose Pagoda and the City Wall with experienced guides and drivers.

Meals: No meals
Accommodation:
Days Inn City Centre Xi'an



Today the whole day's sightseeing is by your own arrangement. This morning, we suggest you visit the
City Wall
. From your hotel you can walk south to the South Street, and then go southward for about 520 meters to arrive at the South Gate, where you will find the entrance to the City Wall. First built 1,300 years ago as a barrier of defense to protect the capital city Chang'an (today's Xi'an), the wall was reconstructed 600 years ago when the Ming Dynasty was established, and it has almost kept its structure till today. After that, you can walk northward for 15 minutes from the South Gate back to the city center to visit the landmark of Xi'an: the
Bell Tower
and the nearby
Drum Tower
. Behind the Drum Tower is the prosperous
Muslim Street
, where you can purchase some speical handicrafts at various shops and stalls and taste local snacks along the street. You may also buy some fast food or fruit for your train journey tonight. As it is usually very difficult to take a taxi in Xi'an, we would suggest you take a bus to the Railway Station. From the hotel you can walk to the North Street, turn left and go south for about 900 meters and turn right to reach Bell Tower Station at the West Street. There you can take Bus No. 251 (or No. K205, No. 206) to the terminal, the railway station. If you are lucky enough to hail a taxi, the cost is about CNY12 to your destination. Bid farewell to this ancient city and leave for Shanghai by taking an overnight soft sleeper train on your own.
Meals: Western buffet breakfast
Accommodation: Overnight soft sleeper train





The Bund
Once the train arrives at Shanghai Railway Station, please take all your belongings and follow the other passengers to get off the train. There is an English signpost to the exit to the South Square in the underground passage within the station. We suggest you look for it and follow the directions. As soon as you exit, you will find the subway line 1 at the square to take you to the Golden River-view Hotel for only one stop. It takes about 15 minutes by walk and 8 minutes by taxi from the railway station to the hotel. Breakfast is by your own arrangement. There are many restaurants around the station for you to choose from. In Shanghai we only reserve the hotel accommodation for you. Since the transportation there can be easily accessed, and nearly all of the young people can speak English, it is a good opportunity for you to have a bit of an adventure and explore this modern metropolis by yourself. Our suggestions for the day trip are the
Shanghai Museum
,
Yu Garden
, the
Bund
and
Nanjing Road
. It costs about CNY20 from your hotel to the Shanghai Museum by taxi, which exhibits over 120,000 pieces of historical collections covering bronzes, china, paintings, statues, jade, ancient coins and furniture. Leaving the museum, you can hail a taxi again at a cost of about CNY15 to arrive at Yuyuan Garden to appreciate the most classical private garden built in the 16th century. By the garden is a lively market, where you can sample some local specialities such as steamed dumplings, small wontons and fried pancakes for your lunch. Afterwards, you can take bus No. 42 from Laobeimen Station (Old North Gate) for one stop or just walk to the Bund. At the waterfront on the west bank of Huangpu River, the Bund has a row of historic western-style buildings, so it is praised as 'a museum of international architecture'. Walk to Chenyi Square on the Bund, and then cross the street and you will find the Peace Hotel on East Nanjing Road in front of you. Walk straight along East Nanjing Road for about 1000 meters and you will find a bustling pedestrian street, where there are many shopping malls, international brand stores, and Chinese and Western restaurants. After that, return to the hotel by taxi at a cost of about CNY20.
Meals: No meals
Accommodation:
Golden River-view Hotel



Day 9
Shanghai - New York
Today marks the end of this 9 days China tour from America. After checking out, please reach the airport for your homeward flight on your own. Hailing a taxi at the cost of around CNY200 to Pudong Airport (PVG) is recommended. If leaving from another airport in Shanghai - Hongqiao Airport (SHA), the taxi fare and duration costs about CNY100 and at least 1 hour. Please remember to check which airport your flight departs from. We wish you a nice journey home!

Meals: Western buffet breakfast
This trip can be customized to meet your individual needs!
Why Travel With Us
Itineraries you may also like: