China Tour from London
SG01-INTL: 14 Days Tour of London - Beijing - Xi'an - Shanghai - London
Tour Type:
Independent Travel
Accommodation:
10 nights, nice 3-star hotels
Meals:
10 western buffet breakfasts
Highlights:
Must-see sights in China - Mutianyu Great Wall, Forbidden City, Terracotta Army
Cruise on the Huangpu River to take in the impressive skylines of Shanghai
Experience the unique Chinese culture and the exquisite natural splendour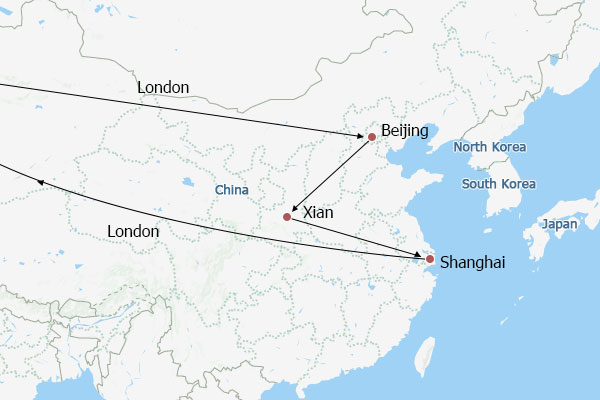 Today, you need to go to the airport by yourself and start your China tour from London. There are about 3 to 4 direct flights from London to Beijing daily. Please check the flight details in advance and book an appropriate one.
You will arrive in Beijing after around 10.5 hours' flying. Upon arrival at the Capital Airport, you need to get to the hotel you booked beforehand. We recommend you the Hilton Beijing Wangfujing located inside an old hutong, which is also near the
Wangfujing Commercial Street
and Dengshihou subway station. If you travel in groups or lug along much baggage, it would be convenient to take a taxi from the airport to the hotel. The taxi fare is around CNY100. If you travel light, you can also take the airport shuttle bus to the hotel. Take shuttle bus line 13 to Jinyu Hutong/Peace Hotel, and then walk for 300 yards to reach the hotel. The walking route is simple: stroll west along Jinyu Hutong and turn left to enter Xiaowei Hutong; you will see the hotel on your right side. After the check-in, you may either stay in, or explore the surrounding area on foot.
Accommodation Suggestion: Hilton Beijing Wangfujing
Mutianyu Great Wall
You may start your Beijing tour with
Tiananmen Square
, which is about 1.6 miles from your hotel. A taxi to the square costs about CNY 15. The square is a vantage point for a panoramic view of the magnificent Tiananmen Tower. The
National Museum of China
, on the east side of the square, is worth visiting if you are a history buff. The highlight of the day - the
Forbidden City
lies behind the Tiananmen Tower. At Meridian Gate, the entrance of Forbidden City, you need a map or hire a guide at a cost of CNY 200 to 400 so that you won't lose your way. There are also digital audio guides available for rental in more than 20 languages. The rent is CNY40 each, with a refundable deposit fee of CNY100. A usual visit lasts 2-3 hours, terminating at the Gate of Devine Prowess.
After several hours' walk, you should find a restaurant to rest your feet and have lunch. In the afternoon, you can visit
Jingshan Park
facing the Gate of Devine Prowess. At the top of the Jingshan Hill you can get a superb panoramic view of the gleaming Forbidden City in the sunset. To conclude today's Beijing Xi'an Shanghai tour itinerary, you may hail a taxi to return to the hotel, and the cost is about CNY15.
We recommend you to sight-see
Jinshanling Great Wall
famed as 'Heaven of the Photographic Lovers' rather than the crowded Badaling Great Wall. It is remote from the downtown and food vendors are few and far in between, so prepare some easy-carrying snacks for your lunch. To get there, you can walk to the nearby Dengshihou subway station to take line 5 to Datunlu East Station, and then change to line 15 to Wangjing West Station. Take the Exit D and cross the road in front of you, there you can take the Special Tourist Bus Line to Jinshanling Great Wall. The bus departs at 8:00 and returns at 15:00 from Apr. 1 to Nov. 15. If you travel in other time, please see more information about
how to get to Jinshanling from downtown Beijing
.
The ticket fare for the Great Wall is CNY 65 from Mar. 16 to Nov. 15 and CNY 55 from Nov. 16 to Mar. 15 the next year. You can spend more than a half day to tour the wall, and after that you are suggested to get down a bit earlier to take the tourist bus back to Wangjing West. Afterwards, still use the subway line 15 & 5 back to your hotel. When returning to the hotel, have a big dinner in a nearby restaurant, and then relax, rest and get recharged for the next day.
After having buffet breakfast in the hotel, you are advised to visit the
Temple of Heaven
in the morning, sight-see the
Qianmen Street
and
Dashilar
in the afternoon, and enjoy Peking Opera in the evening.
From your hotel, walk to Dengshikou subway station to take line 5 to East Gate of Temple of Heaven. Take the Exit A2, you will reach the entrance and ticketing office of the park. Spend one hour or so there, and then take subway line 5 to Chongwenmen, and change to line 2 to Qianmen. Go out from Exit B or C, you will see the busy Qianmen Street and Dashilar Street outside the Qianmen Gate. There are over 800 stores of different sorts operated in this area. Eateries offer China's time-honored brands such as Quanjude & Bianyifang Roast Duck, Douyichu baked wheat cake. There are Ruifuxiang Silk, Yitiaolong mutton restaurant and Tongrentang Herb Medicine Store. There eat some food to your heart's content. At around 18:30, you should walk straight to the south end of the Qianmen Street, and then turn right to Yong'an Road for another 1,000 yards forward, you will reach the Liyuan Theater in Jianguo Hotel Qianmen. The Peking Opera show times are at 19:30 – 20:50 every day. After enjoying the performance, return to your hotel by taxi, and it may cost you about CNY 20.
How about watching the lovely pandas in
Beijing Zoo
for a change? Pandas have their breakfast at 10:00 – 10:30, at their most active time. Thus, you can get more sleep in the morning, and take a taxi from the hotel to the zoo at 9:00. The taxi fare is about CNY30 around. You are expected to reach there at 9:30 for a good look at the pandas. Spend 2-3 hours in the Panda House and a few places of interest. After partaking the lunch in a nearby restaurant, head for
Summer Palace
by taking subway line 4 from Beijing Zoo to Beigongmen Station, the north gate of the Summer Palace. You should go out from Exit D. Proceed by the following order: Suzhou Street - Tower of Buddhist Incense - Hall of Dispelling Clouds - Long Corridor - Hall of Joyful Longevity – Yiyun House - Hall of Jade Ripples - Hall of Benevolence and Longevity – East Palace Gate. You may finish within 2.5 hours. After sightseeing, walk back to Beigongmen subway station to take line 4 to Xidan, and then change to line 1 to Wangfujing. Take the Exit C and enter Wangfujing Commercial Street, where you can select a restaurant for supper, and walk back to the hotel.
Terracotta Army, Xi'an
It is the last day of your Beijing sightseeing, and you are suggested to go to Xi'an by taking a high-speed train in the afternoon. So you are advised to check out and leave your luggage at the reception desk after breakfast. Sight-see all you want, but keep to the hotel's vicinity. The
Yonghe Lamasery
,
Imperial Academy
and
Confucius Temple
are all within ten minutes' taxi ride from your hotel. Yonghe Lamasery can be reached by subway line 5, four stops from Dengshikou Station. Imperial Academy and Confucius Temple are to its west. After visiting there, you may take a taxi to Wangfujing area at a cost of CNY20, where many fancy restaurants and bars are available for you to have lunch.
You'd better head back to the hotel for your luggage about two hours ahead of the train's departure from the West Railway Station. Just take a taxi to the railway station, which may cost you CNY40. You are suggested to take the train departing around 15:00 so as not to reach Xi'an too late. The travel time of the bullet train is about 5 hours.
After you arrive in Xi'an, we suggest you live in the five-star Sofitel Xi'an on Renmin Square. It is near the city center, Bell Tower, and you can take a taxi from Xi'an North Railway Station to the hotel, which costs CNY40. About 300 yards to the west of your hotel, there is the Xincheng Plaza, where you can find many restaurants available. Just choose one to have supper there.
Accommodation Suggestion: Sofitel Xi'an on Renmin Square
Today starts with the
Terracotta Army Museum
in the early morning. After the breakfast, you can take a taxi to Xi'an Railway Station at a cost of CNY10. On the Eastern Square of the railway station, you can take Tourist Bus No. 5 (306) to the museum. The one hour journey costs CNY7 per person. A general visit to the three pits and one exhibition room in the museum takes around two hours. There is no recommendable restaurant near the museum, but fast food restaurants are available for you, such as such as Subway, KFC, King Coffee, and Dicos.
You can return to the railway station by taking the same Tourist Bus No. 5. After getting to the train station, walk south along the Jiefang Road for 1,000 yards to Wulukou subway station. Take subway line 1 to North Street and change to line 2 to Yongningmen. Take Exit A1, you will see the South Gate Arrow Tower. It is the entrance to ascend the
City Wall
and you can climb it to view the city. Some tourists tread along the entire length of the wall battlements on foot. If you tour by bike, it costs CNY45 for a bicycle and CNY90 for a tandem within 2 hours. A deposit fee of CNY200 is needed. You can be worn out after coming down from the wall, so take a taxi to your hotel to have a good rest. Alternatively, inside the South Gate, you can go to a bar on Defu Lane in the west for a drink or head to
Shuyuanmen Ancient Culture Street
in the east to buy some souvenirs.
Today, you have two urban attractions -
Shaanxi History Museum
and
Big Wild Goose Pagoda
on your agenda. You can walk to Minleyuan Bus Stop located on Jiefang Road, about 350 yards to the west of the hotel. There you can take the bus No. 5 or 30 to Cuihua Road. Getting off the bus, you will see Shaanxi History Museum across the road. The museum is free of charge, but you need to queue up with your passport to collect the free tickets. You may purchase a ticket for the special Exhibition Hall for Treasures of Great Tang Dynasty for CNY30 to bypass the queue.
After visiting the museum, you may walk east to the Big Wild Goose Pagoda's north square, where lies the largest music fountain in Asia. Have lunch at one of the following: KFC, Beijing Laopu Roast Duck or 3 Royal 3 Houses Restaurant, and then go down to the south square to take pictures before the Statue of Monk Xuanzang. Enter
Da Ci'en Temple
from the south square and see the Big Wild Goose Pagoda. If you are still dynamic, just ascend the pagoda to have a panorama view of the city. At last, take a taxi back to your hotel with no more than CNY20.
From April to October, a slide trip to one of the "Five Sacred Mountains" of China -
Mt. Huashan
located about 75 miles (120 km) east of Xi'an is worthwhile. You must get up early and prepare your own lunch, as the food there is substandard. Walk west for a few minutes to take subway line 2 from Bell Tower Station to Xi'an North Railway Station (Beikezhan). There you can take a high speed train to Huashan North Station in 30 - 40 minutes. Upon arrival, take the free green bus 1 or 2 outside the station. Get off at the Tourist Center and then take a 10 minutes' cable car ride from the nearby terminus to the North Peak to visit the nearby attractions such as Zhenwu Hall, Fish Mouth Stone, Ear Touching cliff, and Heaven-Reaching Ladder. If time allows, you can also get to the East Peak, the main peak on the mountain. Lastly, descend from the North Peak by cable car for the bus back to Xi'an.
Take a taxi from the railway station to the Bell and Drum Tower Square, where you can find some time-honored local restaurants, such as Defachang Dumplings and Tongshengxiang. After the dinner, take a taxi back to your hotel at a cost of CNY10.
Today, you are going to take an overnight train to Shanghai, so you need to check out and store the luggage at the hotel front desk. You still have half a day to explore Xi'an. We suggest you take a taxi to the City God Temple west of the Drum Tower for a visit, and the fare would be CNY12 around. Afterwards, stroll to the
Great Mosque
and
Muslim Quarter
behind the Drum Tower. Fasten your eyes on commodity stores, crafts shops, snack stands and restaurants in the area. You should go back to the hotel to get your luggage and arrive at the station at least 2 hours before the train's departure time. You may take a taxi to the Xi'an Railway Station, which costs around CNY10. We suggest that you book the tickets in advance and collect the tickets on Day 07 when you arrive at the Xi'an Railway Station.
Accommodation: Overnight soft sleeper train
Shanghai Bund
On arrival at Shanghai Railway Station, you can choose to live in the Renaissance Shanghai Yuyuan Hotel, which is adjacent to the famous Yuyuan Garden. You can take the subway line 4 from the Railway Station to Hailun Road, and change to line 10 to Yuyuan Station. Take the Exit 3, you will see your hotel across the road. A taxi ride from the railway station to the hotel is about CNY 25. If it is too early for check-in, you can leave your luggage at the front desk of the hotel, and start your Shanghai tours.
The destinations of today's itinerary are
Yuyuan Garden
,
Shanghai Museum
,
Nanjing Road
and
Shanghai Circus World
. Yuyuan Garden is near your hotel, about 600 yards' walking distance. Exit the hotel, enter the Fuyou Road and walk east along it, you will find the garden. After two hours sightseeing inside, you can drop by the City God Temple and Yuyuan Tourist Mart where there are restaurants and local crafts stores. You can have your lunch there and go back to the hotel for check-in.
After a short rest, take a taxi to Shanghai Museum at a cost of CNY15, and there you can learn more about the history and culture of old Shanghai. Then continue your independent tour to the Nanjing Road, one of the most prosperous and featured commercial streets in Shanghai. There you can find various shops for clothes, crafts, souvenirs and fancy restaurants. You are recommended to taste some local food there.
In the evening, walk to the nearby People's Square to take subway line 1 to Shanghai Circus World, where you can enjoy the 'ERA Intersection of Time' which starts at around 19:30. You can return to the hotel by taxi, and it would take about 40 minutes and cost CNY35.
Accommodation Suggestion: Renaissance Shanghai Yuyuan Hotel
The water towns like Florence in miniature near Shanghai are also worth visiting. We recommend
Xitang Water Town
in Jiashan County, about 50 miles (80 km) from Shanghai. We'd suggest you join a one-day bus tour to Xitang by the Shanghai Hub of Tour Dispatch at Shanghai Stadium. From the hotel, you can take subway line 10 to Hongqiao Road, and change to line 4 to Shanghai Stadium. Such a private one day tour is also available through our company upon request.
On returning in the evening, if time permits, you may take a leisurely stroll along the Bund area for an appreciation of the glorious night scene under colorful lights. At last, hail a taxi back to the hotel at a cost of CNY15.
Today, your China tour from UK comes to an end and you need to go to the airport to take a return flight on your own. Hope you have a nice journey home!

This trip can be customized to meet your individual needs!
Why Travel With Us
Itineraries you may also like: