Postal Service - China Post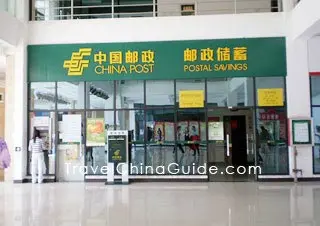 China Post
China Post is the official postal service in China, offering both domestic and international mail and parcel services. With the rapid development of online shopping and international trade, more and more parcels and packages are transported by post from China to the whole world. Here, TCG introduces the international parcel services of China Post.

A parcel is usually delivered through the following three transport means:



AIR: a parcel is transported by air directly and received in 7 – 15 working days. It is fast and safe, but expensive.



SAL: short for Surface Air Lifted. Ships, buses, and trains are used within the sending and receiving countries, but air transport is used between countries. Land and sea transport are used if there are no flights. Usually it takes 15 – 20 working days. The cost is lower than air mail.



SURFACE: a parcel is transported via land and sea transport. It is cheap, but takes 40 – 70 working days.
After you order something from an online Chinese supplier, you may be asked to choose means of shipment. The Chinese supplier tends to use the postal services of China Post, as they are economic and convenient, although usually slow. China Post has the following services:
China Post Mail
It includes Small Parcel and Large Package services. Registered mail can be tracked through China Post Tracking system.
A Small Parcel is suitable for items weighing less than 4.4 lb (2 kg). The total of the length, width and height of its outer package must not exceed 35 in (90 cm), and neither the length, width or height must exceed 24 in (60 cm). A Small Parcel is very cheap, especially for international mail. It can reach almost everywhere in the world, as long as there is a post office. It is safe and can be tracked if registered. It takes 5 – 10 days to reach other Asian countries, 7 – 15 days to America and Europe, and 7 – 30 days to other countries. Air mail takes about 15 working days, SAL mail takes about 30 days, and surface mail takes one to two months. The tracking number of a small parcel usually begins with "R", "P" or "V" and ends with "CN".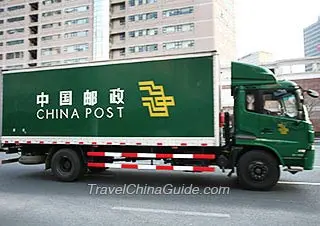 Post Truck Delivering Packages
Large Package is good for items between 4.4 - 66 lb (20 – 30 kg) in weight. A large package can be sent through Air, SAL or Surface mail, and it is economical, much cheaper than EMS, DHL and other express mail services. As it is operated by China post, a large package can reach anywhere that has a post office. Normally, a large package reaches American and European countries from China in 10 – 20 days, but a surface mail takes one to two months. The shipping time will be longer to other countries. The tracking number usually begins with "C" and ends with "CN"

EUB:
EUB is often used by eBay sellers to deliver items to USA, Australia and UK buyers. The items must not exceed 4.4 lb (2 kg) in weight. The total of the length, width and height of the outer package must not be more than 35 in, and neither the length, width or height can be longer than 24 in. An EUB parcel reaches its destination in 7 – 10 working days. The tracking number of an EUB parcel from China begins with "L" or "A" and ends with "CN". The tracking information is available at EMS tracking system.
EMS
Short for Express Mail Service, EMS is a global mail service operated by post offices of the whole world, and China Post is one of its operators. The maximum weight of an EMS parcel is 44 - 88 lb (20 – 40 kg) for different destinations. There are five categories: 44 lb (20 kg), 55 lb (25 kg), 66 lb (30 kg), 68 lb (31 kg), 69 lb (31.5 kg), 77 lb (35 kg) and 88 lb (40 kg). It is faster than China Post Mail, but much more expensive. An EMS parcel from China is usually promised to reach its destination country within 7 working days. Its tracking number begins with "E" and ends with "CN" and can be tracked through EMS tracking system.
Another service is China International Express, which is operated by Chinese EMS and TNT. It can reach more destinations than EMS, but the postage rate and weight limit are the same as EMS. The tracking number begins with "CT" and ends with "CN", and can be tracked through EMS tracking system.
Tips
1. China Post is not the only postal service in China. Other postal services, such as TNT, DHL, Federal Express and UPS, are also available. China Post, however, is the most economical international postal service, although it is the slowest. After ordering an item from a Chinese supplier, you can choose any available postal service.
2. The postage is charged according to the size, weight, transportation means and different services. Normally, China Post Small Parcel is the cheapest and EMS is the most expensive. The international postal services are more expensive than EMS. The postage for an air mail is almost twice as much as surface mail.
3. The transit time is subject to change. Any delay could be caused by bad weather, customs check, inspection, invalid address or number, and so on. Therefore, the actual delivery time is usually longer than the promised time.
4. For online shoppers it is best to use legal and large postal services and it is better to pay or confirm the payment after you receive your parcels. In most cases, your parcel will not get lost. According to the statistics of a professional tracking website, it takes as long as 180 days and as short as 3 days for a parcel to reach its destination from China, and most parcels have been successfully delivered. Read more for
Tips to Avoid Online Shopping Traps
.

Further Reading:
FAQ on China Postal Service
Postage Rate of China Post International Parcels
- Last modified on Apr. 08, 2021 -
Questions & Answers on China Postal Service
Asked by keith knox from CANADA | May. 06, 2021 08:22

Reply
When will my package arrive in Canada
My name is Keith from Canada. I ordered an item in March and in early April I was informed that it was lost and fortunately a second shipment was made. I am using 17track.net/en to track my package. It seems to me that the package has been to several different cities in China which confused me completely I am concerned that I may never receive my purchase. It has not moved for several days. I would appreciate if you could give me some more information.
Tracking LS80227599cn
Asked by Azhar from SAUDI ARABIA | May. 02, 2021 03:47

Reply
Parsel delay .
UU016502518CN why is my package stuck for one week have any problem please update