Hangzhou Festivals
In addition to celebrating traditional Chinese festivals, natives celebrate local festivals that enhance Hangzhou tourism.



Dragon Well Tea Festival (April-May)
Hosted by Dragon Well Village, it attracts people from everywhere to take part in activities such as picking tea, drinking tea, enjoying a tea ceremony, and walking in the countryside.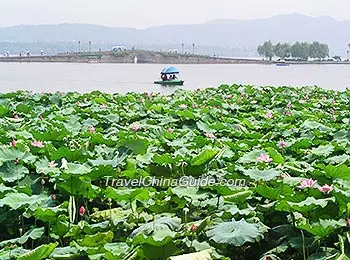 West Lake Lotus Festival

West Lake Lotus Festival (July-August)
The main activities of this happy event include viewing the beautiful lotus, picking lotus seed pods, shelling lotus seed, watching folk drama performances, and visiting the lotus exhibition. The host area is one of the scenic spots of West Lake--Qu Yuan Feng He.



Hangzhou Golden Autumn International Tourism Festival
Developing from the city's West Lake International Tour Boat Festival, it has become a big event of the city showing best of its history as well traditional boat culture. It contains moon festival, Qiantang River tide watching, temple fair, food festival, firework show and folk performances. It is annually held between September and October, lasting nearly a month. The three festivals below are most important activities during this period:



West Lake Osmanthus Festival (September-October)
Since osmanthus is the city flower of Hangzhou, the government has decreed that each year during September when osmanthus blooms, the citizens host the West Lake Osmanthus Festival. The sites of the celebration are usually in Man Long Gui Yu Park, Man Jue Long Village, and Hangzhou Arboretum. Appreciating osmanthus and the food made of osmanthus, drinking tea, watching shows and painting exhibitions are the main activities during the period.



China International Qiantang River Tidal Bore Festival (September--the 18th day of the eighth lunar month)
During this tourist-friendly event, one of the largest in China, visitors arrive to appreciate the great spectacle of the Qiantang River Bore. The bore is a unique natural phenomenon triggered by the pull of the moon. When the tides come in, a wave is produced so large that it surges several meters high. Every year this magnificent wonder draws thousands of visitors from all over the world.



West Lake International Fireworks Show (In the middle of October)
This dazzling event in West Lake draws thousand of viewers to the fireworks site to witness the glittering and colorful skyline. Thousands of new fireworks products from different countries entertain enthusiastic visitors.
West Lake can be elevated to be the symbol of Hangzhou and also the name card of this historical and culture city. Almost all the big events of the city are set in this elegant lake. The West Lake Expo was successfully held in the past 2008 and gave visitors a surprise. In addition to traditional performances and shows, sport competitions, folk shows, new tour routes exhibitions, shopping and expo activities offer a perfect opportunity to admire the extreme charm of the city.
The West Lake is going to be under the application for inclusion in the list of world nature and culture heritage. Some say that the lake is just like a magician. People can not care when to go, because it can change to be beautiful at any seasons, no matter in smoggy February, rainy April or snowy December. Poets in history never begrudged their compliments on it, adding more poetic flavor to it.
- Last modified on Apr. 01, 2021 -
Questions & Answers on Festivals in Hangzhou
Asked by Mylene from THAI | May. 25, 2016 22:44

Reply
What period in October this year for West Lake International Firework Show?
I will be in Hangzhou on 15 October for 4 days. Any events or concert during that period?
Thank you.
Mylene.
Answers (1)
Answered by Paco from SPAIN | May. 26, 2016 03:04

0

0

Reply
I am afraid that the Firework Show has been cancelled since 2013. During your visit, you can go to see the Jewellery and Gem Fair held from October 14th to 17th, 2016 at Haiwaihai International Convention and Exhibition Center. :)
Asked by Nanette from USA | Mar. 03, 2013 19:33

Reply
What is the date for the Hangzhou West Lake International Fireworks for 2013?
Answers (1)
Answered by Nancy from CANADA | Mar. 04, 2013 02:01

0

0

Reply
Generally speaking, the date is on the middle time of October, but the exact date of this year is not published yet. You may search for information in the early time of October.
Asked by Ms.Esther from MALAYSIA | Apr. 11, 2011 08:33

Reply
Hi I will be travelling to Hangzhou on 15 Sep to 19 Sep 2011. Please advise if there is any event or festive celebration during my trip. Thanks!
Answers (1)
Answered by Ms.SUMMERSNOW from AUSTRALIA | Apr. 11, 2011 21:39

0

0

Reply
The West Lake Osmanthus Festival and China International Qiantang River Tidal Bore Festival will be held during that time.