Top 10 Events of Dragon Boat Racing in China
Dragon boat racing is one of the customs of the
Dragon Boat Festival
in China and an important sport and entertainment project in China. Many dragon boat races are held throughout China each year. Here we list top 10 events of Dragon Boat Racing China for your reference.
1. China Longzhou Tournament
China Longzhou Tournament is the top dragon boat race with the highest level and the biggest rewards.
Time & Place
Jun. 10-11, 2023, Yancheng, Jiangsu
Jun. 21-22, 2023, Fuzhou, Fujian
2. China Dragon Boat Race Open
The China Dragon Boat Race Open was founded in 2011 and is one of the two brand events of the China Dragon Boat Association. In 2023, there are following thirteen races in total.
Time (2023)
Place
Station Competition
Apr. 22-23
Suining, Sichuan
May 20-21
Changshan, Quzhou, Zhejiang
May 27-28
Enyang District, Bazhong, Sichuan
Jun. 10-11
Yongjing, Gansu
Jun. 10-11
Yonghzou, Hunan
Jun. 17-18
Putuo District, Shanghai
Jun. 17-18
Jingzhou, Hubei
Jun. 21-22
Shijiazhuang, Hebei
Jun. 21-22
Tongren, Guizhou
Jul. 1-2
Xiantao, Hubei
Jul. 1-2
Tianshui, Gansu
Sep. 9-10
Zhaopin, Hehzou, Guangxi
Final Competition
Nov. 18-19
Nanping, Fujian
3. Dragon Boat Races of 19th Asian Games Hangzhou 2023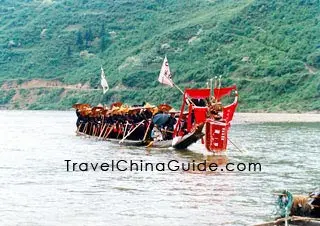 In 2010, the dragon boat race became an official event of Asian Games. In the 19th Asian Games to be held in Hangzhou from Sept. 23 to Oct. 8, 2023, Wenzhou will host the dragon boat event and a total of six gold medals will be given.
Time: Oct. 4-6, 2023
Place: Wenzhou Dragon Boat Sports Center, Ouhai District, Wenzhou, Zhejiang
4. 2023 Beijing-Tianjin-Hebei Dragon Boat Invitational Tournament and Beijing Dragon Boat Race
Founded in 2009 and held once a year, 2023 Beijing Dragon Boat Race is a localized event with men and women's mixed dragon boat races. 23 teams from all districts of Beijing and nearly 400 athletes are ready to compete.
Time: Jun 22, 2023
Place: Xiaoyue Lake, Fengtai District, Beijing

5. Hong Kong International Dragon Boat Invitational Tournament
Hong Kong is the birthplace of the modern dragon boat competition. As one of the highest professional events in the world, the Hong Kong International Dragon Boat Invitational Tournament has been held since 1976.
Time: Jun. 24-25, 2023
Place: Tsim Sha Tsui, Hong Kong

6. Guangzhou International Dragon Boat Invitational Tournament
The Guangzhou International Dragon Boat Invitational Tournament is regarded as one of the best dragon boat races in the world, attracting more than 100 dragon boat teams every year.
Time: Jun. 17, 2023
Place: Guangzhou, Guangdong

7. Macau International Dragon Boat Race
Traced back to 1979, the annual dragon boat race became a major event in Macau. In 1982, it became an international event, attracting competitors from many countries and regions.
Time: Jun. 17-19, 2023
Place: Nam Van Lake, Macau

8. 16th "Jiageng Cup" "Jingxian Cup" Cross-Strait (Jimei) Dragon Boat Race
To remember Chen Jiageng, a famous patriot of China who founded Jimei University and Xiamen University and his brother Chen Jingxian, Jimei Dragon Boat Race was renamed as "Jiageng Cup" "Jingxian Cup" Dragon Boat Race. In 2006, the race was named as "Jiageng Cup" "Jingxian Cup" Cross-Strait Dragon Boat Race.
Time: Jun. 3-4, 2023
Place: Xiamen, Fujian

9. 2023 First Guangdong-Hong Kong-Macao Greater Bay Area Maritime Dragon Boat Race
Originally called Nan'ao Maritime Dragon Boat Race, the race has been held 19 times, attracting many dragon boat teams from the mainland, Hong Kong and Macau, as well as many tourists. Besides the exciting races, watchers can also enjoy the traditional cultural performances of Nan'ao and taste Nan'ao sea urchin rice dumplings and special food.
Time: Jun. 20-21, 2023
Place: Yueliang Bay, Nan'ao Subdistrict, Dapeng New District, Shenzhen

10. 2023 Nanchang International Dragon Boat Race
2023 China Nanchang International Dragon Boat Race, guided by China Dragon Boat Association and jointly organized by Jiangxi Provincial Sports Bureau and Nanchang Government, is the highest-level dragon boat race held in Nanchang in the past years. About 40 teams participate in this dragon boat race, and the opening ceremony will give performances like skydiving and water skiing.
Time: Jun. 10-11, 2023
Place: Jiulong Lake, Honggutan District, Nanchang, Jiangxi

Further Reading
What is a Dragon Boat? - All You Need to Know about Dragon Boating
- Last updated on May. 24, 2023 by Gabby Li -