Sutong Yangtze River Bridge
Sutong Yangtze River Bridge is a highway cable-stayed bridge connecting
Nantong
and
Suzhou
in Jiangsu Province, lower reaches of
Yangtze River
, with a length of 32.4 kilometers (20.2 miles). There are six lanes totally and three in both directions. The allowed top speed of vehicles is 100km/h (about 62 mph) on the main span. The time for vehicles to cross Yangtze River has been shortened greatly from over 1 hour to 10 minutes. Now, about 140 million vehicles get through the bridge at most every day.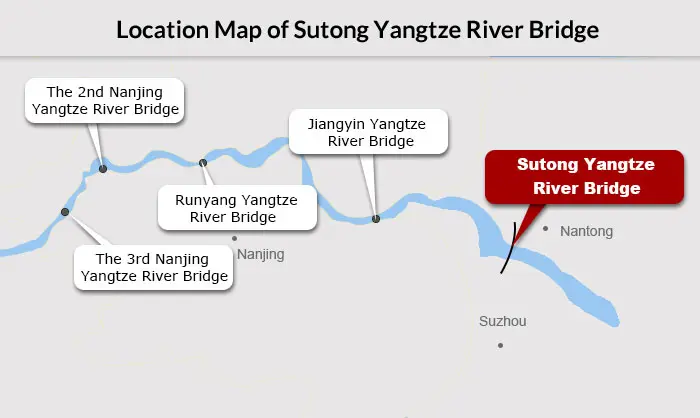 Location Map of Sutong Yangtze River Bridge
Structure and Length of Sutong Bridge
The whole Sutong Yangtze River Bridge is composed of the cross-river bridge, connection projects on north and south banks. It is 32.4 kilometers (20.2 miles) long in total. The cross-river bridge has a length of 8,146 meters (8,909 yards), the connection project on north bank is long as 15.1 kilometers (9.4 miles), and the connection part on south bank is 9.1 kilometers (5.7 miles).

What makes Sutong Yangtze River Bridge outstanding? – 4 World Records

Record 1: When the Sutong Yangtze River Bridge was open, it became a bridge with the longest main span of 1,088 meters (1,190 yards) worldwide at that time.


Record 2: It had the highest bridge tower in the world. The bridge tower is 300.4 meters (328.5 yards) high, surpassing that of Akashi-Kaikyo Bridge in Japan.


Record 3: The dragline of Sutong Bridge used to the longest one throughout world, as it is 577 meters (631 yards).


Record 4: The foundation of main pier consists of a clump of 131 piles, and is at the depth of 40 meters (44 yards) under water, which was the deepest and largest bridge foundation.

These engineering data broke world records when the bridge was finished and opened on June 30, 2008. Although it was outdone by new bridges later, it is still a milestone in Chinese bridge history.

What's more, Sutong Yangtze River Bridge can withstand a wind at the speed of 50 m/s (55 yd/s), and the main structure can hold a wind speed of 75 m/s (82 yd/s). In other words, the Sutong Bridge is designed to resist typhoons of scale 15, and the main structure can be against super typhoons of scale 18.

Benefits of Sutong Yangtze River Bridge
When there was no bridge in Nantong in the past, all the people and vehicles needed to take ferry to get through Yangtze River to Suzhou, which took about 40 minutes, and one hour when the time for queueing was included. In case of heavy fog and strong wind, the ferry service would be suspended. After Sutong Bridge was open, vehicles traveling between the two cities do not need to take ferry or take detours to Jiangyin Bridge, Runyang Bridge, or even Nanjing anymore. They can cross Yangtze River in around 10 minutes, travel from Nantong to Suzhou in about 100 minutes and to Shanghai in about 2 hours.

Construction Schedule of Sutong Bridge
At the beginning, the local government was intended to build a cross-river tunnel to solve the traffic problem. Later, the experts suggested to build a bridge rather than a tunnel, so the project of Sutong Yangtze River Bridge was started. In June 2003, the bridge started to be built officially. To July 2004, all the parts on water were being constructed. In September 2006, the bridge towers were capped. Up to January 2007, the south and north sections of the cross-river bridge joined. By January 2008, Sutong Yangtze River Bridge was examined. Then, on June 30th, 2008, it officially opened to traffic.

Sutong Bridge Exhibition Hall
Open on Oct. 19th, 2008, the Exhibition Hall is located in the south side of Sutong Yangtze River Bridge. Covering a total display area of 3,500 square meters (4,186 sq yd), Sutong Bridge Exhibition Hall is three-storey to show the entire construction process, especially to show the scientific studies, independent researches, key technologies and creativities applied in construction.



Read More:
Yangtze River Bridge: How many bridges are there over Yangtze?
- Last modified on Jun. 03, 2020 -