Nantong Travel Guide
Nantong Facts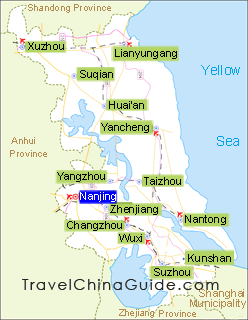 Chinese Name: 南通 (nán tōng)
Population
: 7,737,900
Area
: 8,544square kilometers (3,299 square miles)
Nationalities
: Han
City Flower
: chrysanthemum
City Tree
: Yulan Magnolia
Location: Standing on the Yangtze River Delta, Nantong is in the central part of
Jiangsu Province
. The ports of China's coastal area can be reached through its estuary to the sea. Proceeding northward along the Yangtze River, the city can connect the thoroughfares with cities in Jiangsu, Anhui, Hubei, Hunan and Sichuan provinces.
Administrative Division
: 2 districts (Chongchuan, Gangzha); 2 counties (Rudong, Haian); 4 county-level cities (Haimen, Qidong, Tongzhou, Rugao)
Useful Telephone Numbers
:
Tourist Complaints: 0513-85098110
Weather Forecast: 121
Zip Code Inquiry: 184
Bank of China: 0513-85098110
Nantong Attractions - Things to Do
The Hao River was once an ancient moat encircling Nantong City in the year of 958. With over a thousand years' history, the river is one of the four existent ancient moats in China. Along the Hao River, there are Tianning Temple, Nantong Museum and many squares, parks along with altogether 28 bridges and various species of old trees.

Langshan Scenic Area
It is located in mountain area reputed as one of the six famous scenic areas in Jiangsu Province. It consists of five hills and boasting total 43 ancient buildings, 23 stone inscriptions, 13 caves and some springs, ponds, ancient paths.
Admission Fee
CNY 50 (November 1 to January 31, June 1 to August 31)
CNY 70 (February 1 to May 31, September 1 to October 31)
Opening Hours
06:00 to 17:00
Transportation
take bus no. 5, 86 or 88 and get off at Langshan Station
How to get to/around Nantong
Nantong Xingdong Airport is about 18 kilometers (11 miles) northeast of downtown operating flights to Guangzhou, Beijing, Xiamen, Shenzhen, Dalian, Chengdu and many other cities. The construction of Su-Tong Yangtze River Bridge better facilitates the passenger transportation in and out of the area.
Weather
-
Enjoying a subtropical and warm temperate monsoon climate, Nantong has relatively moderate and favorable weather with enough sunshine and abundant rainfall. Its average temperature of a year is about 15°C (59°F). Just as other cities in Jiangsu Province, the rainy season of the city usually ranges from July to September.

When to Go
: Spring is the most favorable season to pay a visit, for the weather is neither hot nor cold. The water, garden and mountain landscape make the city in spring the most charming.
Nantong Travel Tips

Dining: Delicious food is ever indispensable to journeys. Qingnian Zhong Road is perfect destination to eat delicacies. It is a street collecting various foods, such as Guangdong (Cantonese) cuisine and Sichuan cuisine, as well as tea bars and eateries.



Physical Features: Nantong City is on the north bank of the Yangtze River, neighboring north Jiangsu Plain and separated from Shanghai by the Yangtze River. It is a fine port and the hinge of coastal transportation in Jiangsu's coastal area.



History: This area was formed by the deposition of Yangtze River sediment in remote ages. In the Han Dynasty (206BC-220AD), it was a famous town prosperous in salt producing. It was in the Tang Dynasty (618-907) that Nantong began to be linked with the mainland of China. Before that period it was called Douzhou, an islet. From then on, it was well-known for its location leading everywhere.



Special Local Products: marine products, embroidery, blue printed cloth (blue cloth with design in white)