Nantong Travel Guide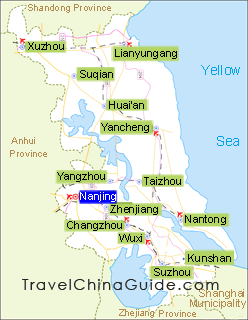 Nantong Facts
Chinese Name: 南通 (nán tōng)
Population: 7,318,000
Area: 8,544square kilometers (3,299 square miles)
Location: in the southeast of Jiangsu Province, east China
Administrative Division: 3 districts (Chongchuan, Gangzha, Tongzhou); 1 county (Rudong); 4 county-level cities (Haimen, Qidong, Tongzhou, Rugao)
Area Code: 0513
Zip Code: 226000
GDP (2019): CNY 938.34 billion (USD 136.01 billion)
One of China's Four Largest Kite Producing Areas
Standing on the Yangtze River Delta, Nantong is located in the southeast of Jiangsu Province. The ports of China's coastal area can be reached through its estuary to the sea. Proceeding northward along the Yangtze River, the city can connect the thoroughfares with cities in Jiangsu, Anhui, Hubei, Hunan and Sichuan provinces.

Nantong is one of the four largest kite producing areas in China, famous for producing kites with unique sound effects. Nantong kites are simple in shape, richly and elegantly painted and decorated with whistles. After flying, the kite will make a big and beautiful sound, as if playing an air symphony. Nantong Kite Museum allows tourists to see exquisite kite collections at close range, understand kite culture and make kites by themselves.

Nantong plays an important role in the history of modern Chinese culture, science and education, because it established many schools firstly during the Republic of China era, such as the normal school, textile school and meteorological station. Hao River and Langshan National Forest Park are two main scenic spots in urban Nantong.
Nantong Attractions - Things to Do
The Hao River was once an ancient moat encircling Nantong City in the year of 958. With over a thousand years' history, the river is one of the four existent ancient moats in China. Along the Hao River, there are Tianning Temple, Nantong Museum and many squares, parks along with altogether 28 bridges and various species of old trees.

Langshan Scenic Area
It is located in mountain area reputed as one of the six famous scenic areas in Jiangsu Province. It consists of five hills and boasting total 43 ancient buildings, 23 stone inscriptions, 13 caves and some springs, ponds, ancient paths.
Admission Fee
CNY 50 (November 1 to January 31, June 1 to August 31)
CNY 70 (February 1 to May 31, September 1 to October 31)
Opening Hours
06:00 to 17:00
Transportation
take bus no. 5, 86 or 88 and get off at Langshan Station
How to get to/around Nantong
Nantong Xingdong Airport is about 18 kilometers (11 miles) northeast of downtown operating flights to Guangzhou, Beijing, Xiamen, Shenzhen, Dalian, Chengdu and many other cities. The construction of Su-Tong Yangtze River Bridge better facilitates the passenger transportation in and out of the area.
Weather
-
Enjoying a subtropical and warm temperate monsoon climate, Nantong has relatively moderate and favorable weather with enough sunshine and abundant rainfall. Its average temperature of a year is about 15°C (59°F). Just as other cities in Jiangsu Province, the rainy season of the city usually ranges from July to September.

When to Go
: Spring is the most favorable season to pay a visit, for the weather is neither hot nor cold. The water, garden and mountain landscape make the city in spring the most charming.
Nantong Travel Tips

Dining: Delicious food is ever indispensable to journeys. Qingnian Zhong Road is perfect destination to eat delicacies. It is a street collecting various foods, such as Guangdong (Cantonese) cuisine and Sichuan cuisine, as well as tea bars and eateries.



Physical Features: Nantong City is on the north bank of the Yangtze River, neighboring north Jiangsu Plain and separated from Shanghai by the Yangtze River. It is a fine port and the hinge of coastal transportation in Jiangsu's coastal area.



History: This area was formed by the deposition of Yangtze River sediment in remote ages. In the Han Dynasty (206BC-220AD), it was a famous town prosperous in salt producing. It was in the Tang Dynasty (618-907) that Nantong began to be linked with the mainland of China. Before that period it was called Douzhou, an islet. From then on, it was well-known for its location leading everywhere.



Special Local Products: marine products, embroidery, blue printed cloth (blue cloth with design in white)
- Last updated on Jun. 08, 2020 -
Questions & Answers on Nantong Travel
Asked by Fiona from SOUTH AFRICA | Oct. 24, 2019 09:56

Reply
Which brand of clothing is sufficient to withstand cold weather in China?
Answers (1)
Answered by Mason from NEW ZEALAND | Oct. 28, 2019 00:04

0

0

Reply
Down jacket will be fine to spend winter in China.
Asked by LAM from VIETNAM | Jan. 18, 2018 09:41

Reply
when will Nantong have snow? are there any tours from the city to Suzhou and Hangzhou?
Answers (3)
Answered by Linda from CANADA | Jan. 18, 2018 20:44

0

0

Reply
Generally, it is hard to see snow there, but very light snow maay happen in Jan. - Feb. You can check the weather records that it snowed a little in this early Jan.
As for tours, I just joined one to Suzhou. It was great! Oh, they can also book you the tickets to those cities. Here is the e-mail address: travel

travelchinaguide.com
Answered by LAM from VIETNAM | Jan. 19, 2018 21:53

0

0

Reply
thank you Linda. Did the Suzhou tour you join depart from NT?
Answered by Linda from CANADA | Jan. 21, 2018 20:00

0

0

Reply
No, I was in Shanghai, but they helped us book the train tickets to Suzhou.
Asked by Jess from CANADA | Nov. 14, 2017 02:55

Reply
I am trying to get from Nantong to Yixing by bus to tour the Yixing National Forest Park.
Trying to find a schedule to see if it is possible to do a day trip or if I should stay over night.
Answers (1)
Answered by Jude from POLAND | Nov. 14, 2017 21:24

1

0

Reply
As I know, there are two buses at 8:30 and 14:30 from NT Bus Station to Yixing. And the same schedule for the return trip. It takes about 2h 30 minutes.

So I think there may not be enough time for you to catch the returning bus. You may stay overnight, hotels like Jingyi Shanzhuang Hotel and Xixiashan Jumuwu Hotel are good. Both are inside the park.
Asked by Chyan from SINGAPORE | Feb. 04, 2017 05:42

Reply
Are three-layer garments sufficient to withstand cold in Nantong?
I do not have overcoat and boots. Are a long-john, a long-sleeved sweater and thermal Marmot calen jacket sufficient to withstand the cold? They work when i was in Kunming and Nanchang but i am not sure whether they will keep me warm in NT in mid-Feb.
Answers (1)
Answered by Corey from FINLAND | Feb. 05, 2017 20:08

0

1

Reply
I'm afraid you might feel cold wearing these stuff. According to the weather forecast, the lowest temperature of NT in mid-Feb might be below zero. It is advised you prepare some thick sweaters and coats.