Yichang Transportation -- Getting Around
Sanxia Airport
. Besides, subway line 1 and line 3 will be constructed in 2018 and 2019. The city will also operate subway line 4 by 2040.
City-Bus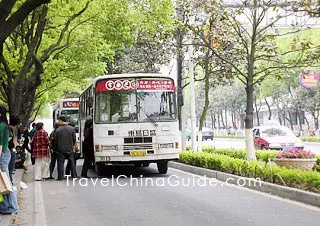 Yichang Bus
Public buses run to nearly every corner of Yichang City and some of the suburbareas. They are an essential part of people's daily life. Most of the buses here do not have a conductor. The fare is CNY1 and CNY2 for buses withair-conditioning, so you'd better take some small change. There are 35 bus lines in the city. Usually, buses numbered over 100 run to some farther suburbareas - for example No.100 runs from Yiling Square to Xinzhan Stop.
Bus No.10 is a good choice for visitors. It travels from the Third Wharf to Sanyou Caves, passing Yiling Square, Shrimp Valley, Luozu Temple, White Horse Caves and Sanyou Caves. It starts at 06:40 and ends at 17:00 from the Third Wharf. Apart from that, Bus No.8 which runs from the Third Wharf to Gezhouba Hydropower Station is a special bus line to the Three Gorges. Visitors can get on the public bus to get an overview of the city.

More lines just for reference:
No.2 The First Middle School—Bei Men—Dong Men—Jiefang Road—Jie Fang Cinema—Third Wharf—Thirteen Wharf—Baota Lake—Wuyi Square
Operating time: 05:30~24:45
No.3 Xi Ling Shan—Ge Food Street—Tuanjie Road—Xiazhou Hotel—Yiling Hotel
Operating time: 06:00~21:30
No.4 Third Wharf—International Hotel—Yiling-Hotel—Railway Station—Yangtze River Hospital—Sanxia Hospital—Yangtze River Market
Operating time: 05:55~21:40
No.7 Third Wharf—Dagong Bridge—International Hotel—First Road—Yiling Hotel—Xiazhou Hotel—403 Hospital
Operating time: 06:10~21:30
No.19 is a round line starts and ends at the Third Wharf, passing by Yichang Center Hospital—Century Garden—Railway Station—Shangri-la Garden—the First Middle School—The Third Middle School
Operating time: 06:20~21:08
| | |
| --- | --- |
| Public Bus | Taxi |
Taxi
Taking a taxi is the most convenient way when traveling in a strange city. It can also be your option in Yichang. Taxis can be taken easily along the street and they are available for 24 hours.
Fare
Daytime
Night:23:00 – 05:00 the next day
Starting Rate for First 2km (1.2mi)
CNY6
CNY6
Fare between 2-8km (1.2-5mi)
CNY1.4/km
CNY2/km
Fare beyond 8km (5mi)
CNY2.1/km
CNY3/km
Waiting Fee
Free for the first 5min; for every additional 5min, it costs the same as the unit price per kilometer (0.6mi).
Notes:
1. If any toll fee is involved during a trip, passengers need to pay on his/her own.
2. Most taxi drivers charge by meter in downtown area. If hiring a cab to a far destination, you need to negotiate with the driver for a reasonable price.
3. Remember to ask for the receipt before getting off. The car plate number, name of the taxi company and complaint telephone are all listed on it.

Reference Taxi Fare (all for single trips):
Airport – downtown area: around CNY60
New Century Port – downtown area: around CNY20
East Railway Station – New Century Port: CNY50-60
New Century Port – Yichang Airport: CNY100
- Last modified on Apr. 13, 2021 -
Questions & Answers on Getting Around Yichang
Asked by Donna Dowell from CANADA | Oct. 09, 2018 17:40

Reply
How to get from Yichang Train station to north end of Changliu Road
I have accommodations at the north end of Changliu road but I need to figure out how to get there from the East Railway station by bus! Any information you can give me is appreciated. I am travelling with family in tow (we are a group of 5, with luggage). Thanks!!
Answers (1)
Answered by Chase from AUSTRALIA | Oct. 10, 2018 00:00

0

0

Reply
From East Railway Station to the north end of Changliu Road, the distance is not fare. It is only 13 kilometers. There is no direct public bus or subway. Thus for your convenience, you are suggested to take a taxi to the hotel. The cab fare is CNY 25 to CNY 30.
Asked by Jimmy from INDONESIA | Jan. 28, 2016 09:46

Reply
Is there a subway system in Yichang? or light rail system?
Answers (2)
Answered by Chris from CANADA | Jan. 29, 2016 00:51

0

0

Reply
No, there is no subway or light rail in this city nowadays. It's reported that there will have three subway lines in the near future.
Answered by Jimmy from INDONESIA | Jan. 29, 2016 02:38

0

0

Reply
Thanks Chris for your advice, then I have to take taxi or perhaps public bus.
Asked by Ian Milne from UK | Nov. 18, 2015 05:57

Reply
What is the cost of a taxi from yichang airport to the Ferry port? please Yangtze Gold3.
Answers (1)
Answered by Helen from CANADA | Nov. 19, 2015 02:44

1

0

Reply
It costs around CNY100, and the driver usually doesn't charge by the meter.
Asked by Linda O | Apr. 25, 2015 12:15

Reply
Is there transportation from hotels to Three Gorges Dam from Yichang?
What are hour Dam is open for visitors.
Answers (1)
Answered by Linda from FRANCE | Apr. 25, 2015 20:43

0

0

Reply
At the opposite of the Pinghu Hotel, you can take the tourist bus special line to the dam directly.
The opening hours are 08:00~17:30.