Xiaogan Travel Guide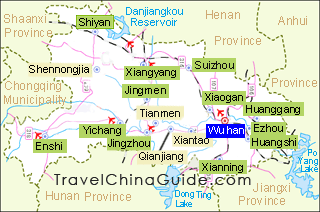 Xiaogan Facts
Chinese Name: 孝感 (xiào gǎn)
Population: 5,175,400
Area: 8,910 square kilometers (3,440 square miles)
Location: in the north-central of Hubei Province, central China
Administrative Division: 1 district (Xiaonan); 3 counties (Xiaochang, Dawu, Yunmeng); 3 county-level cities (Yingcheng, Anlu, Hanchuan)
Area Code: 0712
Zip Code: 432000
GDP (2018): CNY 191.29 billion (USD 29.91 billion)
A City Close to Wuhan Highlighting Filial Piety Culture
Xiaogan is located in north-central Hubei Province, on the south bank of the Hanjiang River and neighboring Henan Province to the north, Suizou, Jingmen, Tianmen, Xiantao to the west and Huangang to the east. Xiaogan is only 50 km (31 mi) away from urban Wuhan, 30 km (18.6 mi) from Wuhan Tianhe International Airport. It only takes 15 minutes to Tianhe Airport by the Wuhan-Xiaogan intercity railway. Xiaogan is the only prefecture level city named after Xiao, literally meaning filial piety in Chinese. Every year, the Filial Piety Culture Tourism Festival will be held. At that time, there will be a variety of wonderful performances and an exhibition presenting products for the elderly. Shuangfeng Mountain and Tangchi Hot Spring are two must-go scenic spots in Xiaogan. A comfortable hot spring bath in the Tangchi Hot Spring will relieve your fatigue of a long journey. Besides, the sweet, refreshing and warm Xiaogan Rice Wine is the most famous snack of Xiaogan, which is made from high quality glutinous rice and brewed with special distiller's yeast.
Xiaogan Attractions - Things to Do
Shuangfeng Mountain
Lying on the southern slope of Dabie Mountain and to the northeast of Xiaogan City, the Shuangfeng Mountain tourist resort is the largest national park with most scenic sights in northeastern Hubei Province. The main peaks of Shuangfeng Mountain are two close mountains standing opposite each other. Twenty-one 1,640 feet high peaks surround them, hence the name: Shuangfeng Mountain.
Within the scenic area, the weather is very pleasant all year and the mountains are thickly covered with plants. In the vast sea of clouds, only the mountain peaks can be seen, like the divine islets of legend. No wonder it was called Xi'an Yuan (the source of fairyland) in ancient times. There are 54 tourist resorts among which the Baiyun Ancient Village and Qinglong Cave are the most famous.
The relic of Baiyun Ancient Village was built during the Northern and Southern Dynasties (386-589). Covering three hills, it is regarded as the largest ancient village in Hubei. Visiting the village will make you mediate on the passing of time. Qinglong Cave is a natural karst cave close to Wuhan City. Until modern times, nobody knew where this winding and deep cave ended. There are three big cave chambers and four smaller ones. The attractive tourist sights include "Dinghai Shenzhen" (Magic Needle to Calm the Sea), "Shuilian Longchuang" (Water Curtain and Dragon Bed) and "Qunlong Chaobai" (The Worship of Rows of Dragons).
Far away from the busy city life, Shuangfeng Mountain is a fine choice for some good rest and recreation.
Tangchi Hot Spring
Tangchi Hot Spring is a large multi-functional hot spring scenic area aiming to improve people's health by spreading the hot spring culture. It is located in Tangchi Town about 14 miles to Yingcheng City in Hubei Province. Embraced by beautiful surroundings dotted by countless luxuriantly green trees, it creates a pleasant atmosphere to help visitors fully enjoy every second they spend in the hot springs.
Tangchi Hot Spring is composed of 88 various kinds of bathhouses or pools. There are six zones of springs: Japanese-style hot springs, dynamical hot springs, celebrities hot springs, cultural hot springs, lovers' hot springs and Japanese-style wooden houses. Each zone has a variety of spring pools that differ in their functions and effects. For example, the main springs in the cultural zone are: Peach Blossom Pool, Rosewood Pool, White Pine Spring, Skin Improving Spring, Blood-nourishing Spring, Heat-clearing Spring and Cold-eliminating Spring. The dynamical hot springs include two water parks, a drifting river, a sightseeing pool, and a children's park.
Moreover, inside the scenic area, there are over 500 guest rooms which can lodge over 1,000 people, including 26 European villas. The warm service and complete equipment guarantee that you will enjoy your visit to the springs.
Instruction for Hot Spring Bath
Around every 20 minute, you should take a short break from the hot springs. There are water fountains for your use at the bank of the pools. You may use the clean bath towels in the wooden shelves. The waiters at the pools' bank will assist you with any need or problem. More Tips on Hot Spring for your reference
| | |
| --- | --- |
| Admission | CNY 128 |
| Rent for Small Wooden House (Type A) | CNY 288/3hrs, CNY 100 for every additional hour |
| Rent for Small Wooden House (Type B) | CNY 488/3hrs, CNY 150 for every additional hour |
| Rent for Swim Ring | CNY 5 for single swim ring, CNY 10 for twin swim ring |
| Chinese-style Massage | CNY 98/h, CNY 80 for every additional hour |
| Japanese-style Massage | CNY 168/h, CNY 118 for every additional hour |
| Thailand-style Massage | CNY 168/h, CNY 118 for every additional hour |
| European-style Massage | CNY 168/h, CNY 118 for every additional hour |
| European-style Essential Oil Massage | CNY 198/h, CNY 138 for every additional hour |
| Cupping | CNY 38 |
| Manicure | CNY 28 |
| Foot Care | CNY 48 (Last for 40mins in the rest hall and 30mins in the open air) |

Other Scenic Spots in/around Xiaogan
: Guanyin Lake
How to Get to Xiaogan from Wuhan & Bus Stations
Xiaogan is only 32 kilometers (20 miles) from Wuhan Tianhe International Airport, and it greatly facilitates the visitors who want to travel by air, although the city do not have its own airport. Furthermore, Xiaogan is 60 kilometers (37 miles) from downtown Wuhan, only an hour's drive. By high speed train, it only takes half an hour.
Xiaogan Central Bus Station is seated in No.108, Huaiyin Dadao, Xiaonan District. In addition, the city also has several bus stations serving in its counties and county-level cities.
Weather
-
Bearing a subtropical monsoon climate, Xiaogan has clear four seasons, but chilly and torrid periods are short. Weather in spring, autumn and early summer is moderate. Mid-June to mid-July is the plum rain season, and rainstorms usually occur during this period. Winter here is cold and seldom rainy or snowy.



When to Go: Xiaogan has an annual average temperature of 16

C (61

F). It will be comfortable to visit the city in spring, autumn and early summer.
Xiaogan Travel Tips

History: In extremely long ago, cities and counties of present Xiaogan belonged to ancient Jingzhou. During the Zhou Dynasty (11th century BC-221BC), this region was the capital of several city states. Danyang is the old name of this region. It was changed to a regional level district under Hubei province in 1961.



Physical Features: According to the landform, Xiaogan can be divided into three major parts. The northwest part is mountainous area. The northeastern area is occupied by low mountains and hills. Plains are mainly distributed in the south of Xiaogan. There are four rivers in the city with several lakes scattered.



Special Local Products: sesame candy, rice wine, Yunmeng fish noodles
- Last updated on May. 18, 2020 -
Questions & Answers on Xiaogan Travel
Asked by pierre from FRANCE | Nov. 19, 2012 12:09

Reply
Taxi from Xiaogan Train Station to Wuhan Tianhe Airport
Cost of taxi from the railway station to Wuhan Tianhe Airport (terminal 2).
Merci

Answers (2)
Answered by Jessica | Nov. 19, 2012 21:30

4

0

Reply
I went there this April and paid CNY100 for the taxi from the train station to Tianhe Airport.
Answered by Pierre from FRANCE | Nov. 20, 2012 01:31

2

1

Reply
Thank you for your prompt and kind answer.
This site is exceptional to assist foreigners, i all kind of ways and forms.
Merci