Pingdingshan Travel Guide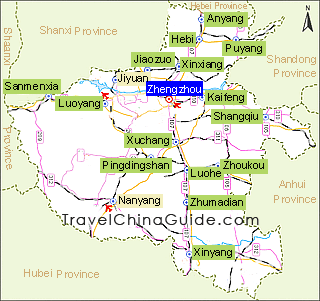 Pingdingshan Facts
Chinese Name: 平顶山市 (píng dǐng shān shì)
Population: 5,207,700
Area: 7,882 square kilometers (3,043 square miles)
Location: in the central region of Henan Province, east-central China
Administrative Division: 4 districts (Xinhua, Weidong, Zhanhe, Shilong); 4 counties (Baofeng, Jiaxian, Lushan Yexian); 2 county-level cities (Ruzhou, Wugang)
Area Code: 0375
Zip Code: 467000
GDP (2018): CNY 213.523 billion (USD 32.269 billion)
A Coal-Mine City with Rich Tourism Resources
Located in the central Henan Province, Pingdingshan neighbors Luoyang to the northwest, and the capital city Zhengzhou is 135 kilometers (84 miles) of road mileage from the city. In the Western Zhou Dynasty (1046 BC - 771 BC), Pingdingshan was a vassal state named Ying State. This state used the eagle as a totem, so Pingdingshan is also called Eagle City. It has the largest coal field in central and southern China, with 10 billion tons of raw coal reserves. Pingdingshan is rich in tourism resources and the total number of scenic spots ranks second in Henan. Visitors are able to see the world's highest copper Buddha in Shiren Mountain, view stunning natural scenery and enjoy hot springs after a fulfilling visit. It also has many temples and preserves the ruins of official Ru Kilns and a county government office of the Ming Dynasty (1368 - 1644). The 1,500-year old Wind Hole (Fengxue) Temple with 83 pagodas outside is a top attraction you cannot miss.
Pingdingshan Attractions - Things to Do
In ancient times, it was also known as Yaoshan Mountain, it is the top natural scenic area of the city west of Lushan County, gathering strange stones, waterfalls, springs, sea clouds, forests, rare animals and plants. Complementing the fascinating natural sceneries, the humanistic landscape is also a vital part of its scenic spectacularity.
It is situated 9 kilometers (5.6 miles) northeast of the Ruzhou City. It was first constructed by the Northern Wei in Northern and Southern Dynasty (420-581). The temple has experienced over 1,500 years boasting buildings from Tang (618-907) to Qing dynasties (1644-1911). Qizu Pagoda, Bell Tower and Buddha Hall are the core building of the temple. In addition, there is a pagoda forest consisting of 83 pagodas on the slop outside the temple, which is said to be a largest pagoda forest only second to that of Shaolin Temple.

Other Scenic Spots: Shimantan National Forest, Rizhou Hot Springs
How to get to Pingdingshan
The long-distance bus station of Pingdingshan is seated in No. 13, Kuanggong Road (Middle), and the passenger transport central station is located in No. 49, Zhongxing Road (South). The city does not have airport. Visitor should first go to the Zhengzhou Xinzheng International Airport. Usually, it will take one hour to Pingdingshan from downtown Zhengzhou by taxi after alighting from the plane, or it will cost about three hours by bus.

Also, passengers can first go to Nanyang Jiangying Airport. It often takes 2 hours and 15 minutes from downtown Nanyang to Pingdingshan by taxi, or it usually takes two hours by bus.
Weather
-
Pingdingshan City enjoys a warm temperate continental monsoon climate, bearing superior natural environment. It has four distinct seasons and there are thirty-one rivers in total, constituting an interlacing water network. Its annual average temperature is about 15°C (59°F).

When to Go
: spring and autumn
Pingdingshan Travel Tips

History: About eight thousand years ago, there area human settlers living in this region. It was the domain of the Ying and Jie tribes inhabited there before the Zhou Dynasty (11th century BC-221BC). During the Warring States Period (475BC-221BC), Pingdingshan was partly and successively belonging to several kingdoms. Through thousands years of development, the city has made a great pace since the large-scale exploitation of coal ore in the 1950s.



Physical Features: Pingdingshan lies along the Funiu Mountains in the west, and links the spacious and flat Huanghuai Plain in the east. Therefore, the terrain of this city generally declined from east to west.



Special Local Products: persimmon, tobacco leaf, Zisha (purple-clay) pottery, Lushan silk, Chinese gooseberry, monkey-head mushroom, Ru Porcelain
- Last updated on May. 08, 2020 -
Questions & Answers on Pingdingshan Travel
Asked by Felisa from PHILIPPINES | Aug. 26, 2019 14:24

Reply
Airport in pingdingshan or nearest to pingdinshan?
Answers (1)
Answered by Tania from CANADA | Aug. 28, 2019 22:52

0

0

Reply
There is no airport in this city. The nearest airport is Xinzheng International Airport (ICAO) in Zhengzhou.
Asked by Mickey from SINGAPORE | Oct. 24, 2016 08:45

Reply
Hi, kindly advise how to reach Laojun Mountain from Spring Temple Buddha or vice versa?
Answers (1)
Answered by Joe from USA | Oct. 27, 2016 00:53

1

1

Reply
Well, there is no direct transport. You may take a bus to Lushan from Spring Temple Buddha. Then, take a bus to Luanchuan. Upon arrival, take a taxi to the mountain for about CNY 15. You can follow the same route for the return trip. ;)
Asked by Cameron from HACK | Sep. 01, 2016 06:02

Reply
How far is Lushan train station from the Spring Temple Buddha?
Are there any places for westerns to stay around Lushan, hostels or hotels??

Many thanks,
Cameron
Answers (3)
Answered by Ali from GERMANY | Sep. 02, 2016 03:05

1

0

Reply
The distance is about 30 miles (48km). You can take a bus to the Buddha from the nearby Lushan Bus Station.

You may stay at Kunlun Leju Business Hotel at the crossroad of Huayuan Road and Taishan Road. It is about 1.6 miles (2.5km) to the southeast of Lushan Railway Station. The hotel provides clean environment and nice service. It costs CNY 100-150 per night. Have a try!
Answered by Cameron from UNITED KINGDOM | Sep. 02, 2016 06:00

0

0

Reply
Great thanks for the reply! Really helpful! I wonder if you could tell me how long the bus takes?

Many thanks Cameron.
Answered by Ali | Sep. 06, 2016 01:02

2

0

Reply
The bus ride takes about 40 minutes. :)
Asked by DIARN1971 | Sep. 25, 2015 17:27

Reply
What is more convenient bus or train to get to Spring Temple Buddha in Pingdingshan?
From Luoyang, faster way.
Answers (1)
Answered by Rachel from UNITED KINGDOM | Sep. 26, 2015 03:20

1

0

Reply
Taking bus is a better way for you to choose.
From Luoyang, you can take coach to get to Pingdingshan Bus Station first. The bus schedules are from 06:30 to 17:40 with the interval of around 40 mins. Then take a taxi to get to Trade Square and take direct bus to get to the scenic area.

If by train, you will reach the West Railway Station,which is a little bit far from downtown.