Sanmenxia Travel Guide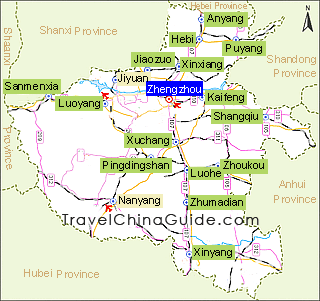 Sanmenxia Facts
Chinese Name: 三门峡市 (sān mén xiá shì)
Population: 2,308,500
Area: 10,496 square kilometers (4,053 square miles)
Location: in the west of Henan Province, east-central China
Administrative Division: 2 districts (Hubin, Shanzhou); 2 counties (Mianchi, Lushi); 2 county-level cities (Yima, Lingbao)
Area Code: 0398
Zip Code: 472000
GDP (2018): CNY 152.812 billion (USD 23.094 billion)
Highlighting Sanmenxia Dam & Hangu Pass
Located in the west of Henan Province, Sanmenxia City is seated at the convergence of the Henan, Shanxi and Shaanxi provinces. Within the province, it neighbors Luoyang to the east and Nanyang to the south. The city is also bounded on the west by Shangluo and Weinan of Shaanxi Province. Sanmenxia is a rising city for the construction of Sanmenxia Dam, the first dam of the Yellow River. It is 30 km (18.6 miles) away from the city and shows the grandest Yellow River and Sanmen Canyon scenery. With profound historical and cultural accumulation, Sanmenxia is one of the birthplaces of Chinese civilization. The most well-known culture originated from here is Yangshao Culture from 5,000 to 7,000 years ago, which is the representative culture of the late Neolithic Cultures and features exquisite colorful potteries. Hangu Pass, one of the earliest great fortresses in Chinese history, has guarded this city for more than 2,000 years, becoming a famous Sanmenxia attraction. From winter to the early spring, Sanmenxia always welcomes Siberian friend white swans, attracting numerous tourists.
Sanmenxia Attractions - Things to Do
Hangu Pass
First established during the Spring and Autumn Period (770BC-476BC), Hangu Pass once played an great role in history as a pass of vital importance between ancient Luoyang and Chang'an (Xi'an). This grand building complex is 15 kilometers (9 miles) north of Lingbao City. If one man guards the pass, ten thousand are unable to pass through. Additionally, Taichu Palace in the building complex is said to be the place where Lao Zi, the founder of Taoism, created his greatest masterpiece Daodejing (Tao Te Ching), commonly translated as the 'Classic of the Virtue'. So, Hangu Pass is also an important site for Lao Zi's believers to commemorate him.
Sanmenxia Dam
30 kilometers (19 miles) from city downtown area, the dam, begun in 1957, is the first hydro project on the main stream of the Yellow River in China. The Yellow River zigzags 120 kilometers (75 miles) though the city with the most spectacular scenery in the dam area.
Yawu Mountain
It is a famous Taoist site located in Yuling Town of Lingbo City. The Yawu Mountain scenic area is the largest natural reserve of Henan, and its main peak is the highest point in the province. Large temple fair will be held every June. Main sights include precipitous peaks and mountain pass, as well as some grand Taoist buildings, like Nantian Gate, Yuhuang Hall, Tianyi Palace and so on.

Other Scenic Spots: Baolunsi Pagoda (one of the four famous old echo architectures in China)
How to get to Sanmenxia
Trains from Zhengzhou and Luoyang to Xi'an all stop in Sanmenxia. The Lanzhou-Liangyungang Railway runs west-east through the city. It only takes three hours by high speed train to go to Xi'an from the city. Sanmenxia has two railway stations: Sanmenxia Railway Station in Xiaoshan Dong Lu of the Hubin District and the West Station in Qinhan Road of Shanxian County.



See more Ningbo - Sanmenxia Train, Shanghai to Sanmenxia Train

The local Long-Distance Bus Station is located in the east section of Xiaoshan Lu. The city is a little over an hour's drive from Luoyang.
Weather
-
Located in the warm temperate zone, Sanmenxia has semi-dry continental climate with four distinct seasons. The average temperature of the coldest January and the hottest July are respectively -0.7 and 27℃ (30.7 and 80.6℉).

When to Go
: spring and autumn
Sanmenxia Travel Tips

History: According to the legend, Yu the Great, the ancient hero of controlling torrential flood in prehistoric time, slipped up the high mountain into three gorges. Hence the city gained its name of Sanmenxia (three gate gorges). As an important headstream of Chinese civilization, it was the central region of the Xia (21st - 16th century BC) and Shang (16th - 11th century BC) dynasties. Shanxian was established in the northern Wei Dynasty (386-534), part of the northern Dynasty (186-581), and continued into the Qing Dynasty (1644-1911).



Physical Features: Sanmenxia City is situated in the hilly area of western Henan Province with mountains and hills making up over ninety percent of the city's total territory. Mountain ranges fall and rise, forming gullies all over the city.



Special Local Products: apricot, apple and jujube of Lingbao City, black fungus and Chinese gooseberry of Lushi County, dried persimmon of Yingchi County
- Last updated on May. 08, 2020 -
Questions & Answers on Sanmenxia Travel
Asked by Juliana from MALAYSIA | May. 19, 2019 12:21

Reply
How to get to the Underground village (Di Kern Yuan) or Yao Dong?
Answers (3)
Answered by Moria from AUSTRALIA | May. 20, 2019 19:57

0

0

Reply
You can take a Special Tourist Line from Sanmenxia Railway Station to the scenic area directly.
Answered by Juliana from MALAYSIA | Jun. 04, 2019 08:15

0

0

Reply
How can we book to stay a night in the Underground Village?
Answered by Dina from ITALY | Jun. 04, 2019 18:22

0

0

Reply
There is no way to book in advance. However, it is not clear if they can accept foreigner guests, but you can have a try when you get there.
Asked by yogalates from MALAYSIA | Jul. 29, 2011 22:56

Reply
Are there any buses/ train from Hanzhong to Sanmenxia? What time is the departure and fare.
Answers (1)
Answered by Sophie from CHINA | Jul. 30, 2011 03:39

0

0

Reply
Not sure about bus, but there is no train running between the two cities. I think you could take a bus for 3 hours from Hanzhong to Xi'an firstly and then transfer to your destination by train in 3 hours.
Asked by Ms.Donald from USA | Oct. 21, 2010 00:50

Reply
Which train station do you go to if you want to get to Xi'an from Sanmenxia?
Answers (3)
Answered by Mr.John | Oct. 21, 2010 02:42

1

0

Reply
SMX Railway Station
Answered by Ms.Donald | Oct. 21, 2010 07:48

1

0

Reply
Thanks John, I realize that. It is that the aricle says there are two train stations in that city, I am wondering do both go to Xi'an, or only one.
Answered by Mr.John | Oct. 23, 2010 04:46

0

0

Reply
Hey, actually there are three train station in the city, sorry I missed the information, but as the timetable on China Trains(https://www.travelchinaguide.com/china-trains/) shown, the Railway Station has the most trains to Xi'an, this is the station that located on Huanghedong Lu.
Asked by Mr.Xiao from CHINA | Sep. 09, 2009 14:56

Reply
Hi Can you tell me about Sanmenxia? Are there any Western restaurants [KFC/McDonalds or Pizza Hut] there and can I get any Muslim food there? And can one get Western groceries in the markets there?
Cheers
Xiao
Answers (1)
Answered by Mr.Sam | Sep. 09, 2009 20:37

0

1

Reply
I know ther is one or two KFC in that place~