Zhumadian Travel Guide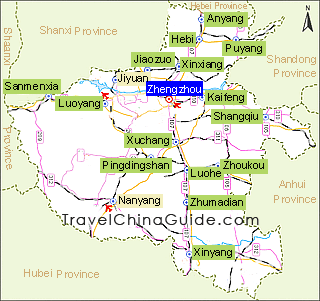 Zhumadian Facts
Chinese Name: 驻马店市 (zhù mǎ diàn shì)
Population: 9,600,000
Area: 15,000 square kilometers (5,792 square miles)
Location: in the south-central of Henan Province, east-central China
Administrative Division: 1 district (Yicheng); 9 counties (Queshan, Biyang, Suiping, Xiping, Shangcai, Runan, Pingyu, Xincai, Zhengyang)
Area Code: 0396
Zip Code: 463000
GDP (2018): CNY 237.032 billion (USD 35.822 billion)
The Convenient Transport Center & Birthplace of Chinese Civilization
Zhumadian is situated in the south region of Henan Province, in the neighborhood of Anhui to the east. Within the city, it borders upon Nanyang on the west, Zhoukou, Pingdingshan and Luohe on the north and Xinyang on the south. Zhumadian was an important transportation hub where many postmen and officials rested. Now Zhumadian is still a city with smooth traffic, through which Beijing-Guangzhou Railway and Beijing-Shenzhen High-speed railway pass. It takes only one or two hours to reach Zhengzhou Xinzheng International Airport, Xinyang Minggang Airport and Wuhan Tianhe International Airport.

It is also one of the important birthplaces of Chinese civilization, the origin of Double Ninth Festival and the classic Chinese love story Butterfly Lovers. The city sees the legend that Pan Gu created heaven and earth. Visitors can enjoy wonderful mountains in Chaya Mountain, the largest Buddhist holy site in Asia, Nanhai Temple, and Suya Lake, the largest Asian artificial plain lake.
Zhumadian Attractions - Things to Do

Chaya Mountain is a national geological park and an AAAA level scenic area of the country with fascinating granite of different shapes. It consists of five scenic spots well known for its strange stones and crags. Relying on its exquisite and peculiar mountain sceneries, the mountain was reputed as miniascape of Central China, ranking as one of the hot tourist destinations in Henan Province.



Nanhai-Buddhist Temple was first built in the Ming Dynasty (1368-1644). Through the restoration in 1992, it becomes the largest Buddhist temple in Asia.



Copper (Tongshan) Mountain is a scenic area combining mountain, islet, pool, waterfall, cave, temple, historic ruins, legend and tale from history. This comprehensive attraction is also worth visiting.
How to get to Zhumadian
1. Zhumadian is no more than two hours' drive to Zhengzhou Xinzheng International Airport and Wuhan Tianhe International Airport,and no more than three hours' drive to Nanyang Jiangying Airport. Beijing-Guangzhou Railway, together with the Beijing-Zhuhai Expressway and No.106, 107 national highways, runs through the city from the north to the south.

2. Located in the middle section of Xuesong Lu, Zhumadian Motorcoach Station operates buses to other cities of Henan, and long-distance buses to Wenzhou, Hangzhou, Shanghai, Ningbo and Changsha. The bus station also has secondary bus stations, the east station in Lianjiang Lu, and the west station in middle section of Leshan Lu, mainly operating buses eastward and westward. Additionally, the west bus station also supplies chartered buses.
Weather
-
Zhumadian lies between the subtropical and warm temperate zones enjoying a continental monsoon climate. It has moderate weather, enough sunshine, rich rainfall and distinct four seasons. Its annual average temperature maintains around 14.6°C -15°C (58.3°F-59°F).

When to Go
: April to May of spring and September to October of autumn are the best periods to visit the city.
Zhumadian Travel Tips

History: Archeological discoveries of Paleolithic Age expose that human settlers moved to this area as early as eighteen thousand years ago. Agriculture, stock raising and pottery making were well developed here forty-five hundred years ago. Before it was absorbed by Chu State in the Warring State Period (476BC-221BC), there were several vassal states. In 221BC, the Qin Dynasty (221BC-206BC) ended the independent regimes, and established counties in Zhumadian.



Physical Features: Plains makes up nearly seventy percent of the city's territory. In addition, there are also mountains, hills and hillocks. The terrain generally declines from the west to the east. Low mountains and hills are distributed in the west region of Zhumadian, while the east region is vast plain.



Special Local Products: sesame, chestnut, Chinese mushroom, Piao pear, straw patchwork (straw painting)
- Last updated on Apr. 13, 2021 -
Questions & Answers on Zhumadian Travel
Asked by Brian from SINGAPORE | Mar. 06, 2018 06:19

Reply
How to convert my international license to china driving license in Zhumadian?
Answers (1)
Answered by Donna from CA | Mar. 06, 2018 21:13

1

0

Reply
You need to go to the local vehicle administration office to take the test to get a Chinese license. Besides, you need to take your passport & residence permit, international license & its Chinese version, and a health report.
Asked by Ed from UK | Mar. 18, 2016 08:44

Reply
Places to run in Zhumadian
Hi,

I am going to be staying near Huanghuai University as I am lecturing there for 2 months. I am a keen runner and was wondering if anybody knew whether there are any suitable running areas in Zhumadian e.g, parks, forests. Not sure how much traffic there is and whether it would be dangerous to run in the city particularly as a first time visitor to China. Thanks.
Answers (3)
Answered by Jim from AUSTRALIA | Mar. 21, 2016 01:15

1

0

Reply
Dear Ed, you may run in the nearby Pangu Garden, Liang Zhu Garden, Nanhai Park, etc. It is pretty safe to run in these places. Don't worry! Keep running! :)
Answered by Ed from UNITED KINGDOM | Mar. 21, 2016 05:04

0

0

Reply
Thanks Jim, that sounds fantastic. I'm considering running the China Marathon along the Great Wall in May but that may just be a crazy idea at this stage.
Answered by Jim | Mar. 21, 2016 22:31

1

0

Reply
Dear Ed, many running lovers, even senior citizens, take part in the Great Wall Marathon Race. It is quite thrilling to race on the Great Wall. There are full-marathon, half-marathon, and 10km race available. If you want to take part in, you need to make full preparation for that. Good luck! :)
Asked by Greta from USA | Aug. 28, 2013 19:56

Reply
What is the weather in October of Zhumadian ? ( in Fahrenheit please)
Answers (1)
Answered by Iris from POLAND | Aug. 28, 2013 20:33

0

1

Reply
It would be cloudy in most cases. For the whole month, the lowest temperature is around 11C (52F). In early Oct. the highest temperature is around 27C (81F) and in late Oct. it falls to 19C (66F). You may meet several rainy days as well, but it will be light rain.
Asked by Goran from SWEDEN | Jan. 25, 2013 09:54

Reply
Which time of the year has the best weather for traveling to Zhumadian
Answers (1)
Answered by Oliver | Jan. 26, 2013 03:46

0

0

Reply
April to May of spring and September to October of autumn are the best periods to visit the city.