Zhoukou Travel Guide
Zhoukou Facts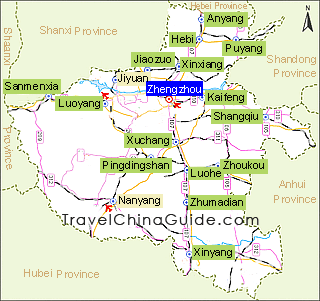 Chinese Name: 周口市 (zhōu kǒu shì)
Population: 10,750,000
Area: 11,968 square kilometers (4,621 square miles)
Nationalities: Han

Location: Situated in the southeast of Henan Province, Zhoukou City neighbors Luohe and Xuchang in the west, Zhumadian in the south, and Kaifeng and Shangqiu in the north. It also shares a boundary with Anhui Province in the east.

Administrative Division:1 district (Chuanhui); 8 counties (Fugou, Xihua, Shangshui, Taikang, Luyi, Dancheng, Huaiyang, Shenqiu); 1 county-level city (Xiangcheng)
Seat of the City Government: Middle section of Qiyi Lu, Chuanhui District

Useful Telephone Numbers:
Tourist Complaints:0394-8221411
Weather Forecast: 121
Zip Code Inquiry: 184

Bank of China Branch: Middle section of Bayi Lu, Chuanhui District
China Post Branch: No.43, middle section of Qiyi Lu, Chuanhui District
Zhoukou Attractions - Things to Do
Temple of Guan Yu (Guandi Temple)
Originally Shanshan (Shanxi and Shaanxi) Guild Hall, it was first built in 1693. Having been expanded and constructed several times, the compound now occupies an area of 12,590 square meters (about 3.1 acres). It is reputed as the top scenic spot in Zhoukou, being a witness to the boom and splendor of commerce in former days.

Fuxi Taihao Mausoleum
It was built for one of the mythological sage rulers, 'three august ones and five emperors' in Chinese history as early as in the Spring and Autumn Period (770BC-476BC). It was constantly expanded after the Tang (618-907) and Song (960-1279) dynasties. The mausoleum is similar in structure to the imperial palace of the Ming Dynasty (1368-1644).

Taiqing Palace
It is located 5 kilometers (3.1 miles) east of Luyi county seat. It is the birthplace of the founder of Taoism, Lao Tse. This memorial temple was first built in the Eastern Han Dynasty (25-220).
How to get to Zhoukou
1. The city can be connected with the Beijing-Guangzhou and Beijing-Kowloon railway lines through the Luohe-Fuyang Railway. Additionally, there are four expressways which meet in this city, from where travelers can get to Nanjing, Luoyang, Shenzhen, Shangqiu, Xuchang and Bozhou.

2. Zhoukou City Central Bus Station: middle section of Jiaotong Lu, Chuanhui District

3. Zhoukou City Hehua Bus Station: No. 153, Zhongzhou Lu, Chuanhui District
Weather
-
Zhoukou City enjoys a warm, temperate, continental monsoon climate with an annual average temperature of 15°C (59°F). It has four distinct seasons. Spring is windy, and the temperature varies greatly during the day and night. Summer is hot and rainy, while the winter is chilly and dry.

When to Go
: Visitors can get to Zhoukou in spring and autumn. Autumn is indeed the best season to visit the city, not only for moderate sunny weather, but also for delicious fruits and melons that have just appeared on the market.
Zhoukou Travel Tips

History: Zhoukou has more than six thousand years of brilliant history. It was known as Chen in remote ages, and the Chu State in the late Warring States Period (476BC-221BC) made it the capital. It was rich and prosperous in the Han Dynasty (206BC-220AD) as the manor of princes.



Physical Features: This region belongs to the Huanghuai Plain with its flat and broad land. The terrain slopes gently from the northwest to the southeast.



Special Local Products:melon, nectarine, plum, apricot, Guangtang sesame flake
- Last modified on May. 05, 2019 -
Questions & Answers on Zhoukou Travel
Asked by Mayumi from VANADA | Apr. 30, 2019 18:20

Reply
How long is the drive from Luoyang to zhoukou?
Answers (1)
Answered by Usher from HUNGARY | May. 05, 2019 00:39

0

0

Reply
It takes about 4-5 hours.
Asked by Sonya from AUSTRALIA | Mar. 19, 2014 09:07

Reply
Is there a fast train to Beijing from Zhoukou or any city nearby? thanks, Sonya
Answers (1)
Answered by Sally from CANADA | Mar. 19, 2014 21:28

1

1

Reply
There is no direct bullet train from ZK to Beijing and only one normal express is avaliable: K402 taking around 12h. To catch a bullet train, I suggest you take a train or bus from ZK to Zhengzhou first. Then at Zhengzhou East Train Station, there are many bullet trains to Beijing and it takes only around 3.5h.
Asked by paul | Feb. 18, 2013 00:52

Reply
how long is by bus from zhoukou henan to linfeng shanxi by bus
Answers (1)
Answered by Edson | Feb. 18, 2013 20:26

0

1

Reply
You must refer to Linfen, Shanxi province. Generally, it takes 9.5-10h by bus for this journey. However, I heard that there is no direct long-distance bus running between.