Kaifeng Travel Guide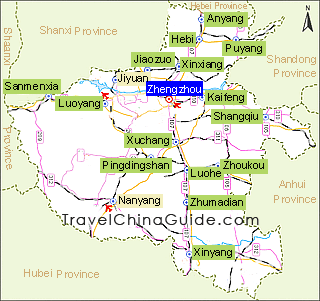 Kaifeng Facts
Chinese Name: 开封市 (kāi fēng shì )
Population: 4,564,900
Area: 6,266 square kilometers (2,419 square miles)
Location: in the east of Henan Province, east-central China
Administrative Division: 5 districts ( Gulou, Longting Yuwangtai, Jinming, Shunhe Hui); 4 counties ( Weishi, Qixian, Tongxu, Lankao)
Area Code: 0371
Zip Code: 475000
GDP (2018): CNY 200.223 billion (USD 30.259 billion)
Chinese Ancient Capital of the Eight Dynasties
Kaifeng lies at the plain area of the east Henan Province, and on the southern bank of the Yellow River. It borders Zhengzhou to the west, Xinxiang to the northwest, Shangqiu to the east, Zhoukou to the southeast, Xuchang to the southwest, and Shandong to the northeast. As the ancient capital of the eight dynasties including the Xia Dynasty, Kingdom of Wei, Hou Liang, Hou Jin, Hou Han, Hou Zhou, Song Dynasty, and Jin Dynasty, Kaifeng has a history of more than 4,100 years. In the Northern Song Dynasty (960 - 1127), Kaifeng even was the world's first metropolis. In particular, Kaifeng was the only ancient capital in China whose central axis of the city never changed. To this day, visitors can still see the well-preserved Kaifeng City Wall with a circumference of 14.4 km (8.7mi). Kaifeng also has a history of more than 1,600 years of chrysanthemum planting and appreciation. To appreciate beautiful chrysanthemum, Kaifeng holds Tomb Sweeping Culture Festival in April and the Chrysanthemum Culture Festival in October, which are two grandest events in Kaifeng every year.

10 Old Capitals of China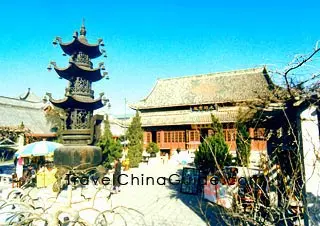 Xiangguo Temple
With the influence of a long history over 2,700 years, various cultural relics and historic sites are remained in Kaifeng city. Therefore, the city became an importance tourist destination in China. It is also the famous 'Northern Water Town' in China for there are many lakes in the city.

You can appreciate a great many time-honored historical and cultural landscapes there, among which the most famous ones are Iron Pagoda, Dragon Pavilion, Qingming Riverside Landscape Garden, Imperial Street of Song Dynasty, Memorial Temple of Lord Bao, Kaifeng Yamun, Xiangguo Temple, Local Museum as well as Millennium City Park.



Pictures
How to get to/around Kaifeng
1. There is no airport built in the city, but it is about 70km away from the city to
Zhengzhou Xinzheng International Airport
. It is convenient for passengers to go to Zhengzhou Airport and then to travel to other cities.
2. Trains daily depart from Kaifeng Railway Station to other cities around China, such as Zhengzhou, Luoyang, Xi'an, Xuzhou, Shangqiu, etc. Kaifeng North Railway Station mainly operates high-speed trains to Zhengzhou, Luoyang, Beijing, Shanghai, Guangzhou, etc.
3. There is a long-distance bus station at the north side of local Railway Station. There are long-distance buses traveling every day from the city to Zhengzhou, Luoyang, Sanmenxia, Shangqiu, Xinxiang, Anyang, Beijing, Xuchang, Luohe, Zhumadian, Shenzhen, etc.
4. It is easy to take the public bus for traveling around the city. Most of them are self-service ticketing buses and the bus fare is CNY1. Bus 20 is the special tourist bus which can take you to each scenic spot.
5. The taxi fare of is CNY5 for the first two kilometers and then CNY1 per additional kilometer. The taxi cost is generally within CNY7 for traveling to the attractions in the city downtown area.



See more about Zhengzhou - Kaifeng Train, Luoyang - Kaifeng Train

When to Go: The best time to visit is suggested to be September and October due to the most pleasant weather and the city's most beautiful event: the Chrysanthemum Fair.
Kaifeng Travel Tips

History: The city is known as one of the Seven Ancient Capitals of China with the short name of 'Bian'. The city's history can be traced back to Spring and Autumn Period (770 BC - 476 BC). It was named 'Qifeng' at that time. Later in Han Jingdi (Liu Qi) Period, it got the name of 'Kaifeng'. From 364 BC to 1233 AD, the city was the capital of the Kingdom of Wei (475-331 B.C.), Later Jin (936–946), Later Han (947–951), and Later Zhou (951–960) of the Five Dynasties (907-960), Northern Song Dynasty (960-1127), and the Jin Dynasty (1115-1234), also known as 'the Capitals of Seven Dynasties'. At the beginning of the Ming Dynasty (1368-1644), the city was made the capital of Henan Province.



Local Highlights: You can understand more about the culture of Kaifeng by seeing many colorful folk arts, such as lion dance, drum set, stilts, land boat and suona. This city is also known as the hometown of painting and calligraphy as well as opera. You may get unexpected gain from visiting the local painting and calligraphy gallery or small theater.



Special Local Product: Bianliang Watermelon, Pickled Radish, Spiced Dried Bean Curd, Peanut Cake
- Last updated on Mar. 17, 2021 -
Questions & Answers on Kaifeng Travel
Asked by GLADYS Ding from SINGAPORE | Oct. 24, 2018 23:15

Reply
Hello, I like to know is it possible to make a day trip tour to Kaifeng
instead of staying there for a day or two from Zhengzhou. How near or far is it from Zhengzhou.
Answers (1)
Answered by David from USA | Oct. 25, 2018 20:45

0

0

Reply
It is about 90 kilometers and you can take the bus at the high speed hub station with duration of about 1.5 hours for the travel to or back. You'd better take the early bus to KF. Here are some top attractions recommended to you: Qingming Riverside Landscape Garden, The Song Dynasty Of Kungfu City, Kaifeng Prefecture. Generally speaking, one day's trip in KF is possible.
Asked by Tara from IRELAND | Sep. 24, 2018 15:27

Reply
Hi. What is the best train to get from Beijing to Kaifeng?
Is there a direct train? How often is it? What is the difference between Ist and 2nd class seats? Thank you. Tara from Ireland
Answers (1)
Answered by Jude from SWITZERLAND | Sep. 24, 2018 20:01

0

0

Reply
Yes, there is only one direct high-speed train. You are suggested to take train G801 from Beijing West Railway Station, and it takes about 3h 10mins. The first class seat is larger and more expensive than the second one. The first class seat costs CNY 529.5, and the second one costs CNY 331.
Asked by P. from THAILAND | Apr. 25, 2018 15:39

Reply
Is there any buses from Zhengzhou Airport to Kaifeng?
In addition, is there any local buses go to New Dynasty Hotel?

Thank you.
Answers (1)
Answered by James from CANADA | Apr. 25, 2018 20:58

0

0

Reply
Yes, there are inter-city buses to the destination from the airport.
After arrival, take a taxi instead of bus to your hotel.
Asked by nut from THAILAND | Sep. 26, 2017 13:11

Reply
Bus and train from Zhengzhou to Kaifeng
hello
I will stay near Zhengzhou station.
what is the best way to go to KF, bus or train? How much and how long ?
thank you
Answers (2)
Answered by Amy from SINGAPORE | Sep. 26, 2017 21:38

1

0

Reply
You are suggested to take a train there, which takes about 50 minutes and CNY12.5 for a hard seat.
Answered by Linda from CANADA | Sep. 27, 2017 01:17

1

0

Reply
I highly recommend you take an intercity bus. Go to Central Bus Station near the railway station and take one. Many buses are available and the last leaves at 18:30. It takes around an hour and CNY18.