Xuzhou Travel Guide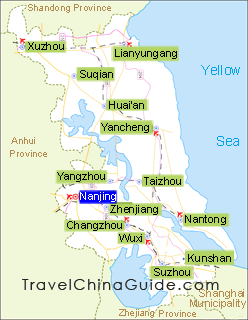 Xuzhou Facts
Chinese Name: 徐州 (xú zhōu)
Population: 8,825,600
Area: 11,258 square kilometers (4,347 square miles)
Location: in the northwest of Jiangsu Province, east China
Administrative Division: 5 districts (Yunlong, Gulou, Quanshan, Tongshan, Jiawang); 2 county-level cities (Xinyi, Pizhou); 3 counties (Fengxian, Peixian, Juning)
Area Code: 0516
Zip Code: 221000 - 221700
GDP (2019): CNY 715.14 billion (USD 103.66 billion)
The Second Largest Chinese Railway Hub with Han Terracotta Warriors
Located in the northwest of Jiangsu Province, Xuzhou is the largest city of northern Jiangsu as well as the most ancient city of the province. It acts as the second largest railway hub in China as it is located in the border area of Jiangsu, Shandong, Henan and Anhui provinces. China's two main railways Beijing-Shanghai Railway and Lanzhou-Lianyungang Railway just meet here.

Thousands of years' history has blessed the city with a profound culture, especially when it was the second political center of the Han Dynasty (260-220). Now, the city is the center of the Huaihai economic development zone and also one of the nation's most important agricultural product bases. No visitors to Xuzhou can fail to be affected by the grand tombs, terracotta warriors and stone sculptures of the Han Dynasty. Together with other scenic sites and beautiful natural attentions, the city captured visitors by its own unique charm.
The first emperor of the Han Dynasty Gaozu was born in Xuzhou and the culture of that splendid period of China's history was rooted in Xuzhou, leaving the city countless historic treasures. The most symbolic are the 'Handai San Jue' (the three most important items to come from the Han Dynasty) including the Han tombs, the terracotta warriors and the stone sculptures. These ancient cultural relics, together with the beautiful natural mountains and lakes in and around the city, form a large picture of Xuzhou attractions.
| | |
| --- | --- |
| | Guishan Han Tomb |
Additionally, the city has many special villages. A particular Chinese Martial Art, called Wushu in Pinyin, originated in Peixian County, where many people practice martial arts and have developed individual skills. There are also the 'Chinese Folk Custom and Culture Village'- Mazhuang Village in Jiawang District, and the 'Chinese Chess Village'-Qijia Village in Pixian County, which will impress you with very special folk customs.

Pictures
| | |
| --- | --- |
| Huaihai Campaign Museum | Three-color Glazed Pottery Horse |
Weather
-
- Last updated on Jul. 13, 2022 -
Questions & Answers on Xuzhou Travel
Asked by Dennis from CANADA | Dec. 05, 2019 03:12

Reply
where is the bus station for a bus from Xuzhou to Suqian?
Answers (2)
Answered by Rita from AUSTRALIA | Dec. 08, 2019 23:14

0

0

Reply
You can take bus from South Coach station, which is located at No.13, Yingbin Avenue, Quanshan District.
Answered by bd4qxr from CHINA | Jan. 02, 2020 02:39

0

0

Reply
Xuzhou South Passenger Station, in Xuzhou's Xincheng District, you can also choose to take the high-speed rail, which is cheaper than a bus and can be reached in 20 minutes
Asked by Phill from UK | Sep. 27, 2019 11:57

Reply
Hi there - can you tell me the best way to travel from Nanjing Airport to Xuzhou?
I hear there may be a bus from Nanjing airport but I cannot find any more information and I do not read Chinese. Thank you
Answers (2)
Answered by Amanda from USA | Sep. 29, 2019 19:33

0

0

Reply
You can take shuttle bus line 2 to Nanjing South railway station with CNY20, then take high speed train from there to Xuzhou East railway station.
Answered by Phil from UK | Sep. 30, 2019 05:49

0

0

Reply
Thank you very much. I really appreciate your help!
Asked by PABLOMADRID | Jul. 30, 2019 12:02

Reply
Villages around Xuzhou
Hi! I really hope you can help me. There is very few available information online about what to see in the outskirts of Xuzhou, but I would really like to visit some places.
From what I have read there are some interesting villages in the outskirts:
• Pinyin to check out the Chinese form of martial arts called Wushu;
• MeiZhuang village had several places of culture and folk custom
• Qijia village: discover the Chinese form of chess in
• Peixian + Ji village 1, Ji village 2, Liu Village 1

This is the only information I have. I cannot find any of these villages on a map, nor see them on pictures or read anything else than what I have already said. Could you please give me more information about these villages and how to get there?

Thank you a lot.

Answers (2)
Answered by Norma from USA | Aug. 04, 2019 23:10

0

0

Reply
These are small and remote village. If you want to go to these places, it is suggested to hire a car to go.
Answered by PABLOMADRID | Aug. 05, 2019 02:37

0

0

Reply
Hello Norma! Thank you for your answer.
Unluckily I cannot rent a car since I am a foreigner and I do not have a Chinese drive license. There is no way to go by public transportation? I am even thinking about going by taxi if it does not turn to be too expensive, but for that I would need to know where they are located and how is their names in Chinese (to show the driver).
Thank you again!
Asked by Mary Schubert from USA | Mar. 19, 2019 14:45

Reply
How long is the train ride from Xuzhou City to Shanghai?
Answers (1)
Answered by Rosina from CANADA | Mar. 19, 2019 18:15

0

0

Reply
It costs about 3 -3.5 hours if taking high speed trains, while takes about 6 - 11 hours if taking normal speed trains.