Xuzhou Travel Guide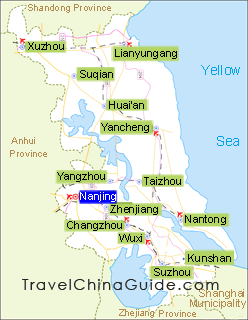 Located in the northwest of Jiangsu Province, Xuzhou is the largest city of northern Jiangsu as well as the most ancient city of the province. As the joining point of Jiangsu, Henan and Shandong provinces, the city boasts of its most important geographic location that makes it the place all the states of ancient China scrambled for. Thousands of years' history has blessed the city with profound culture, especially when it was the second political center of the Han Dynasty (260BC-220). Now, the city is the center of the Huaihai economic development zone and also one of the nation's most important agricultural product bases.

The first emperor of the Han Dynasty Gaozu was born in Xuzhou and the culture of that splendid period of China's history was rooted in Xuzhou, leaving the city countless historic treasures. The most symbolic are the 'Handai San Jue' (the three most important items to come from the Han Dynasty) including the Han tombs, the terracotta warriors and the stone sculptures. These ancient cultural relics, together with the beautiful natural mountains and lakes in and around the city, form a large picture of Xuzhou attractions.
| | |
| --- | --- |
| | Guishan Han Tomb |
Additionally, the city has many special villages. A particular Chinese Martial Art, called Wushu in Pinyin, originated in Peixian County, where many people practice martial arts and have developed individual skills. There are also the 'Chinese Folk Custom and Culture Village'- Mazhuang Village in Jiawang District, and the 'Chinese Chess Village'-Qijia Village in Pixian County, which will impress you with very special folk customs.

Pictures
| | |
| --- | --- |
| Huaihai Campaign Museum | Three-color Glazed Pottery Horse |
Weather
-
- Last modified on Aug. 22, 2019 -
Questions & Answers on Xuzhou Travel
Asked by PABLOMADRID | Jul. 30, 2019 12:02

Reply
Villages around Xuzhou
Hi! I really hope you can help me. There is very few available information online about what to see in the outskirts of Xuzhou, but I would really like to visit some places.
From what I have read there are some interesting villages in the outskirts:
• Pinyin to check out the Chinese form of martial arts called Wushu;
• MeiZhuang village had several places of culture and folk custom
• Qijia village: discover the Chinese form of chess in
• Peixian + Ji village 1, Ji village 2, Liu Village 1

This is the only information I have. I cannot find any of these villages on a map, nor see them on pictures or read anything else than what I have already said. Could you please give me more information about these villages and how to get there?

Thank you a lot.

Answers (2)
Answered by Norma from USA | Aug. 04, 2019 23:10

0

0

Reply
These are small and remote village. If you want to go to these places, it is suggested to hire a car to go.
Answered by PABLOMADRID | Aug. 05, 2019 02:37

0

0

Reply
Hello Norma! Thank you for your answer.
Unluckily I cannot rent a car since I am a foreigner and I do not have a Chinese drive license. There is no way to go by public transportation? I am even thinking about going by taxi if it does not turn to be too expensive, but for that I would need to know where they are located and how is their names in Chinese (to show the driver).
Thank you again!
Asked by Mary Schubert from USA | Mar. 19, 2019 14:45

Reply
How long is the train ride from Xuzhou City to Shanghai?
Answers (1)
Answered by Rosina from CANADA | Mar. 19, 2019 18:15

0

0

Reply
It costs about 3 -3.5 hours if taking high speed trains, while takes about 6 - 11 hours if taking normal speed trains.
Asked by tash from CHINA | Feb. 25, 2019 08:00

Reply
how long does it take me to travel from xuzhou railway station to east railway station?
Answers (1)
Answered by Shane from CANADA | Feb. 25, 2019 17:54

0

0

Reply
If by taxi, it takes around 25mins on the way. The cab fare is CNY25 to 30. If by bus, it takes around 40mins.
Asked by Ronique Williams from UNITED KINGDOM | Feb. 20, 2019 21:33

Reply
Planning to do a weekend trip. What's the best way to get from Suqian to Xuzhou?
Can you give an example of a 1 day (Saturday) guide? Where are the best places to go? (Attractions, food and shopping)
Answers (2)
Answered by Ollie from SINGAPORE | Feb. 22, 2019 00:06

0

0

Reply
You can take a coach from Suqian Coach Station to there. The bus schedules are from 05:50 to 18:30 every 15mins. You can tour around Museum of Terra-cotta Warriors and Horses of Han Dynasty and Binhu Park. For shopping, the Central Fashion Street is a good choice. Yang Fang Cang Yu (Fish Stewed in Mutton), Bawang Bie Ji and Dongpo Hui Zeng Rou are special local snacks. You can try to taste them.
Answered by Ronique Williams from ENGLAND | Feb. 27, 2019 19:17

0

0

Reply
Thank you 😌