Xuzhou Travel Guide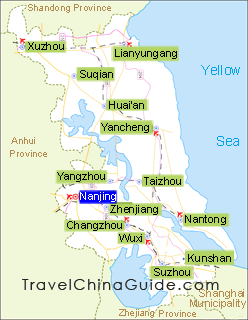 Located in the northwest of Jiangsu Province, Xuzhou is the largest city of northern Jiangsu as well as the most ancient city of the province. As the joining point of Jiangsu, Henan and Shandong provinces, the city boasts of its most important geographic location that makes it the place all the states of ancient China scrambled for. Thousands of years' history has blessed the city with profound culture, especially when it was the second political center of the
Han Dynasty
(260BC-220). Now, the city is the center of the Huaihai economic development zone and also one of the nation's most important agricultural product bases.
The first emperor of the Han Dynasty
Gaozu
was born in Xuzhou and the culture of that splendid period of China's history was rooted in Xuzhou, leaving the city countless historic treasures. The most symbolic are the 'Handai San Jue' (the three most important items to come from the Han Dynasty) including the Han tombs, the terracotta warriors and the stone sculptures. These ancient cultural relics, together with the beautiful natural mountains and lakes in and around the city, form a large picture of
Xuzhou attractions
. Additionally, the city has many special villages. A particular Chinese Martial Art, called Wushu in Pinyin, originated in Peixian County, where many people practice martial arts and have developed individual skills. There are also the 'Chinese Folk Custom and Culture Village'- Mazhuang Village in Jiawang District, and the 'Chinese Chess Village'-Qijia Village in Pixian County, which will impress you with very special folk customs.
Xuzhou Museum of Terra-cotta
Warriors and Horses of Han Dynasty

Guishan Han Tomb
Pengzu, the god of longevity in Chinese history who has profound knowledge of eating and keeping healthy, once lived in Xuzhou about 4,000 thousand years ago, leaving the city its eating cultures and customs. In addition, many other famous people in Chinese history also left their beautiful stories there. As a result, nearly every traditional dish has an amusing legend, which gives you an opportunity to enjoy the delicious food and interesting stories at the same time.
Xuzhou has many local specialties. Children's paintings, peasants' painting, paper-cuttings and straw-plaited articles are all interesting to buy as souvenirs. You can find these specialties and nearly all the necessities you want in many of the stores or malls, especially on East Huaihai Road and South Zhongshan Road.
| | |
| --- | --- |
| Huaihai Campaign Museum | Three-color Glazed Pottery Horse |
Transportation in the area is extremely convenient. From Xuzhou Guanyin Airport you can go to most of the big cities of China as well as other cities abroad like New York, Sydney, etc. Being the joining place of southern and northern China, the city is the second largest railway hinge of the nation, which certainly makes your travel easier from any part of China. Additionally, the highways in the city extend in all directions with great facility of communication. So transportation is absolutely not a problem if you decide to go there.
Xuzhou is also a modern city. Hotels and hostels with different standards in the city will undoubtedly satisfy your accommodation requirements and the colorful recreation venues will be above your expectations. Putting this city onto your travel itinerary is sure to bring you marvelous experiences.
Weather
-