Xuzhou Museum of Terra-cotta Warriors and Horses of Han Dynasty
Maybe you have been impressed by the splendor of the
Xi'an Terracotta Warriors and Horses of the Qin Dynasty
, but it is still recommended you visit the Museum of Terracotta Warriors and Horses of the Han Dynasty in Xuzhou. Excavated in 1984, it is the only terracotta army of the Han Dynasty found in China. It is another significant discovery after the Xi'an Terracotta Warriors and Horses of the Qin Dynasty. One year later, a museum was built at the original place of the discovery. In November 1996 it was listed as Key Cultural Relics Units under the State Protection by the State Council. In 2005 the museum was extended. Now it is welcoming visitors from around the world with the unique charm of the Han Dynasty (206BC-220AD).
Lying at the foot of Lion Mountain, the museum covers over 6,000 square meters (1.48 acres). It is an important part of the tomb of Liuwu, who was the third king of the Chu Kingdom in the Western Han Dynasty (206BC-24AD). The funerary objects of the king, about 4,800 pieces of colored terracotta warriors and horses about 40 cm (15.7 inches) filled with vivid expressions, have been unearthed.
There are six pits altogether in the T erracotta Warriors and Horses of the Han Dynasty: three infantry pits, one pottery-guard pit, one cavalry pit and one chariot pit. So far only two infantry pits and one pottery-guard pit have been excavated fully. In the two infantry pits there are about 1,016 pottery figures in Pit No.1 and 1,377 in Pit No.2. The terracotta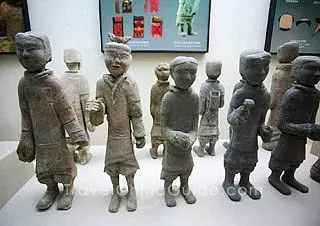 Terracotta Warriors of the Han Dynasty
warriors and horses are basically in good condition and they are all arranged in battle formation of the Chu Kingdom in the early Western Han Dynasty, with soldiers as well as officers visible in the infantry. The soldiers are in different positions: some are standing, still armed with crossbows and in their suits of armor, and some are kneeling.
Apart from the six pits, there is a military exhibition hall and a temporary exhibition hall added to the museum after its extension in 2005. In the military exhibition hall you can see some weapons from the Han Dynasty and the battle array of the terracotta warriors and horses. The temporary exhibition hall is being prepared for cultural relics on loan from other museums.
Compared with the Xi'an Terracotta Warriors and Horses of the Qin Dynasty, the Han tomb figures are smaller but the development of their features is based on that in the Qin Dynasty. In the Han Dynasty, craftsmen paid careful attention to detail. They focused on the soldiers' inner world and their spirit. As tomb figures of the king, most of them show some sorrowful and respectful expressions. According to historical records, citizens between 18 and 55 years old in the Han Dynasty had to join the army for two years. Consequently you can see both young and old soldiers among the pottery figures.
| | |
| --- | --- |
| Admission Fee: | CNY 90 (including Tomb of the Chu King (Liu Wu), Zhulin Temple, Gallery of Han Stone Sculptures and Museum of Han Terra-cottta Warriors and Horses) |
| Bus Route: | take bus no. 5, 49, 60, 65, 71, 72, 92, 93, 97, 605, 608 or 611 and get off at Chuwangling Station |

See also:
4 Sites of Terracotta Warriors besides Xi'an Terracotta Army
- Last updated on Jun. 21, 2022 -
Questions & Answers on Xuzhou Museum of Terra-cotta Warriors and Horses of Han Dynasty
Asked by Annette from GERMANY | Sep. 30, 2018 20:28

Reply
How much time you recommend to spend at Han terra cotta museum?
How fare is it from xuzhou dong to Han Terra Cotta Museum by Taxi?
Answers (1)
Answered by Osborn from USA | Oct. 08, 2018 00:50

0

0

Reply
You are advised to spend about 2 hours to visit it and the taxi fare is about about CNY30.
Asked by Annette from GERMANY | Sep. 27, 2018 20:06

Reply
Which train station is close too terra cotta? Xuzhou dong? Or Xuzhou?
Answers (1)
Answered by Stevan from USA | Sep. 28, 2018 00:12

0

0

Reply
Xuzhou Railway station, about 30-minutes bus ride.
Asked by Mfai from ITALY | Dec. 28, 2017 21:20

Reply
What is the tourist bus line from the xuzhou east train station that goes to terra cotta?
Answers (3)
Answered by Sally from GERMANY | Dec. 29, 2017 01:07

2

0

Reply
I don't know any tourist bus. But you can take bu no. 72 at the East Station and get off at Guozhuang Lukou. Then the museum is within 700 yd away.
Answered by Mfai from ITALY | Dec. 29, 2017 08:38

0

0

Reply
Thanks Sally. Will the bus stop name be in chinese or pinyin? Do they announce every stop? Looking for a copy of bus route 72.
Answered by Nigel from UK | Jan. 01, 2018 20:01

0

0

Reply
Guozhuang Lukou is 郭庄路口in Chinese. Don't worry! They will announce every stop.
Asked by andrew mccarthy from JAMAICA | Jan. 06, 2015 04:29

Reply
Could you please confirm the opening hours of the Museum of Han Terra-Cotta Warriors.
I have seen 8:00am and 9:00am on different sites. The admission fee on your site of CNY 90 includes other attractions. Is there a single entrance fee to the museum only? I probably will not have time to visit the other attractions.
Answers (1)
Answered by Dylan from GERMANY | Jan. 06, 2015 21:03

3

1

Reply
The opening hours are from 8:30 to 16:00.
There is no single entrance ticket for this site only. You have to buy the CNY90 combo ticket.