Xuzhou Museum
Situated on the north piedmont of the
Yunlong Mountain
, Jiangsu Province, Xuzhou Museum was built in 1959 and the expansion project was completed in 1999. So far, it has covered an area of 33,000 sq meters (39,468 sq yards). It enjoys a high reputation for its beautiful environment and rich collections. In addition, it is well equipped with advanced central air conditioning system, fire monitoring system, safety and protection system.
Xuzhou Museum contains a four-storey exhibition building, the temporary imperial palace of Emperor Qianlong in Qing Dynasty (1644-1911) and the Han Tombs with a total floor area of 12,000 sq meters (14,352 sq yards).
In the exhibition building are displayed a great deal of pottery, bronze and jade articles, stone and bone objects ranging from the Neolithic Age to Qin Dynasty (221BC-206BC). Bronzes, celadons, golden and silver vessels, jade articles of Han Dynasty (206 BC-220) are also displayed here plus over 140 articles of porcelain and metal wares from the Three Kingdoms Period (220-280) to Qing Dynasty. What makes the museum more remarkable is the only Han jade exhibition room among all the museums in China. Furthermore, there are hundreds of terracotta figurines as well as Tang tricolor glazed pottery. The museum musters China's brilliant ancient crafts of thousands of years.
The museums' construction was based on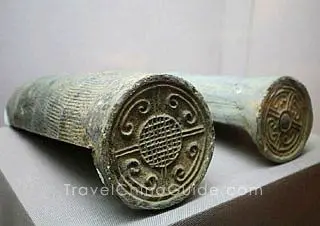 the site of the temporary imperial palace of Emperor Qianlong, built for his inspection tour of the South of the Yangtze River in 1757. The Stone Tablet Garden at the east is a typical ancient Chinese garden architecture, tranquil and elegant.
Located to the north of the Xuzhou Museum, the Han Tombs were indeed three tombs of the local nobility, from which numerous burial objects were excavated. These are perfect materials to study the social development in Han Dynasty.
Rare Treasures
The jade clothes sewn with golden thread and the jade clothes sewn with silver threads were discovered in the Han Tombs. They are made of thousands of Hetian (in Xinjiang Province) nephrite jade pieces stitched together with golden and silver threads.
The jade coffin was discovered together with the jade clothes, regarded as one of the only two jade coffins in China (another is in Hebei Province).
The jade dragon is a 4.1cm-long (1.6 inches) and 7.6 cm-wide (3 inches) ancient decoration, and a peerlessly fine work of jade wares in Han Dynasty. It symbolizes the Xuzhou Museum as its graph sign.
In its entirety there are over 20,000 relics along with paintings, calligraphies, stone tablet inscriptions, stone carvings and Qing antique furniture which fully display the 6,000 years' civilization of Xuzhou City. The museum shows the historical ups and downs of the city, and especially represents the profound culture of the Han Dynasty to worldwide visitors.
Opening Hours:
09:00 – 17:00 (Stop selling tickets at 16:30; Closed on Monday (exclusive of legal public holidays) and Chinese Lunar New Year's Eve)
Admission Fee:
Free
Restricted Number of Visitors:
500 visitors in the morning
500 visitors in the afternoon
Transportation:
take bus no.2, 9, 11, 35, 38, 47, 63, 69, 75, 604, 606, 608, 901 or tourism bus no.3, get off at Zhongyiyuan Station and then walk to the museum.
Nearby Attraction:
Yunlong Lake
Yunlong
Mountain
- Last modified on Apr. 08, 2021 -