Xuzhou Metro
Nowadays, Xuzhou metro line 1 and metro line 2 are in operation. Line 1 starts from Luwo to
East Railway Station
, stretching around 22 kilometers (14 miles) from the east to the west and passes 18 stations. Subway line 2 from North Coach Station to Xincheng District East runs through the northwest to the southeast by 20 stations, connecting Pengcheng Square, the financial and commercial center of Xuzhou New District, North Bus Station and South Bus Station together.
In addition, the start and end points of Xuzhou metro line 3 phase one will be Xiadian and Innovation Park respectively. This line will extend in the northeast-southwest direction via 16 stations and will be about 18 kilometers (11 miles) in length. It will pass through
Xuzhou Railway Station
, Xuzhou Bus Station and Tongshan Bus Station. As part of the long-term plan, there will be in total 13 metro lines in Xuzhou, including 7 urban lines and 6 suburban lines.
Lines in Operation:

Line 1
: Luwo – East Railway Station
Length: 22 kilometers (14 miles)
Station Number: 18
Stations: Luwo – Xingshanzi – Hanshan – Gongnong Road – People's Square – Sudi Road – The Affiliated Hospital of Xuzhou Medical University – Pengcheng Square – North Minzhu Road – Xuzhou Railway Station – Mount Zifang – Tongshan Road – Huangshanlong – Qingfeng Road – Xuzhou Medical University – Qiaojiahu – Jinlong Lake – East Railway Station

Line 2
: North Coach Station – Xincheng District East
Length: 24 kilometers (15 miles)
Station Number: 20
Stations: North Coach Station - Liwo - Jiulishan - Benteng Avenue - Jiulong Lake - Qingyunqiao - Pengcheng Square - Hubushan - Normal University Yunlong Campus - Central Hospital - Weita - Science City - Qiligou - Baiguoyuan - Tuolongshan - Dalong Lake - Municipal Administration Center - Hanyuan Avenue - Xinyuan Avenue - Xincheng District East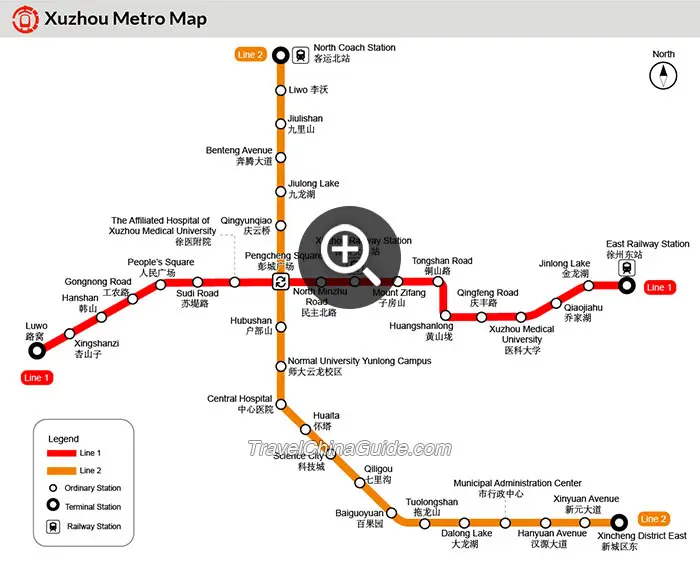 Map of Xuzhou Metro
Lines under Construction:

Line 3: Houpantao Village – Yinshan Bus Depot
Length: 25 kilometers (15.5 miles)
Opening Time: 2020
Station Number: 22
Stations: Houpantaocun – Pantaoshan – Tuolanshan – Jinshanqiao Sub-Center – Xugang Hospital – Xiadian – Daqing Road – Xuzhou Railway Station – South Fuxing Road – Heping Road – East Huaita Road – Science and Technology Plaza – South 3rd Ring – Zhaishan – Jiangsu Normal University – Tongshan Sub-Center – Tongshan New District – West Xiangxi Road – Jiaoshancun – Yinshan – Innovation Park – Yinshan Vehicle Depot

Line 4: Longzhuangcun – Zhujiang Road
Length: 27 kilometers (17 miles)
Opening Time: 2023
Station Number: 27
Stations: Longzhuangcun – Liuwancun – Taoshan Road – Jingshan Road – Jinqiao Sub-Center – Longtan Road – Pantaoshan Road – Xihe – Xuhai Road – Qiaojiahu – Tushansicun – Xiaoyangzhuang – Emei Road – Municipal Government – Qiantang Road – Xincheng District Bus Station – Huimin Jiayuan Community – Tangfangcun – Shangju Road – East Huanghe Road – Changxing Road – Tongshan Sub-Center – Huangshan Road – Pengzu Road – Qianzhouwo – Qiaoshangcun – Zhujiang Road

Line 5: Xukuangcheng – Shiqiaocun
Length: 30 kilometers (19 miles)
Opening Time: 2023
Station Number: 27
Stations: Xukuangcheng – Xingfujiayuan Community – College of Industrial Technology – Jiulishan North – Jiulishan South – South Huanghe Road – People's Square – Mingzhu Road – Meijian Road – South Sudi Road – Yunlong Campus of Jiangsu Normal University – Heping Road – Luotuoshan – Huangshanlong – Minfuyuan – Guozhuang Road – Central Activities Zone (CAZ) – CAZ South – Huaihai Culture Expo – Southeast District Community – Xinxin Road – East Huanghe Road – Wangzhuang – Bizhuang – North Dianchang Road – Sanbao East – Shiqiaocun

Line 6: Wangxinzhuang – Zhangji Light Industrial Park
Length: To be confirmed
Station Number: 27
Stations: Wangxinzhuang – Xinpangzhuang – Yinzuo Jiuli Cinema – College of Industrial Technology – North Tianqi Road – East Hancheng Road – Gulou Ecological Garden – Benteng Avenue – Yinzhuang – North Guangshan Road – Xugang Hospital – East 3rd Ring Road – Shuangyong Road – Tuanshan – Xihe – Donghe – Kunpeng Road – Xuzhou East Railway Station – West Square of East Railway Station – Pengzu Avenue – Zijin Road – Xinyuan Avenue – Xuzhou University of Technology – Cha'ancun – Sundian – Pantangcun – Zhangji Light Industrial Park

Line 7: Hangoucun – Fengzhuangcun
Length: To be confirmed
Station Number: 21
Stations: Hangoucun – Qiaoshang – Fenglintianxia Community – West Huanghe Road – Kuangda Dongmen – South Jinshan Road – Yingfang Dongmen – Science and Technology Plaza – Qiligou – South Bus Station – CAZ West – CAZ East – Xiaoyangzhuang – Olympic Sports Centerre – Pengzu Avenue – Dahu South – Gaoxin Road – Chengdong Business District – Xujia Expressway South – Dazhang Road – Fengzhuangcun

Line S1: Damiao – Pan'an Lake
Length: 27 kilometers (17 miles)
Station Number: 5
Stations: Damiao – Xiazhuang – Dawu Street – Caizhuang – Pan'an Lake

Line S2: Xincheng District East – Helou
Length: 38 kilometers (24 miles)
Station Number: 9
Stations: Xincheng District East – Mazhuang – Liubao Reservoir – Wulou – Zhangji Light Industrial Park – Mengzhuangcun – Zhangji Town – Zhangji Town South – Helou

Line S3: Anran District – Xuzhuang Town
Length: To be confirmed
Station Number: 3
Stations: Anran District – Longhai Xincheng West – Xuzhuang Town

Line S4: South Jinshan Road – Liuxin Town
Length: To be confirmed
Station Number: 10
Stations: South Jinshan Road – Kuangda Beimen – Xuzhou Amusement Land – Xingshanzi – Huohua Road – North Huanghe Road – Dinglou – Xinpangzhuang – Shitun – Liuxin Town

Line S5: Longzhuangcun – Maocun Town
Length: To be confirmed
Station Number: 2

Line S6: Hanwang New Town –Xiaoxian County
Length: To be confirmed
Station Number: 2
- Last modified on Jan. 11, 2021 -