Shandong Provincial Museum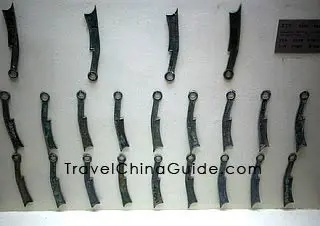 Knife-shaped Coins
Featuring some 100,000 historical relics, 8,000 specimens and a collection of 120,000 books, the Shandong Provincial Museum presents natural and historical treasures from the prehistoric Dawenkou and
Longshan Cultures
and the Qi Lu Culture. The latter having been the culmination of the cultural fusion of Qi and Lu states established by the Zhou Dynasty (1046 - 256BC) and lasting until the Qin and Han – Ming and Qing Dynasties.
The original museum built in 1954 closed and has been replaced by the new one on a large square in Jingshi Road, east of Yanshan Overpass. This was opened to the public on November 16, 2010. The new five-storey Shandong Provincial Museum has fifteen exhibitions halls where eleven permanent displays are on show. These include figure paintings from the Han Dynasty (202BC - 220AD), Buddhist sculpture, Shandong history and culture and a Confucian Culture exhibition. There is also a collection of calligraphy and paintings, Lu embroidery, fine porcelain articles, etc.
After a security check, visitors follow the sign to enter the 3,000-square-meter (3,600 square yards) main lobby supported with eighteen big pillars. The dominant hue of the lobby is yellow, symbolizing the Yellow River which gave birth to the culture of Shandong and entire China.
Shandong History and Culture Display Area
In the Shandong History and Culture Display Area, a bronze tomahawk with an inscription of the Shang Dynasty (1600 - 1046BC) is a treasure of Shandong Provincial Museum. The unique collection of pottery dating from the Dawenkou and Longshan cultural eras is the only one in the country. A gold belt fastener inlaid with 33 precious stones in various colors and a spectacular set of 397 wooden horse figures in a guard of honor is sure to catch your eyes.
In addition, for the first time there is a display of all the things unearthed from Zhu Tan (known also as Prince Lu, the 10th son of the first emperor of the Ming Dynasty (1368 - 1644AD) – Zhu Yuanzhang). A batch of precious cultural relics is also on show for the first time. This includes a standing Bodhisattva sculpture with a crown of cicada decoration and mural painting from Dongping Han Dynasty Tombs. The Bodhisattva sculpture was created 1,500 years ago, and now restored to China having been lost to overseas collections for fourteen years.
| | |
| --- | --- |
| Aminal Sculpture | A Pair of Bells From a Set Chime |
Confucius Culture Exhibition
Confucius cannot be overlooked when referring to the Shandong culture. The Confucius Culture Exhibition showcases Confucius' life and his growth as a spiritual leader in a different way. There are works of art, costumes and daily necessities from the
Kong Family Mansion
, cultural relics used for Confucius memorial ceremonies and multimedia display of thirty-six paintings illustrating Confucius' stories.
New techniques are employed to give a much more impressive experience for visitors. A visit to Shandong Provincial Museum is like a dialogue with history, revealing the wonders of Shandong.
Note on Qi and Lu Culture
Shandong is also known as and called 'The Land of Qi Lu'. During the reign of the Zhou Wu Wang's son, the emperor vanquished the rebels of some kingdoms in present
Qufu
, Boxing areas, Shandong Province. Then he conferred the title of marquis to two primary officials to govern this region, Qin Vassal State headquartered in today's Linzi (in Zibo City) and Lu Vassal State headquartered in today's Qufu. This was the eastern cultural center of Zhou.
During the Spring and Autumn Period, Confucianism came into being in the Lu State which was located east of Lu and adjacent to the ocean, where industry and commerce developed rapidly. Qi, close to the East China Sea, represents an open atmosphere, while Lu, close to
Mt. Taishan
, shows relative conservatism promoting farming. Later in the Warring States Period, Mencius (the Lesser Sage as distinguished from Confucius the Sage) in Lu traveled to Qi twice for education and cultural exchange, and the fusion of the Qi and Lu cultures began.

Related Link: Refer to
China History
for details of every historical period
How to get to Shandong Provincial Museum
Take Bus 115, K115, 119, K119, 152, K152, 202, K202, BRT5, K139, K145, K160, K171, K202, K301, K911, or T202 to Sheng Bowuguan (Shandong Provincial Museum).
Jinan Bus Search
Entrance Fee
Free but visitors need to take their passports to get the tickets.
Opening Hours
09:00-17:00 (closed on Mondays);
No admission after 16:00.
- Last updated on Jul. 04, 2022 -
Questions & Answers on Shandong Provincial Museum
Asked by Irina from RUSSIA | Mar. 03, 2021 09:02

Reply
Could you help to know e-mail address of the Museum to write there in English
Answers (1)
Answered by Dylan | Mar. 07, 2021 19:24

0

0

Reply
Sorry, I can only find the contact number: 0531-85058202.
Asked by Jen Delaney from UNITED STATES | Aug. 11, 2017 14:13

Reply
How can I find an email address for the museum store at the Shan Dong Art Museum in Jinan China?
If you know how I can find out the email address and phone number I would greatly appreciate it.
Thank you.
Answers (1)
Answered by Susan from UK | Aug. 15, 2017 04:22

0

0

Reply
The service line of SD Art Museum is 0531-82953407. You can contact with this number for the detailed information.
Asked by CP from CHINA | Mar. 31, 2015 11:41

Reply
What is the bus stop name and the name of Shandong Provincial Museum in Chinese?
Hello, are the bus stops for the museum still the same as listed above?
And what is the museum's full name in Chinese?
Thanks.

"Take bus 115, 119 or K139, get off at Xia Jing Cun Station;
Or take bus 18, 62 or 150, and get off at Yi Jian Xin Cun station"
Answers (1)
Answered by Cathy from UNITED KINGDOM | Mar. 31, 2015 21:27

1

0

Reply
Yes, you still can take the above list as a reference.

The name of the museum; 山东省博物馆
Xia Jing Cun Station: 下井村公交站
Yi Jian Xin Cun Station: 一建新村公交站
Asked by CP from CHINA | Mar. 23, 2015 01:53

Reply
Where exactly is Shandong Provincial Museum located in Jinan?
Hello,
is it located in the city center or on the outskirts, and is it near any of the other attractions like Daming Lake or Qianfo Shan? Thanks.
Answers (1)
Answered by David from ITALY | Mar. 23, 2015 21:21

1

0

Reply
It is located at No. 11899 of Jingshi Road, Lixia District. Generally, it lies in the city center area, not outskirt. No an attraction is within walking distance from this mueum. It is about 6 miles around from Daming Lake, 3.6 miles from Qianfo Shan.

The bus No.115, 119, 152, 312, 325, K139, K145 and K160 can lead to the museum.